Interview: Sanjay Sharma, head of motorsport, JK Tyre on the company's decision to withdraw from karting...
The 2017 edition of the JK Tyre FMSCI National Racing Championship saw the addition of the Suzuki Gixxer Cup and the Red Bull Road to Rookies Cup to the championship, alongside the Euro 17 machines and the Formula LGB4 cars. There were other developments too, such as JK Tyre's decision to step back from karting that came to light earlier this year. So we spoke to Sanjay Sharma, head of motorsport, JK Tyre, to find out what prompted the break from karting, why the Gixxer Cup became part of the championship, the future of the Euro 17 championship, and the way forward for Indian motorsport.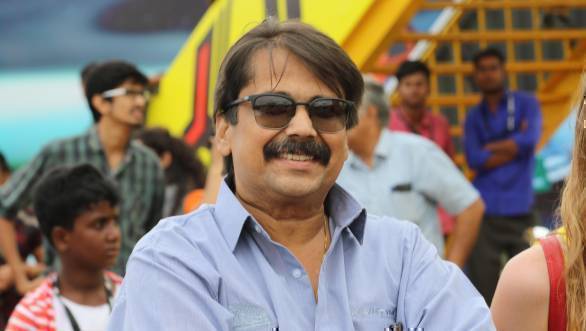 Sanjay Sharma, head of motorsport, JK Tyre
On JK Tyre's withdrawal from karting:
Sanjay Sharma: Two reasons. The last couple of years we've noticed that karting has become such a serious business, that this is not what we had designed the whole formula for. In 1997 I was the guy who brought karting to India, I set up the first track, I practiced it for five years, I was the one to first do a karting championship in 2000. Even Vishnu Prasad is a prodigy of my 2000 championship. That's the kind of cultivation we did. In 2005 when we shifted gears to Rotax there was an evolution, a progression that we were not going to match the technology with what the world practices, but at the same time we were not going to compromise with the grades and reaching out to the common guy. Because motorsport is perceived to be a sport for the rich, we had to change that perception. I managed to do that, because you see Chittesh Mandody, you see Saran Vikram, they come from humble backgrounds. These are my achievements. It's not Anindith Reddy or Narain Karthikeyan. But that whole formula has gone for a toss. Karting has become more expensive than racing. And then there's some new teams who have starting coming. I am not against that. That should happen not at the cost of the grassroots karting that I had dreamt of and I had positioned. That is what my first point was.
Second, now you'll notice, last three years, you haven't gotten a single new name in Formula BMW. What is happening? Where in the world do you have a sponsor who spends Rs 40 lakh a year, a car, to give you a drive free of cost? Give me one example? Nowhere do you have it. Even my tuners who sell me this car, even they laugh at me. They say nowhere in the world have we seen people getting free drives. So this is the kind of Formula that I have made for Indian drivers, and it's lasted three years. There's not even a single (new) name which has come in. So that was my biggest grudge. There's another category of Micro Max in karting. Wonderful kids, they're doing whatever is needed to be done, but see a new trend has started there. Right after Micro Max, 80 per cent of the grid is in Asia, Europe and everywhere else. How does it benefit my country? How does it benefit my sport? How does it benefit my programme? I am not here to nurture... to run a medical college to produce doctors to go and work in America. You understand? So there are a couple of things which combined together. And I had a word with the promoter. And it's not that we have fallen out with each other, we are best of friends. I can stand with him tomorrow also anywhere if he gets into trouble. The idea is they need to pull up their socks. They have to get their act together. So actually we have taken a sabbatical. We're going to go back to four-stroke karting, we are going to go back to grassroots level, we're going to find another Saran Vikram and Chittesh Mandody and we will fund their roots and careers. Look at Chittesh's performance, who can beat him today? So if he's not in a formula team, it's India's bad luck. It's our programme's bad luck because he doesn't come from that kind of background. It's unfortunate. Let's live with the real world. Let's live with reality. So we've taken this step. Now what has happened, everyone was on autopilot. Everything was paid for. But now they're all working, let's do this, let's do that. In one year they will all get their act together. You'll see. And I'll be back supporting them. 100 per cent, it's a part of our DNA.
On including the Suzuki Gixxer Cup and Red Bull Rookies Cup as part of the championship:
SS: One, we for the first time, just last year, bought the Birla tyre factory in Haridwar and JK has entered the two-wheeler tyre business. Before this we were not in the two-wheeler business. It was in preparation for this that I started doing the Superbike Cup in Delhi, but unfortunately I can't bring it here. So either way we were going to start two-wheelers. So even if the Gixxer Cup didn't happen, we would have started a two-wheeler championship. So we would have done something in two-wheelers. But as luck would have it, Suzuki came to us. What I liked about them was that their thinking was like us. They were not into names, they said we have a programme, we're going to pick up riders. We decided we weren't going to run with the old crop, we had selections for all new riders so it wouldn't clash with the other series. When the selection programmes were held we got about 1000 entries. Unbelievable. So many entries from Meghalaya, because the government has given them a defunct airstrip to practice. The bikes they have, the knowledge they have, the culture they have. The whole idea was to get every nook and corner of the country. So when you say I have got a guy from Jammu, it's a big thing. So that's why we did the selection process. Another reason is I never wanted to get into politics, because I would have ended up picking racers who were already in the other series and it would have started bad blood, which was not the intention. We're still learning, but once we master it we will do much more for two-wheelers. I find the humility the riders have so good. They have no chip on their shoulder, there are no snobs here, they are humble, young.
On the prize and the way forward for the winner of the Euro 17 championship:
SS: As of now, let's say if he goes to do any international championship, I become his partner for between 40 and 50 per cent of his budget. That depends on what he's doing. A test is free for Formula 3 for the winner, all that is there. I do not give 100 per cent budget any more when you go to the next level, because I feel I have spoiled a few guys by doing that in the past. Because when I left them they could not raise a penny. And that's how their careers didn't go further.
On the state of motorsport in India right now and the way forward:
SS: We're in a dilemma. What has happened is there's nothing normal happening here. Everything is in its extremes. We have a Gaurav Gill, but we don't have a number two in that line. We have a Jehan (Daruvala) and an Arjun (Maini). The next one is in Japan (Akash Gowda), he's not even in Europe. We have extreme cases and it's happening in silos. This needs correction. Our progression is now governed by the best man possible, that's Akbar Ebrahim. But there's no integration between the JK programme, the MRF programme, or any other programme for that matter. Rallying is at the mercy of the promoter. Our property is neither attracting journalists, nor attracting crowds, so what do we do. I don't want to be stuck on the sports channels only, I don't want only the sports community to see this. I want normal people to see this. I'll be the happiest man the day Mira or Vishnu get recognised on the road. That's what I want to achieve next. There's lots to be done. But first whatever we have, we need to integrate it.
Price (Ex-Delhi)
Starts Rs 1,11,871