Interview: Reigning Super Stock Champion Varun Anekar on his motorsport journey so far
Varun Anekar is a good example of someone young and driven, who is succeeding in the field of motorsport, despite starting out racing rather late. The youngster has gone from competing in the Toyota Etios Cup in 2013 to winning the National Racing Championship's Super Stock category in 2017.
Varun Anekar won the 2017 Super Stock class of the National Racing Championship
He's even traded in his regular job for a full-time position with Race Concepts, which means he's now completely immersed in the world of motorsport. Here he talks about his rise through motorsport, and what he's planning for the future:
On the Toyota Etios Cup and the learnings it brought with it:
The first race car I drove was the Etios. After a few basic training sessions, I finished second in my first ever race, had a podium every race after that and finished third in the championship. We were sent to Thailand to race with TRD on the streets of Chiang Mai. I was representing Toyota India and finished second in my first race abroad.
I spent a lot of time analysing my driving and the different ways I could attack a corner. Veteran driver N. Leelakrishnan, technical head for EMR at the time helped me read and analyse my driving data. This was the year I would say I sorted out my basics in a touring car. The most important lesson I learnt here was that consistency is key. Setting a fast lap is important but race craft and consistency matter more in the race. I became confident behind the wheel, knew this was where I belonged and I knew I could win.
On his experiences at a racetrack before the Etios Motor Racing Cup:
I used to go karting in Bangalore. Karting is a lot of fun - chasing lap-times and having 'hacks' with the guys. I never got into a Rotax, never karted in the National championship, but I used to enter local competitions and win. I used to watch every form of racing - BTCC, WTCC, F1, WRC, V8 supercars - you name it. Touring cars drew my attention straight away. I even had a simulator setup at home - a Logitech G27 and my PC. At that time, the Polo cup had started gaining traction over here. Toyota came up with the EMR series. I applied, got through the karting selections and was given the EMR car to test at MMSC in 2012. I crashed the car at the end of the first day, pushed too hard into the last corner and slammed into the wall. Thought it was over for me but luckily, Leela Sir told me he saw potential and gave me another go the next day. I got through the next day and joined Toyota in 2013 to compete in the EMR series.
On switching from a one-make championship to the Super Stock class of the NRC:
A one make series is a great way to enter racing. It lets you focus on your driving and nothing else. But it does not teach you much about setting up the car, adapting driving styles and working with your team. Toyota had big plans for the EMR series, which unfortunately collapsed the following year. I had met quite a few people in the circuit by this time, including Joel (Joseph), who had just started a team called Race Concepts Motorsport. His car had caught many eyes on the Buddh International Circuit that year, including mine. I met him in Bangalore, and decided to build a Super Stock car and compete in the championship in 2015.
With FMSCI president Akbar Ebrahim and the championship trophy that he got to take home thanks to his tremendous success on track
This turned out to be a really good decision. I had no idea how to setup a car up until this point, I had a lot to learn. Driver feedback is critical to setup the car and I had no idea initially. Spending the year with Joel and Deepak taught me a lot. Luckily for me, Joel having been in the car himself the previous year, could take whatever limited feedback I used to give him and make changes that would work instantly. I ended up being the runner up that year, having lost it on the last day when my car didn't move off the line. I had a bit of bad luck that year and struggled in early 2016 too when I entered the ITC (Indian Touring Car championship), but I learnt a lot - things to do not just inside the car, but outside of it too. This was not a one make where everything is always ready and all you have to do is drive. Teamwork plays a big part. Winning a championship requires every component of your team to be at 100%.
On his learnings in the ITC:
I made to switch to ITC in 2016, because I wanted to learn more in a faster car. I was one of the fastest drivers in a stock car the previous year, and was eager to show my potential in the top category. Unfortunately, I underestimated how much machinery matters as you go higher up the category. Better machinery requires sufficient backing, and I had to make do with what I had.
The jump was quite big, the car had more than twice the power and was a proper handful. Everything is so much more intense in an ITC car and you require a lot of aggression and maturity to be fast. Making a mistake in an ITC is not the same as making mistake in a stock car. You will end up breaking the car. And we do so little testing because of limited budget. It took a couple of weekends to get used to.
By the time the JK Touring Car series started, Joel had worked his magic on my car. I had gotten more comfortable on the grid as well, and with a capable car, I finally got a break on the Buddh circuit. Our cars were unbeatable that weekend and Deepak, Joel and me were on the podium at the end of it. One of the best weekends ever!
On the decision to switch back to the Super Stock Championship in 2017:
Many things were happening on track and off it. I decided to get into the motorsport industry full time. I left my job at Decathlon and joined Joel at Race Concepts. Doing the ITC takes up a lot of your time, energy and resources. I'm in no hurry to prove a point and I have a lot to do. If I'm racing, I want to win the championship. A racing driver can never be only a racing driver. He needs to do other things to support it, otherwise his career will be very short.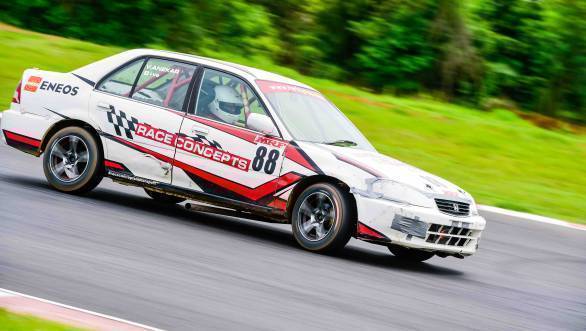 Anekar in action in the Race Concepts prepped machine that he raced in 2017
I got busy at work and I decided to do the Super Stock championship in 2017 to keep myself sharp. I entered this championship with a different mentality - that it was mine to lose. Joel built a bomb of a stock car and put me in it. The combination made us the fastest ever stock package in the country. We set a 2:00 flat laptime on MMRT, the laptime that ITCs used to do 7-8 years ago! I won most of the races in the season, was always in front of the combined IJTC, SS and Esteem Cup grid and managed to win the championship with 2 races to spare.
On his plan for the 2018 season and his long term motorsport goals:
I have a many plans. I love racing touring cars, I feel I will be good in a rally car. I would love to do rallycross or even an endurance event like the Dakar one day. I want to race different cars, here and abroad. My plans are not yet set in stone for 2018. There are new classes being formed and some uncertainty about the competitiveness of the grids. I might get into a car anytime, when the time is right. Until then I will keep myself fit and sharp. I want to race against the best in the business and I want to win!