Interview: Mahesh Kodumudi, Volkswagen Group India chief representative talks about the company's future plans
OD: You had a perfect product portfolio in last few years, the Polo, the Vento, all fantastic lines of cars, what's the next step in the evolution of Volkswagen India chapter.
A: Thank you for mentioning that, we have a very good product line up. We started out with the growth phase initially, I think now we are in a sort of consolidation phase for the last couple of years. We came to India with very nice products. Basically you see that the Volkswagen we produce in India, they are inline very well with the global standards of Volkswagen. This has allowed us to exports these cars also to a number of markets worldwide. But now we need to get our business a sound footing in India. So right now we are in a consolidation phase where we are focussing on getting our quality perfect, improving our productivity, increasing our scope, the width and depth of localisation, so that we can depend less on foreign currency, and overall improving the quality of our network, overall getting our business in a very robust and sound footing, this is the consolidation phase.
2013 Volkswagen Street Racer
We are obviously also considering newer models for India, we are acutely aware of the fact that our competitors are introducing new models everyday. But we cannot get carried away by all this. Whatever we do, we have to be in line with the global strategies of Volkswagen, because India is not the only market we play in, we are strong in many other markets as well. So whatever we do the strategy has to be inline and has to work within our business model. India is of course a keen and important market for us and you will hopefully see this when we get out of this consolidation phase into the expansion phase.
We are considering pretty much all the segments, we still want to be a significant volume player in India before the end of this decade. Which means obviously we have to play in the volume segment, the sub four meter SUVs, sub four meter Sedans, probably smaller than Polo cars, what we call A007 segment. We are looking at this segment very carefully and probably even the MPV segment. So these are all the products we are studying for India and I am very hopeful and optimistic that there will be some decisions, we will take one step at a time. Hopefully early this year, we will have some product decisions which will be announced that time. But the actual introduction of these products will take a little longer, since announcing it is one thing and taking it to the market is another thing, it will take a couple of years. So very honestly, the earliest I see some new product introduction is hopefully within two years.
OD: Volkswagen has been completing the space that target the masses, you have done the hatchback, you have done the sedan, we are expecting to see the SUV today, a compact crossover, what sort of strategy would be for that segment.
A: Clearly we would like to create a compact SUV, sub four meter, we are not sure about it yet, because we still don't know how the regulations in India are going to change. As of now sub four meter layout is preferred, so everyone is targeting that and so are we. As I said before, whatever strategies we create will have to be inline with our global strategies. First of all we would like to have a common platform around the world, for various reasons like cost, technology, for reasons of upgradability, we want consistent common platform all across the world. Definitely we want to enter the compact SUV segment, or the compact sub four meter sedan segment, but the platform we create in India should also be something we can sell outside India, because I still see India as the export the hub.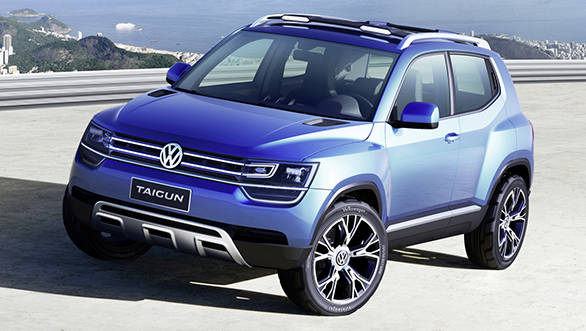 We need to have a healthy export portfolio, to mainly balance out the volatilities that exist in the Indian market and particularly the volatility in the Indian rupee, the way it has depreciated, considering the fact that a Volkswagen is a Volkswagen. You know very well that we do not despec our products in anyway and our core belief and core philosophy is that we will build a Volkswagen wherever it is.
With that belief the challenge is even more for us. It is a difficult challenge for us to come up with a product that fits the price cost equation of this country, India being one of the most brutal retail markets in the world, which is why it takes a little longer for us. Whatever we do, it has to be sensible, it has to be sustainable and it has to be long term, and for that I see exports as almost a necessecity to counterbalance the volatilities in the domestic market. That is why we are studying very carefully the platforms and like I said we will be taking some decisions hopefully this year.
OD: India is a price conscious market, looking at products with lot more value based offering, but if you have to make a decision then what would take the precedence, the B segment - the one under the Polo, or something like the SUV in your favour. You will look at the mass market product or the niche market where profitability is definitely going to be better but also gives you a sort of brand appeal that Volkswagen is known for.
A: I think both are important for us, but SUV is what I would prefer. I think it's important for us to nurture the brand as well in India, because we are positioning ourselves as a premium brand in India and we need to take a long term prospective. We should not be doing short term actions which would damage our long term. So let us take a long term prospective. Our chairman also has stated very clearly in the past, in countries like India you have to be patient and take a long term prospective. I think Volkswagen has the capability to stand and take a longer term prospective for India which is exactly what we are doing now. We are deliberating very carefully and whatever we come up with will be a model that is a Volkswagen and engineered to suit Indian market, which is a very difficult proposition, i.e. making a Volkswagen and trying to make it fit it into the Indian cost situation is a difficult thing, and we cannot dilute our philosophy. We believe that our product is supreme and we will not do anything to mess up our product. So it may take a little longer but I am very optimistic that we will have some positive news.
OD: You have been responsible to bring several industry first practices in production, especially in manufacturing. You have got a whole new quality process in existence, you have a lot more critical or very careful details that go in the car, very carefully scrutinised, tested and then presented to the consumers, are their pros and cons to this as well.
A: Definitely there are pros and cons, like you set quality and technology and robust engineering, we have to differentiate engineering and quality to some extent. We are not saying that our competitors have any less quality or anything; we have a great deal of respect for them. I think we engineer our products very robustly and the hallmark of our engineering is precision and performance. I think we have built really precise cars in terms of quality, fit and finish, in terms of the quality of the material that goes in and in terms of performance, we engineer them very well and the robustness of the engineering gives you a highly durable product.
On top of it we overlay quality and of course safety is a very important aspect for us. The downside of all this is, it all means higher cost. Which means it prevents from putting money anywhere else to may be some equipment in the car or the features in the car that you might see in the competition, which we are not able to sometimes provide. We are quickly covering that gap; I think we are coming in with a lot of new things. Now we are accelerating the pace at which we want to introduce more feature content into the vehicles. I still know there are areas where we need to improve, but if you see from the beginning of this year we have equipped our cars with dual airbags, that was a proactive step we took. So this all comes at a prices without question, but our core philosophy is that we cannot dilute our products and that will not change.
OD: When Volkswagen came to India you started with a top down approach, first you launched Passat, then you came down to Jetta, then moved on down the order, at some point to came out with Touareg as well, what are the plans for the products at the premium end of the market, the Passat has gone out of production, there is a new Passat coming out globally, is that Passat coming down to India, and what are the plans, will that be assembled here.
2013 Volkswagen in India
A: Yes we started from top down and it looks like the top has been cut off and only bottom is staying, absolutely that is not our intent, it just so happened that the Passat is out, we will definitely strategize our plans to reintroduce the Passat. We are also looking at some more CBUs at the higher end to import into India, all these are actively been studied and I think you will start seeing them coming back into the market again.
OD: Could you give few more details about the high end CBUs.
A: To be specific we would want to introduce the Passat B8, the new Passat that will come, because the B7 is pretty much running and the end of its life cycle has come, so no point in reintroducing it. We want to introduce the B8 which is really a fabulous car. We are also looking at different products like the Tiguan, we are looking at the Touareg again, and believe it or not we are also looking at the Beetle, these are all CBUs.
OD: Beetle is an iconic and historic car and lot of interest was actually shown in the Indian market for that car, but of course the pricing was a big challenge in that sense. Do you think you are going to counter that challenge this time around.
Volkswagen Dune Beetle Concept
A: It will not be easy again, pricing will be a challenge and volumes will not be there, but I think this is very important for us to build our brand image again, the premiumness of our brand and I think its very important. For the Passat on the other hand, we need to get certain numbers of cars out there in the market, for that we need to be more conscious on the pricing. But on the CBUs you know like the Beetle, the Tiguan etc, many of these are even been considered for parts and components business operation, where we do some parts and we do some localisation and assembly, but yes it will be a challenge and we are still looking at it. You will again see our presence in the premium end.
OD: When will the Golf be coming to India, the platform is already there in India, you have Passat, the Jetta, then the Polo.
A: With Golf, its again the question of cost and pricing, the Golf is a fabulous car, it's a runaway success, its created its own segment in Europe, but in India I am not sure how successful it will be vis-à-vis the Jetta. If someone can get a Jetta for the same price, I think then Jetta will sell and Golf will get cannibalized. For that reason we are right now not seriously considering the Golf for India, but we have done studies with the Golf in India in the past, but as of now it is not seriously been considered. If the situation changes then we can consider bringing it here, but as of now Jetta makes more sense because they being on the same platform.
OD: What about Volkswagen MQB platform, when will India be ready for that.
A: MQB is a great platform, its an unbelievable platform as to how many variants you can create out of one platform, and in terms of technology its latest and greatest. There is a lot of debate going on in the headquarters among the various stake holders, I would personally like to bring MQB in India as quickly as possible. However we will have to look at it from the cost prospective, it is only cost and nothing else. Cost in the sense, the one time investment that we have to do, to be able to produce the MQB in India. It will require very significant investment and in the end it will be a business case decision, but I would like to bring MQB to India as quickly as possible.
OD: There are a lot of products based on the new MQB platform.
A: Yes absolutely. We have an option, I mean we can continue with the existing platforms PQ25 platforms for the Polo and Vento and build new hats on it, or we decide to take this one time investment hit and we introduce the MQB. So there are very important people in the headquarters who think that MQB has to come to India as soon as possible, because what also happens it that we are not in line with the global standards and platforms, then you are on your own, it becomes more difficult for Volkswagen.
OD: Both the Tiguan and UP come on the MQB platform.
2014 Volkswagen
A: No the Tiguan is on the PQ12 long platform, which is the same as the extended UP platform.
OD: What about the next generation Jetta, Passat all those are in the MQB and even the Polo in Europe will move to the MQB platform, which means we will be under pressure to migrate into the MOB platform. So when you do this, all the sister companies like Audi and Skoda will also move into the same platform.
A: Yes, and also the other large regions like China and Brazil, they will also be migrating to MQB, which is why in India alone we cannot stand without MQB, because it becomes costly to maintain a standalone platform.
OD: Is Audi A3 also in the MQB platform.
A: Yes A3 is of MQB platform.
OD: So if Audi is to bring that to India, they will have to maintain that platform here.
A: That is why we are pooling all the ideas of Audi, Skoda everything, so that we can make some common decision. Lot of work is going on behind the scene, I want to enter the expansion phase in India as quickly as possible. It is been felt acutely also in the head quarters, not just in India. For them India is very important, very ket region for our board, and I am hopeful and optimistic that they will make really good decisions.
Price (Ex-Delhi)
Starts Rs 30.5 Lakhs
Price (Ex-Delhi)
Starts Rs 14.78 Lakhs
Price (Ex-Delhi)
Starts Rs 6.17 Lakhs
Price (Ex-Delhi)
Starts Rs 31.99 Lakhs