Interview: Dilbagh Gill on the developments in Mahindra Racing's Formula E efforts
Mahindra Racing has the distinction of being the oldest manufacturer in Formula E racing, which now enters its sixth season, and has had a highest place finish of third in the team constructors championship. Its two drivers, Jerome d'Ambrosio and Pascal Wehrlein, like most others on the grid have had previous Formula 1 experience, and stood 11th and 12th respectively in the drivers championship last season. Team OVERDRIVE caught up with Dilbagh Gill, CEO of Mahindra Racing, ahead of the Formula E 2019-20 season opening E-Prix in Riyadh, on what fans back home can expect from the only team flying the Indian flag in Formula E.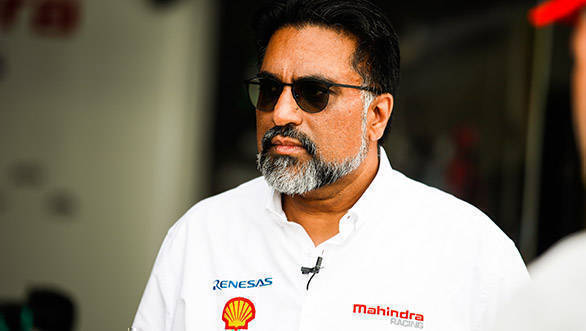 OVERDRIVE: One could say it's been a difficult season last year. What would you put that down to?
Dilbagh Gill: I think last year was the worst season in five years, there's no doubt season one had the worst results but that was our first season. We were prepared, we knew what we were getting into and we were willing to learn. I think what we put last year down to is our in-season development, we were not very good in in-season development and that's where we had a bit of a challenge. We started very strong, then the rest caught up. I think that's where we are trying to make investments in certain type of hardware. We at Mahindra Racing are one of the most under-resourced teams. That's something we have corrected over the summer with some of the partnerships like ZF. We are going to get a lot more resources coming into the team.
Can you give us some insight into the split with team operator Campos Racing, and the advantages of running it in-house?
DG: At the end of the day we want to build intellectual property. So that's when we decided that after five years, let's bring intellectual property in-house and that has been the part of this journey. The first five years we said we are going to create value. These coming five years is going to be capturing the value and that's where we started saying we're going to bring this in-house. So we still have some engineers working from Campos directly for us but at the same time, we have a very strong relationship and I think in our journey we have to sort of make our own bed and sleep in it.
With all the new faces in the team, will Mahindra Racing's strength still be its team consistency going forward?
DG: Our core team still remains the same. When we finished last season we had 34 employees in our team and today we are 64. So our core has remained the same, we've only lost one person over this period of time, our team manager. I believe the team consistency will remain the same but at the same time we needed more people to augment the team. So to look at it from an average experience, we've actually gone up in experience despite doubling the size of it.
How has the approach to the racing changed? Now that time is the only constant?
DG: In terms of the format I think it's been a strength for us. We've been pretty good at energy management, except Mexico last year where we ran out 100 yards away from the finish but I think otherwise we've managed to regulate it well for the new regulations in terms of energy reduction, etc. It's still very challenging.
With the entry of big name factory teams, how will Mahindra Racing stay competitive?
DG: It's really nice to see new teams coming into the sport, it sort of validates our investment here. But going back now we've seen some big brands come in before. We saw Nissan come in, Jaguar and others and we do realise that it's not easy for a new brand to come in and be immediately successful. In the championship and same with the drivers. Some of the most reputed drivers have come in but not won a race as yet, it's some of the older drivers who still continue, because this championship needs experience. I think the good things about this championship is you're expected to do more with less and some of the bigger brands are not comfortable with doing more with less. We at Mahindra are a lot more comfortable with that. In fact I think I am the few contrarians who keeps pushing to reduce team size. I think we can do better with a smaller team.
What will your new partner ZF be bringing to the table this season, and the next?
DG: For 2019-2020, ZF is essentially bringing in the suspension. Our cars are going to have some lovely bespoke SACHS dampers, so our rear end stability is going to be improving substantially. So that's one of the reasons we thought to partner with ZF and we're also going to be starting to use their dynos. Going ahead, in season seven, they are going to do the entire powertrain for us. So the motor, inverter is all going to come from ZF. ZF's gearboxes are amazing and the motors and inverter technology is something we think we can leverage from. In Formula E right now we're running a single speed gearbox. ZF has got one of the broadest powerband gearboxes, in terms of efficiency. Because our cars are going from 8,000rpm to 26,000rpm and there are a lot of churning losses happening in the gearbox. At 26,000rpm you're literally running like a mixer in your gearbox, sloshing oil around so maybe the counter is to find the right lubricants with Shell and then look at ZF to reduce the friction loss because when you look at the motor per se, it's running at around 99 per cent efficiency, the inverter is 99.5 per cent. It's a mechanical gearbox which brings it down and that's where we can start finding the difference.
After the pace shown in pre-season testing, how confident are you for the season opener in Riyadh?
DG: In terms of experience, this is the sixth time we're going into the Formula E Season. I don't think we've left any stone unturned. We are going in confident, most of our boxes have been ticked before going into the season. So again, where do we stand as against the rest? Overall I think we have a strong package going forward.
Which team and driver would Mahindra Racing be keeping an eye out for this season?
DG: Out of the 12 teams, I'd say 9 of us can win the first race and we are luckily one of the nine (laughs).