Interview: Aditya Patel, co-founder, X1Racing League, on the hits and misses of the first season and what's in store for the future
The dust has settled on the first season of the X1Racing League, India's first franchise-based motorsport series. And while we're glad the series brings televised racing back to Indian motorsport, apart from other things, its final execution came across as slightly haphazard. For example, while up to four rounds of racing, on both street tracks and circuits, were initially promised, plans were tempered with the reality of keeping costs in check, with two rounds of racing being held on consecutive weekends. The first, at the Buddh International Circuit, Delhi was held as part of the JK Tyre Festival of Speed, as the headline event alongside other classes of racing. The second was held at the MMRT, Chennai, and both rounds had their fair share of drama with the last-minute decision to use old, and somewhat tired Formula BMW-based cars from EuroInternational throwing the racing in disarray. We caught up with Aditya Patel, co-founder of the X1 Racing League, post the final race weekend to get a better understanding of how things went down.
OVERDRIVE: What stands out as the learnings from season one?
Aditya Patel: I mean, basically it was a conscious decision by Armaan and I to go ahead with the cars that we used without really expecting them to give us as much trouble as they did. But obviously that is at the end of the day a big learning. Because we realised that if everything runs smoothly, and even if it was these cars with everything running smoothly, I don't think we would have had all the other issues that came along with it. What was good to see was that the drivers really enjoyed themselves, they enjoyed the format. They've all been talking to us and telling us they can't wait to come back next year. Obviously we're not going to be using these cars next season. So we do have a couple of plans in place for cars. We also do need to keep in mind the younger Indian drivers who don't have experience with cars that are too fast for them, so we kind of draw have to draw that balance as well.
But I think all in all, as far as the racing goes, and as far as this league itself, the championship itself, goes we saw good crowds at both tracks. Chennai, particularly, even though as far as sheer numbers go, it doesn't match up to Round 1 at Buddh by any means. But you've seen events in Chennai before, so this was for us quite a pleasant surprise to see so much support coming in. For sure, new cars next year, few things in the format to be rejigged, change our marketing strategies a bit, things like that. We now know who we need to reach out to in terms of audience, so we'll try and focus a bit more on that as well.
OD: Given the change in plan, could you talk us through the financials of season one?
AP: So obviously at one point we realised that we needed to get more team owners into the game. While we did have a few team owners at that point interested and signed up, we needed more and the time was short. And that's why we decided, "Look let's make it cost effective. Let's not have people burning their fingers in year one and not coming back again." So then while we had to make it cost effective, part of that was to rejig the format in terms of the car. Because if we had to go by the cars originally planned, we would have spent all of the money on just buying the car. I can tell you that the approximate cost of leasing the 12 cars from Euro International is pretty much the cost of buying three cars that we had quotes from. So that's the cost of leasing the cars, running them, including the cost of engineers, mechanics, everything. So in terms of costs that became a lot more sensible to us to make a start. Then we can take it forward to year three or four. So as a start, it works out well as a proof of concept. Yeah we did have issues, particularly on Sunday which caught us a bit by surprise and we really had to work on it at that point.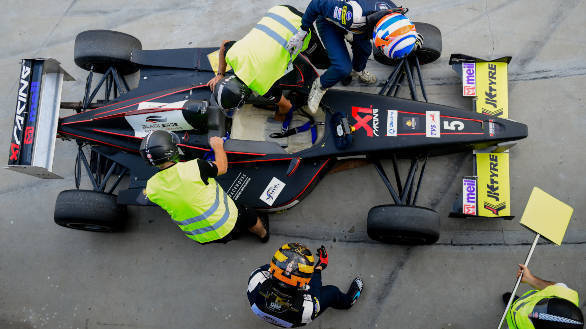 OD: So, how do the team constructor's and car championship standings work?
AP: Okay, so in season one, Bangalore has won the team championship. But as far as the car championship goes, the Mumbai Car 1 wins, and Bangalore is second. So basically that car number keeps gaining points in each race. Like, Car 1 goes through race one, race two… race six. Every race it can have a different driver, but the team fielding that car can have their best drivers in that car, based on trial and error for example. So, that car will continue to gain the points from those drivers. For example, the Mumbai car had different drivers on day one in the Delhi round. Then it had different drivers from day two, till the end. And eventually that car won. And there's no particular driver's championship as such. But we do have an individual driver's championship, and when I say that, I mean we have a best international driver, best Indian and best young driver.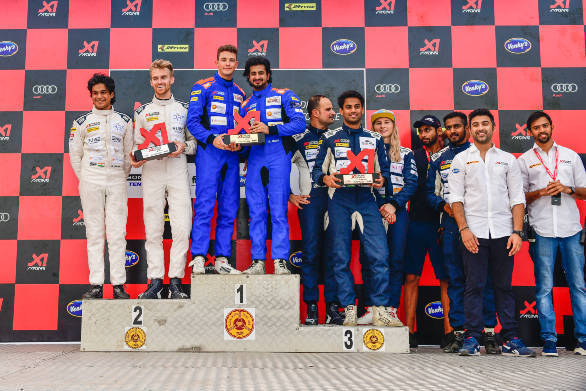 The Mumbai team (drivers Kush Maini and Mikkel Jensen, top step) won two out of three races at Round 2 in Chennai, but the Bangalore team (drivers Arjun Maini and Oliver James Webb) won the championship, while the Hyderabad team (drivers Vitantonio Luizzi and Akhil Rabindra) placed third
OD: What can we expect from the format rejig for season 2?
AP: We're going to work on that now, basis what we've seen and feedback coming from the drivers. I think we should have a clearer picture on that in the next one month or so. Obviously, because the format's quite important we'd want to make sure we have a proper, proper format in place before we commit anything. I mean the relay part is interesting for sure. It was great to watch, and the teams loved it because there was a lot of strategy involved. It was interesting because there was no pit stop, per se. It's just car stops, car goes. So it's non-stop action going on in the pit. We're also looking at different ways to spice up the racing action itself. If it means increasing the race length by 10-15 minutes along with the driver change, that's an option we're looking at. We're also looking at sprints in two separate races.
OD: We're curious about what cars you're looking at for season two…
AP: The Radicals are an option, which we're going back to. In fact, Radical was quite keen to meet with us post this season. But it's important to have Radical on board as well with their support. So that we're not just buying cars from them, and running them.
OD: Do you think a touring car series makes sense… perhaps something from VW Motorsport?
AP: (laughs) You never know! Let's see if VW comes to us with something... I mean having relatable cars is one thing. But on the other hand, at this point, we've also got to get people attracted to the sound, the speed, the spectacle. On the one side, you have the sportscar possibility. On the other, you've got your manufacturers. The ultimate goal is get support from the manufacturers itself. We're not ruling any of it out. And we've got a year to go.
OD: We really hope more tracks come on board. Having crowds cheer for their home teams would really be something, wouldn't it?
AP: As far as more tracks go, I'm not permitted to say! (laughs) But I do know that there are more tracks coming. And we're quite keen to see these tracks come up. I think in the next two years, from what we've heard, we're looking at another three, from all over, the Mumbai side, and down South. We're all keeping our fingers crossed!