Intermot 2018: Ducati showcases its 2019 Scrambler range
At the ongoing INTERMOT 2018, Ducati has showcased three versions of the updated Scrambler, the new Full Throttle, Cafe Racer and Desert Sled. Launched in 2014, Ducati has sold over 55,000 units of the Scrambler.  Last month, Ducati revealed the updated Scrambler that received styling update along with host of electronic additions. The 2019 range of Ducati Scramblers too get updates in terms of features, onboard equipment and also styling. The 2019 Ducati Scrambler was showcased along with the  Scrambler Icon.
The 2019 Ducati Full Throttle takes its design cue from the flat track Scrambler that was seen at the 2018 American Super Hooligan Championship. The 2019 Full Throttle comes with two-tone black-yellow white-striped tank, all-new rear end with dedicated seat and white-rimmed yellow number holders. It also gets a low-slung tapered handlebar - light and ergonomic - stubby front mudguard and dual-silencer exhaust add to the distinctiveness of the Scrambler Full Throttle.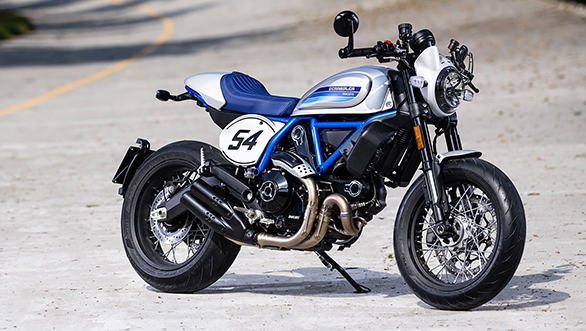 The 2019 Ducati Cafe Racer draws its inspiration and Silver Ice Matt graphics with blue frame from the Ducati 125GP Desmo. The new 17-inch spoke wheels and aluminium bar-end mirrors give the bike a cool '60s race look, with a modern radial front brake pump. Additionally, it gets dual tailpipe, nose fairing, lateral number holders (with the number 54 in honour of Bruno Spiaggiari) and stubby mudguard are all clear references to the bikes that roared down British streets in the '60s.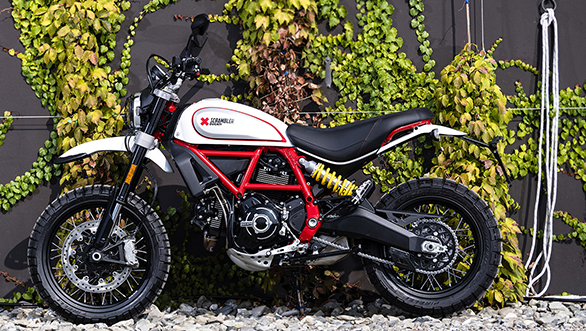 The 2019 Ducati Scrambler Desert Sled gets a red frame, new seat with colour-coordinated stitching and spoke wheels with black rims. The 2019 Ducati Desert Sled also features an off-road riding mode. It comes equipped with adjustable Kayaba suspension. In terms of styling, the 2019 Desert Sled gets rugged off-road character with a headlight mesh guard, high mudguards (specially designed for this version) and engine skid pan.
Also see, 
2018 Ducati Scrambler 1100 variants explained
2018 Ducati Scrambler 1100 image gallery
2018 Ducati Scrambler 1100 Sport image gallery
2018 Ducati Scrambler 1100 Special image gallery
Demonetisation, GST and BSIV effects still causing premium bike market to grow slower than expected, says Ducati India MD
Price (Ex-Delhi)
Starts Rs 7,99,000
Price (Ex-Delhi)
Starts Rs 11,95,000
Price (Ex-Delhi)
Starts Rs 10,89,000