INRC 2018: Popular Rally in Kochi to see three-way champonship tussle
The fifth and final round of the 2018 Indian National Rally Championship was flagged off yesterday in Kochi, Kerala. The event, termed the Popular Rally, is expected to witness a three-way championship battle.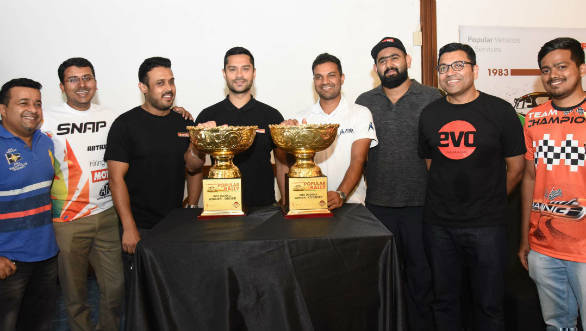 Mahindra Adventure's two-time INRC champion Amittrajit Ghosh heads into this round with the most points, 79. The title favourite is Gaurav Gill however. He will start on pole after the N-1 rule is enforced. He is also the most decorated racer here, having won the APRC championship three times. He has 62 points while Ghosh, with 61 points after the N-1 factor, is also a two-time INRC winner.
Following the two closely is Karna Kadur. He has 55 points, is a former INRC champion, and has a shot at the title if he wins the Popular Rally and Gill finishes third or lower. Other notable competitors are Dean Mascarenhas, Vikram Rao and Rahul Kantharaj who are favourites to win in a number of categories.
This is the first time Kerala is hosting an INRC event since 2010. The Popular Rally is now in its 24th edition. It was a successfully run event for 22 years before returning last season after a brief hiatus.
The rally was flagged off by K. Padmakumar, the government of Kerala's transport commissioner from Hotel Le Meridien, Kochi.
On Saturday, December 15, there will be nine special stages on tarmac in the Mundakkayam-Kuttikanam sector in Idukki district. Two more special stages will follow on Sunday, after which the rally drivers will head to Ernakulam for a Super Special Stage (SSS), at HMT Colony Road, Kalamassery. The trophy presentation to the winners of the Popular Rally 2018 will be held here followed by an official podium ceremony later on.
"We have had a very good championship this year, with intense competition in all the key categories," the promoter of the championship, RRPM's Arindam Ghosh, said. "We are set for an exciting finish and I wish all the competitors a grand run," he added.
"I thank title sponsor MRF Tyres, main associate Mahindra Adventure and associates York and Arka Motorsports," Ghosh further said.
The 2018 Popular Rally will also see the debut of a mobile app which will provide all rally related news, events, programme schedules etc. This will be compatible across all popular mobile platforms.