INRC 2018: Karna Kadur and Nikhil Pai win the Rally of Chikmagalur
Often said to be the most challenging rally of the season, the Rally of Chikmagalur has come to a close with Karna Kadur and co-driver Nikhil Pai of team Arka Motorsport taking the top step of the podium. A gap of 2 min 15 sec separated the Bangalorean from second placed Amittrajit Ghosh and co-driver Nikhil Pai of Mahindra Adventure. In third was Bopiah KM and co-driver Karumbaiah of Team Champions in their VW Polo, a mere 3.5 sec behind Ghosh.
Kadur had the advantage of coming into the second leg of the rally with one minute of breathing space, which meant he could prioritise bringing the car back safe over all-out attack. Especially since Gaurav Gill and co-driver Musa Sherif had been handed a six-minute penalty after failing to complete the sixth stage yesterday, after Gill's Mahindra Adventure Super XUV 500 broke a lower arm. Thus the real competition for overall times came from Ghosh, who was battling breathing issues and general weakness due to an extreme allergic reaction from earlier in the week. Also, in the fray for overall times was Younus Ilyas and co-driver Harish KN in their privately entered Mitsubishi Cedia.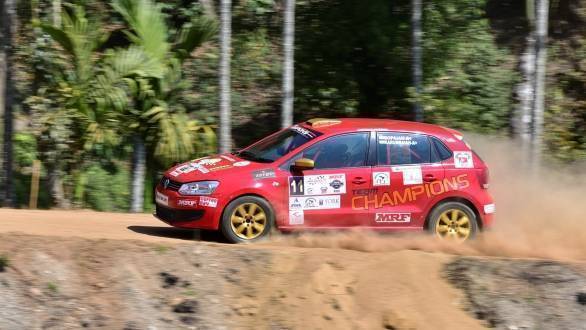 While the DNFs and retirements racked up, comebacks were aplenty. Gill proved to be a man on a mission on the three stages held today, with 47.4 sec lead in SS8, a 20.4 sec lead in SS9 and a 24.9 sec lead in the final stage. Team Champions driver Dean Mascarenhas and co-driver Shruptha Padval, who had mechanical issues in yesterday's stages managed the third fastest time in SS8.
After the fourth round of the Indian National Rally Championship, Ghosh is at 76 points, while Kadur is second at 64 points while Gill is third with 60. Which means the championship is still wide open, with the upcoming final round at Cochin to be expectedly high-drama.
Related Stories