INRC 2018: 48 entries registered for Coffee Day Rally of Chikmagalur
The fourth round of the 2018 Indian National Rally Championship, the Coffee Day Rally of Chikmagalur, has received a total of 48 entries. The event, which will be held from November 30 to December 2, is organised by the Chikmagalur Motor Sports Club, and, has in the past hosted the final round of the Asia Pacific Rally Championship.
The 2018 INRC, promoted by Ramakrishna Race Performance Management (RRPM), began with a round in Chennai, before moving on to Coimbatore and Arunachal Pradesh. The championship, after three rounds, is led by Team Mahindra Adventure's Amittrajit Ghosh and Ashwin Naik, who have 61 points, with team-mates Gaurav Gill and Musa Sherif in second place with 50 points.
Amittrajit Ghosh and Ashwin Naik currently lead the INRC championship standings, heading into round 4 at Chikmagalur
The Coffee Day Rally will begin on Friday, November 30, with a 2.2km-long Super Special Stage (SSS) at the Amber Valley school grounds. The competitors will then battle it out in the tight and twisty special stages in the coffee estates in Chettanahalli, Chandrapura and Kumaragode. Each of the three Stages will be run twice on Saturday and once in the reverse direction on Sunday. The total competitive section is 122.77 Kms and 229 Kms of liaison for a total distance of 351.77 Kms.
Other than Mahindra Adventure, the teams to watch out for, are Arka Motorsports, with drivers Rahul Kanthraj (co-driver Vivek Bhatt) and Karna Kadur (co-driver Nikhil Pai). Kadur and Kanthraj are placed third and fourth in the overall classification.
Another team that has proved to be rather prominent in the 2018 INRC is Team Champions - a team that came about with the intention of supporting talented drivers who need financial backing. The team will bring a seven car line-up to the 2018 Coffee Day Rally. Speaking ahead of the event, Vamcy Merla, who manages Team Champions, stated, "It is our aim to facilitate the participation of deserving drivers and hopefully, unearth fresh talent. The 2018 is our debut year in INRC and next season, we might be entering more cars."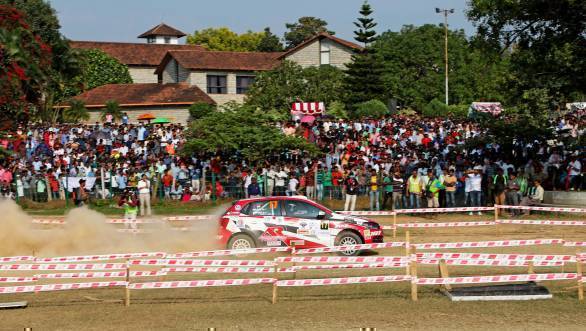 The Super Special Stage at Amber Valley School is a crowd-pleaser at the Coffee Day Rally in Chikmagalur
Venkatesh M, Director, Coffee Day Hotels and Resorts said ahead of the rally: "Coffee Day is amongst the first few corporates to cultivate the concept of racing in India with Coffee Day India Rally in 2002. This is our 16th edition and we're proud to see the love for motorsport grow in our country. Coffee Day India Rally is truly unique given its uncanny combination of a rugged terrain with scenic beauty. It is one of the most challenging races in the calendar, filled with twisty and narrow tracks amidst the coffee plantations. The challenging rally will witness some of the best rally drivers tackle tough terrains, set for a thrilling performance in Chikmagaluru."