Indikarting Clash of G-Karts 2019: Shaurya Kapani sweeps Pro Junior category
The IndiKarting Clash of G-Karts event held at at Ajmera Indikarting, Mumbai this past weekend saw over 500 entries. Of these 177 qualified, leading the FMSCI approved competion to witness action from participants from all over India, including places like Kashmir, Kerala, Vijayawada, Gujarat, Haryana.
Competitors battled it out in numerous categories. In the Pro Senior category, Aaroh Ravindra of Team Rayo Racing, the 2017 Champion, put forth a strong show, winning the first and last of three races. The second race was won by Danesh Banajee. Following them were Amravati's Sarvesh Bode & Saif Rais from Mumbai in Race 1, Raghav Vaishnav and Aaroh in Race 2 while Danesh Banajee & Jonathan Kuriakose were second & third in race 3.
Shaurya Kapani won all three races in the Pro Junior category. In Race 1, Hoshmand Elavia and Tej Patel followed. In the other two outings, Veer Sheth and Elavia rounded off the podium.
Youngsters in the seven to 12 age group competed in the Pro cadet class. Here Raiden Samervel dominated all 3 races, winning ahead of to win ahead of Nirvaan Chandna and Nigel Shaju.
In the Clash of Pros titles, Sarvesh Bode won the Senior category, Shaurya Kapani in the Junior while Raiden Samervel took the cadet title. Akshay Patil Memorial Trophy was awarded to Mihir Patil.
Other winners were Jamie Shaw in the Amateur category and Jhanvi Bhavsar in the Women's category. Raghav Vaishnav from St. Lawrence High School won the Inter School category while Aman Singh Bhui from Amrit Elastomers won the Corporate finals. He also took home the Open class prize. Further, Jai Hind College's Jamie Shaw won the Inter College category and Utsav Thakkar won the Senior Plus prize.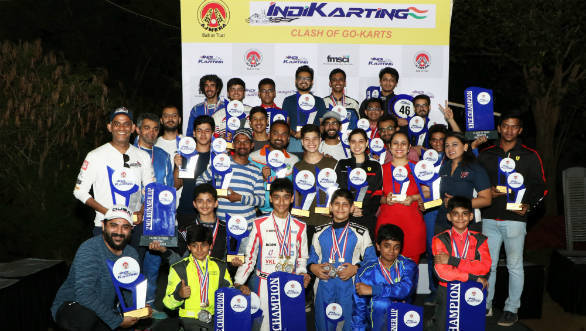 Rayomand Banajee, founder of Indikarting and an eight-time national champion said of this event, " It was fantastic to see the enthusiasm and the turnout for the event. Racers came in from all parts of the country & this speaks volumes about the appeal that motorsport has. We will be kicking off our National Series later in the year and hope to see participation in even greater numbers."