India's first flat track course set to open in Bengaluru on Aug 19
Flat track racing is a sport that focuses on maintaining control of a motorcycle as it slides around a low-traction dirt surface. The constant inputs that go into managing this result in bettering the rider's control over motorcycles, be it on the road, racetracks, or off road. Bringing this idea of sliding around for better control to India is three-time podium finisher at the Malaysian Superbike Championship, Abhijith Prasad. He had built a flat track course a short drive from Bengaluru to improve his own skills, and is now opening it up to the public on August 19. So whether you want to learn to cut down your lap times on the track, or just want to have a fun outing sliding around on motorcycles with friends and family, there is now a location that offers just that.
What is flat track?
A flat track is a closed-circuit racing track for bikes and cars. Being set on a level surface and devoid of jumps, it is relatively safer than a dirt track for beginners. It is also good from a learner's perspective as it offers both left and right-hand turns unlike speedway racing. The track named Slideways Motoranch is located on a 3.5-acre piece of land opposite the Pepsi Factory, near Aiyappa Temple on Mysore road, a 35-minute drive from Bengaluru. From August 19, the track will be open to the public on weekends from 9 am to 3.30 pm, divided into two 2.5-hour sessions. Weekday sessions are only available on prior bookings.
Each session will cost Rs 3,000 as an introductory offer during the first month, subsequently going up to Rs 5,000. For the price, Prasad said that visitors also get one of the four Kawasaki KLX 140 dirt bikes available, as well as full riding gear including helmets, boots, armour, gloves and goggles of international standard. It is open to anyone aged 12 years and up, which means it can turn out to a be fun day out for a family, while also learning the nuances of trying to control a sliding motorcycle at manageable speeds.
How it helps
"While training for racetrack competitions, I realised that to go faster I had to learn to slide quicker and with more confidence. The major difference between flat tracking and street or circuit racing is that the motorcycle's movements in low-traction situations on the dirt are more exaggerated and hence the corrections and countersteer one has to make are also more pronounced. Making these large corrections helps one settle into a more natural position and opens up more precise control in race situations. You learn to gas harder on corner exit and to not lose confidence if the rear slides," Prasad told OVERDRIVE. He claims that flat track training helped him shave off nearly 2 seconds of his average lap time at a 5.54 km racetrack.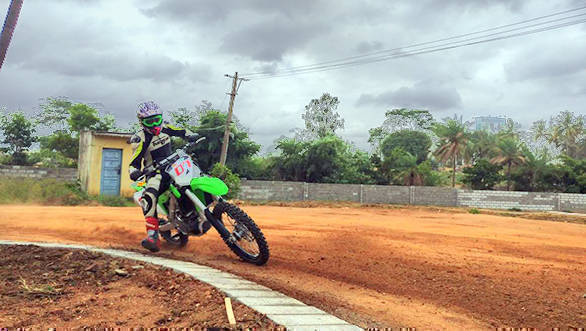 In low-traction situations, hard braking can lead to a spill and dirt in your face at the very least. Hence the idea is to keep going by using the momentum of the sliding motorcycle and controlling it using countersteer and throttle input. With less braking and more confidence through the slide, a rider naturally improves his or her time around a circuit. The most famous proponent of flat track racing to improve circuit racing style is nine-time MotoGP world champion Valentino Rossi, who also has his own track in Tavullia, Italy. Other MotoGP champions including the late Nicky Hayden and Casey Stoner had also cut their teeth on such tracks before making it to the premier class.
Words: Abhishek Samuel