Indian Rally Championship 2014: Gaurav Gill and Musa Sherif win Rally of Coimbatore
It was a good sign that there were 36 entries in the Rally of Coimbatore, up by more than 10 runners from the season-opening Nashik Round of the championship. But even amongst those 36 entries, the odds that Gaurav Gill and Musa Sherif wouldn't win the rally seemed pretty slim. It's not that there wasn't competition for Gill, but when you have a reigning APRC champion in your midst, the task of winning becomes just that much more challenging.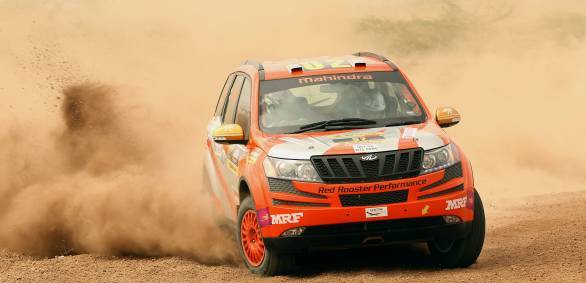 For Gill, competition was there in the form of his Mahindra Adventure team-mate Amittrajit Ghosh. A resurgent Arjun Rao Aroor, who missed the first round of the championship earlier this year, was back in his white and blue AR Racing Volkswagen Polo. And there was more competition in form of a Mitsubishi EVO6 driven by PG Abhilash who made a return to rallying after a gap of five long years. Missing in action was that other Mitsubishi EVO - the X driven by Samir Thapar.
Coimbatore featured two stages - one 26.10 km long and the other 12.65 km - run twice each on Saturday and once each on the Sunday, along with a SSS that was held on Saturday at the Kari Motor Speedway.
How did things pan out? Gaurav Gill and Musa Sherif ended the first day of the rally on top of the timing sheets. It was a rally of attrition though, with Gill's team-mate Ghosh retiring from the rally on the first day. Ghosh's XUV had trouble with the turbo, which meant he had to limp back to service. While the car was serviced and deemed ready to go, Ghosh wasn't able to go more than five kilometres before the trouble started up again, which resulted in him coming back into the service park. PG Abhilash managed to set a time that was faster than Gill's on the first day, it wasn't something that he was able to keep up. Trouble with the car led to him retiring before the SSS on Saturday.
One driver that stood out on Saturday was Karna Kadur, co-driven by BS Sujith Kumar. Karna set some impressive times in the initial part of the rally. However, his Mitsubishi Cedia, backed by Red Rooster, had electrical trouble, which saw him lose time. Kadur, by his own admission, declared that the time spent away from rallying meant that he was rusty over the first two stages, but he managed to do better on the third stage. Then things came undone for him.
Sunday saw Gill continue his domination of the rally, increasing the overnight lead that he had from 1min 32secs to over two minutes from second-placed Arjun Rao Aroor and Satish Rajagopal. Third place went to Sunny Sidhu and PVS Murthy, also driving for Mahindra Adventure.
Results - Rally of Coimbatore
Indian Rally Championship
Gaurav Gill/Musa Sherif
Arjun Rao Aroor/Satish Rajagopal
Sunny Sidhu/PVS Murthy
IRC 2000
Rahul Kantharaj/Vivek Bhatt
Byram Godrej/Somayya AG
Prithvi Dominic/Ravindra MS
IRC 1600
Arjun Rao Aroor/Satish Rajagopal
Vikram Devadasen/Shrikanth
Phalguna Urs/Anoop Kumar
FMSCI 1600
Raghu Nandan B/Suraj K
Adith K C/Harish K N
Aniruddha Rangnekar/Nitin Jacob
Price (Ex-Delhi)
Starts Rs 6.17 Lakhs