Indian National Racing Championship 2018: Day 2 sees Ashwin Datta and Arjun Balu stand out in their classes
The second day of Round 2 of the Indian National Racing Championship saw a couple of drivers, Ashwin Datta and Arjun Balu, stand out in the MRF F1600 and Indian Touring Cars categories.
The day started off with the FLB 1300 class of open-wheel racers. The two races of this class that took place on this day witnessed close competition with Sohil Shah (Bengaluru) of MSport winning the first race after facing pressure from team-mate Nabil Hussain from Chennai.
Ashwin Datta won the second race in this class which also happened to be quite incident-packed. There were a few crashes but drivers remained uninjured. Ashwin won from a sixth-place start, a good run with he continued throughout the day.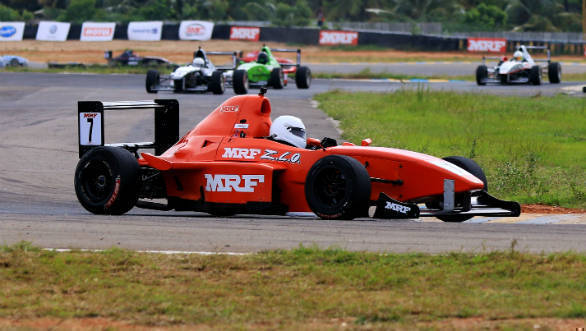 Ashwin Datta winner of the MRF F1600 race on Saturday
Ashwin also won the first of three MRF F1600 races scheduled over the weekend. Unlike the other races, this was a straightforward run to the win from pole. He was followed by Raghul Rangasamy and Nirmal Umashanker. The next two races in this category were held on Sunday.
In the Indian Touring Car class, Ashwin Balu brought his pace from Friday to the race as well, winning comfortably from pole ahead of Vidyaprakash and B Vijayakumar. Ashish Ramaswamy, dominant in Round 1, had to retire due to engine failure from second place.
Arjun Balu on way to winning the Indian Touring Cars race on Saturday
In the other races, Varun Anekar (Race Concepts) won in the Super Stock class, Chris D'Souza from Unimek Racing won in the Indian Junior Touring Cars category and Erode's Vinod S (Team N1) in the Esteem Cup. These three car classes were combined in a 16-car grid that saw quite a few incidents.