National Racing Championship 2018 : Arjun Narendran dominates the ITC class in Round 3
The third round of MRF MMSC fmsci Indian National Racing Championship was held this weekend at the MMRT near Chennai.
Sandeep Kumar (No.6) on way to winning the MRF F1600 race
The first round of races took place on Saturday, July 21, with Sandeep Kumar dominating proceedings in the premier F1600 single seater class. Raghul Rangasamy and Goutham Parekh rounded off the podium in this class. Nirmal Umashankar started second on the grid and briefly led the race, before being penalized with a 30-second penalty for failure to commit to a drive-through penalty for a jump-start. For Sunday, Goutham Parekh, the first runner-up in the 2015 season before going on a two-year hiatus, started fourth on the reverse grid and moved to the front with Sandeep Kumar and Nabil Hussain in close attendance. The order remained unchanged as they crossed the finish line.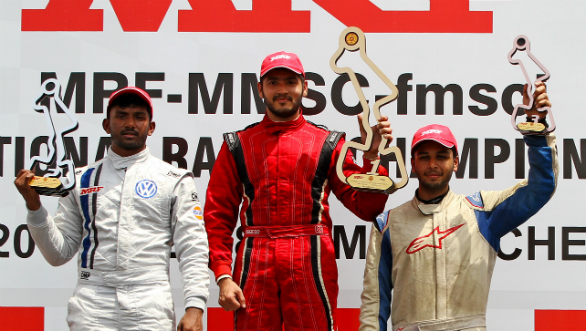 Goutham Parekh (centre), winner of MRF F1600 race, flanked by second-placed Sandeep Kumar (left) and third-placed Nabil Hussain
In the Indian Touring Car class, Arjun Narendran of Arka Motorsport made a strong return to competitive action after sitting out the first two rounds. He won both the events in the class over the weekend. Arjun Balu had a relatively forgettable weekend, finishing second in the first race while an engine blowout during the second race forced him to drop out after three laps.

Arjun Narendran from Coimbatore, powering his way to victory in the Indian Touring Cars race (July 21)
In the new Turbo category race held concurrently with the ITC cars, Karthik Tharani won both races in the new Vento TC-4A cars that Volkswagen Motorsport has entered in this category.
Also achieving a double this weekend were Bengaluru's Varun Anekar of Race Concepts (Super Stock), Vinod Subramaniam from Erode (Performance Racing) in the Esteem Cup and Goanese Chrys D'Souza (Unikek Racing) in the Indian Junior Touring Cars category. These races were held concurrently on the same grid.
Coimbatore's Arjun Narendran who achieved a double in the Indian Touring Cars category
Both the Formula LGB1300 races were held on Saturday. Both winners were teenagers, Sohil Shah won the first race while Nabil Hussain from MSport won the second race.
For the results of the Ameo Cup races also held over this weekend read here for Saturday and here for Sunday.