Indian National Motorcycle Racing Championship: Sumit takes lead on day 1, while day 2 belongs to Sarath Kumar
Day 1
It's been a busy weekend at the Irungattukottai Race Track. Round 3 of the 2014 MMSC-FMSCI Indian National Motorcycle Racing Championship saw a close contest between Sumit Lucas Toppo, A Prabhu and Sarath Kumar in the Honda CBR 250 race. The three were swapping leads the entire race until Sumit finally usurped it from A Prabhu by a close 0.003 seconds and beat Sarath by a good 0.096 seconds.
The first place again evaded Sarath Kumar in the Group C 165cc category - even though he gave K Rajnikrishnan close competition, he had to settle for the runner-up position. Sumit, meanwhile, couldn't carry forward his Honda CBR 250 success and was a further 3 seconds behind Sarath.
The TVS One Make Open Race saw Mathana Kumar take the lead with SK Prakash and Abhishek Vasudev finishing in second and third places respectively. In the TVS Apache Novice category, S Kannan came on top, ahead of runners-up Naresh Babu and K Kannan, while in the Honda CBR 150 Novice category, the spots on the podium went to R Rajanikanth, S Rajiv andVimochana Gadusu.
Results
Honda CBR 250 Open - R1
Sumit Lucas Toppo

A Prabhu

Sarath Kumar
Honda CBR 150 Novice - R1
R Rajanikanth

S Rajiv

Vimochana Gadusu
TVS RTR 180 Open - R1
Mathana Kumar

SK Prakash

Abhishek Vasudev
TVS Apache Novice - R1
S Kannan

Naresh Babu

K Kannan
Yamaha Open - R1
Vivek Pillai

Ananth Raj

Dinesh Kumar
Yamaha Novice - R1
Mithun Kumar

E Saravanan

S Siva
Group C 165cc
K Rajnikrishnan

Sarath Kumar

Sumit Lucas Toppo
Group D 130cc Novice - R1
S Kannan

E Saravanan

R Harikrishnan
Group D 165cc - R1
Mithun Kumar

R Harikrishnan

Harshit Rao
Day 2
The second day belonged to Sarath Kumar, who after his dry spell on day 1, bounced back with a vengeance and beat Sumit Lucas by 0.087 seconds in the Honda CBR 250 race. But it was Sumit again who won hearts as he set the fastest lap in the race and provided hungry motorsport junkies with all that side-by-side action to oust his rival. Far from all the action though, Ramesh Kumar took third step at the podium.
The Group C 165cc on day 2 was again won by K Rajni. However, this time, it was K Jagan who took second place instead of Sarath Kumar, who finished third.
Dinesh Kumar and Ananth Raj swapped positions on day 2 of the Yamaha One Make Open, but this time Shyam Shankar took the lead. The Yamaha One Make Novice was a 'dear diary' event for Vivian Gladwin David, as he took his first win, wrenching it from Naresh Babu and leaving behind Piyush Ranjan in third place.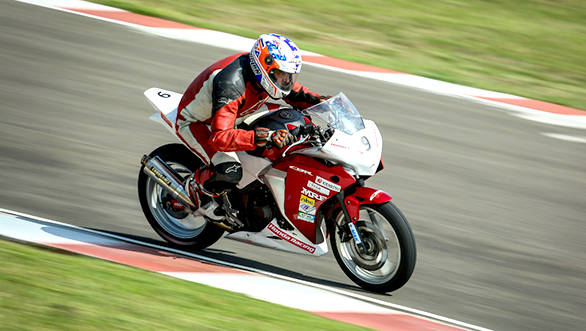 Spectators were treated quite a spectacular battle between KY Ahamed and SK Prakash in the TVS One Make Open race until Ahamed surged ahead of Prakash by 0.087secs  and Ananth Raj third position. Day 2 0f the TVS Apache Novice race was a repeat of day 1 with S Kannan beating Naresh Babu and K Kannan again.
Day 2 would be going down as red-letter day in Vivian Gladwin David's diary again because he went ahead and took his second ever victory in the Honda CBR 150 Novice category. S Rajiv and Shreyas Sannake took the remaining spots on the podium.
While Mithun Kumar may have lost to first time winner Vivian Gladwin David on Day 2 of Yamaha One Make Novice, he more than made up for it by scoring victories in both Group D 130cc Novice and Group D 165cc Novice categories.
Results
Honda CBR 250 Open - R2
Sarath Kumar

Sumit Lucas Toppo

Ramesh Kumar
Honda CBR 150 Novice - R2
Vivian Gladwin David

S Rajiv

Shreyas Sannake
TVS Apache Open - R2
KY Ahamed

SK Prakash

Ananth Raj
TVS Apache Novice - R2
S Kannan

Naresh Babu

K Kannan
Yamaha Open - R2
Shyam Shankar

Dinesh Kumar

Ananth Raj
Yamaha Novice - R2
Vivian Gladwin David

Naresh Babu

Piyush Ranjan
Group C 165cc - R2
K Rajnikrishnan

K Jagan

Sarath Kumar
Group D 130cc Novice - R2
Mithun Kumar

S Kannan

K Kannan
Group D 165cc - R2
Mithun Kumar

R Harikrishnan

Shreyas Sannake
Related Stories