2018 INMRC: KY Ahamed dominates Super Sport Indian class at Round 1 at the Kari Motor Speedway
The MRF MMSC FMSCI Indian National Motorcycle Racing Championship is the country's premier motorcycle racing championship. The series, held this year over five rounds, is one of the more prominent events in the Indian motorsport calendar. Each round is held over three days, with the 2018 season starting off at the Kari Motor Speedway in Coimbatore on the weekend of June 6 to June 8, 2018. The Rolon Round, as the first round was called, attracted nearly 200 entries.
KY Ahamed dominated the Super Sport 165cc class at Round 1 of the 2018 INMRC
Super Sport Indian - Open - up to 165cc
Reigning National champion Jagan Kumar of TVS Racing dominated this competitive class in Friday's free practice session. Jagan, who won his sixth consecutive national title last year, displayed good form as he clocked a best time of 1 min 12.686s, ahead of TVS Racing team-mates Deepak Ravikumar and KY Ahamed. However, KY Ahamed stole the show from there onwards. In the first race held on Saturday, Ahamed started fourth from the grid. He overtook teammate Jagan and Honda Ten10's Manthana Kumar by the end of the second lap. Once in front, Ahamed did not look back despite his visor getting fogged, that meant that he at times missed the braking points over the course of the seven-lap race. Ahamed carried this form into the second race on Sunday as well. TVS Racing had a 1-2 finish in this category after Ahamed took first place ahead of team-mate Deepak Ravikumar. Jagan Kumar's bad run continued when he crashed following a front tyre deflation on the 10th lap, and then proceeded to limp home sixth despite clocking the fastest lap of the race. Mathana Kumar rounded off the podium.
Pro Stock - Open - Up to 165cc
This class started with Anup Kumar (Team Alisha Abdullah) being the quickest in the Friday practice session, well ahead of Anish Shetty (Honda Ten10 Racing) and Kevin Kannan (Rockers Racing). Anish D Shetty, a 23-year old techie from Bangalore, managed to turn things around during both, the first seven-lap race on Saturday as well as the 15-lap main race on Sunday. The Idemitsu Honda Ten10 rider had a tough battle with three other riders on Sunday being in reach of the top spot right through the race. Second and third place went to Kevin Kannan of Rockers Racing and Mithun Kumar, also of Honda Ten10 racing, respectively.
Anish Shetty for Idemitsu Honda Ten10 Racing who dominated the Pro Stock 165cc class at the Kari Motor Speedway
Pro Stock - Open - 300cc to 400cc
On Saturday, local lad Antony Peter (Vortex Racing), a 22-year old automotive engineering student, won a tight race in this class. The race was tricky, having been red-flagged due to heavy rain and reduced to seven laps from the scheduled 10. Starting from fifth on the grid, Peter, who had finished fourth in the championship in this class last year, quickly moved up and tucked in behind leader Peddu Sriharsha (Sparks Racing) from Hyderabad before going to the front in the fourth lap. He then maintained his lead before the race was red-flagged due to rain for a creditable win.
Anthony Peter won Race 1 in the Pro Stock Open 300-400cc class
Bengaluru's 42-year old rider Ananth Krishnan (Apex Racing Academy) completed the podium after surviving a few moments on the slippery track. Sunday's Race 2 turned out quite differently. The 15 lap event saw a 1-2 finish by Gusto Racing. Amarnath Menon finished on the top step at 18m 22s 762ms followed by Satyanarayana Raju and Antony Peter of Vortex Racing.
Stock - Girls - Up to 165cc
Ann Jennifer(11m 55s 766ms) of Sparks racing won the girls race ahead of Nivetha Kumar (First 1 Racing) and Czimkhy RV from Trivandrum. The women's race was shorter at eight laps but was marred by rain. Ann had a good run throughout the weekend, having finished in first place at the top the practice session in this category on Friday.
Stock - Novice - Up to 165cc
The Sparks Racing team had a successful outing in the Novice class as well. Aditya Rao(13m 28s 042ms) and Karthik Mateti delivered a 1-2 finish for the team from a 32-rider grid that was arrived at after two heats. Akshay Murali (Apex Racing) completed the podium.
One-Make Championship: Idemitsu Honda India Talent Cup 2018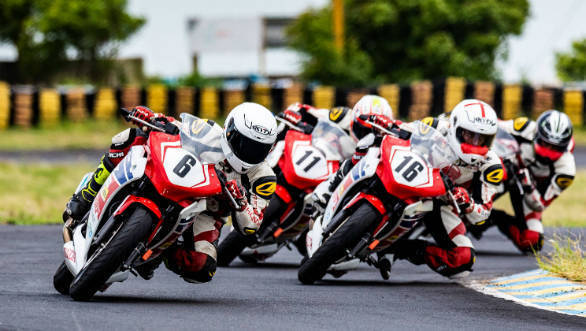 Senthil Kumar won both races of IDEMITSU Honda India Talent Cup
The first race was held on Saturday with riders piloting Honda CBR250s. Senthil Kumar of Coimbatore finished in first place(13m 14s 654ms), followed by Anish Damodara Shetty of Hubballi and Jaden Gunawardena from Sri Lanka. The 15 lap second race saw the same riders finish in first and second with third place going to Abhishek Vasudev from Bengaluru.
TVS - Novice - Apache RTR 200
Karthik Mateti from Hyderabad won the first leg of this event on Saturday with a time of 15m 08s 752ms Mohamed Shafin (Kerala) was second followed by Chennai's AS Alexander. Race 2 on Sunday was also a 10 lap affair and saw similar finishes. Karthik (14m 10s 019ms) and AS retained their positions, second place went to Anand R from Chennai.
TVS - Girls - Apache RTR 180
In the single 10-lap TVS girls race held on Saturday, Ryhana Bee (Chennai) finished first with a time of 12m 09s 398ms. She was followed by Ann Jennifer (Chennai) and RV Czimkay (Trivandrum)
TVS - Open - RR310 R2
In the first 10 lap race on Sunday, Bengaluru's Yashas RL took the win with a time of 13m 16s 475ms. He was followed by Vivek Pillai (Chennai) and Peddu Sriharsha (Hyderabad). The 15 lap second race saw Deepak Ravikumar of Chennai lead proceedings followed by S Sivanesan, also from Chennai. Third place went to Peddu Sriharsha again.