Indian electric two-wheeler brand Okinawa Scooters opens new dealership in Delhi
Indian electric two-wheeler manufacturer, Okinawa Scooters has inaugurated a new dealership, Garud Automobile, in Delhi located at 76E Old Palam Road, Dabari Extention, Dwarka. The company mentions that this state-of-the-art dealership is spread over a total of 1,600 sq. ft which will cater to both, sale and servicing of the entire range of two-wheelers. Last month, Okinawa introduced RSA for its electric scooters, I-Praise and Okinawa Ridge+. Okinawa confirmed that the RSA service will be available in Delhi as well.
"The newly launched dealership is testimony to our successful run in Delhi NCR where electric scooters are consistently witnessing an encouragingly high demand. The environmentally aware millennial generation has been opting for sustainable modes of transport. Delhi NCR has been associated with dubious epithets like 'world's most polluted capital' and 'gas chamber', and the shift to EVs will definitely curb pollution the city and bring an overall improvement in the air quality. Government initiatives such as FAME II and NITI Aayog proposal of sale of only electric vehicles after 2030 have further given boost to e-mobility in the country," commented Jeetender Sharma, Founder & Managing Director, Okinawa Autotech Pvt. Ltd.
He further added, "With a large display area for our scooters and highly trained and efficient sales and aftersales staff, Okinawa is geared to provide a whole new experience to its customers in the capital city. This dealership will house our flagship products Ridge+ and i-Praise scooters along with R-30, Ridge and Praise models."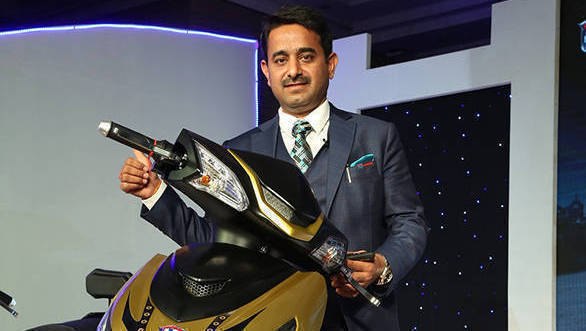 Jeetender Sharma, Founder & Managing Director, Okinawa Autotech Pvt. Ltd
At the recently announced 2019 Union Budget, the government had proposed a drop in GST rates from 12 per cent to five per cent. This is a further drop from last year's 18 per cent. This is alongside the up to Rs 1.5 lakh additional income tax deduction on loans taken to buy electric vehicles. These benefits together can make buying an EV cheaper by up to Rs 2.5 lakh, as per government estimates. EV manufacturers will be eligible for deductions in capital expenditure under Section 35AD (1) of the Income Tax Act. The customs duty on lithium-ion cells is being reduced to zero, this will encourage local battery production. All of these initiatives are positive steps. There may be some issues in how it gets implemented or some ambiguity might remain about how they will be enforced, but you can expect more EVs in India than ever before.
Price (Ex-Delhi)
Starts Rs 44,990