India Bike Week 2014 to be held in Goa on January 17-18
Festival planners SEVENTY Event Media Group has come together with FOX Traveller to announce the second edition of India Bike Week (IBW), the biggest congregation of bikers in India. The annual festival of bikers, bikes, music and entertainment will be held in Goa on January 17 and 18 in 2014.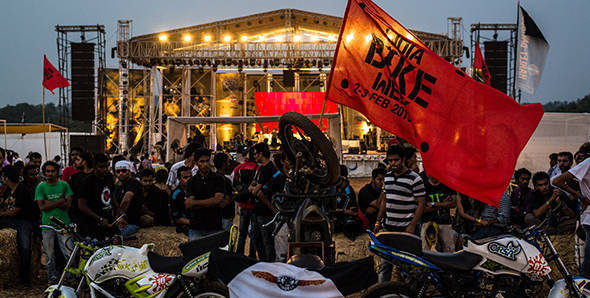 Modelled on the 'Sturgis Motorcycle Rally' in South Dakota, USA, that attracts thousands of bikers every year, India Bike Week aims to be the largest rally of bikers in the country. From café racers to scramblers, cruisers to superbikers, this annual event will bring together over 10,000 fans and celebrities to Goa. New bikes launches, products and accessories will also be part of the two-day event.
IBW 2013 was attended by 6,547 bike enthusiasts, with over 3,000 bikers riding down from all over India to Goa. Apart from a number of bikes and accessories, it featured three concert stages, 28 live bands and DJs, five bars, 16 cage fighters, bike build-off, international stunt specialist Mattie Griffin and hundreds of exotic and custom bikes.  IBW '13 also featured a Stunt Arena, Big Trip Cinema, Vintage & Custom Bike display, Biker Flea Market, Dirt Track Racing, an extensive expo area and many legends and noted bikers who set the stage for the biking community in India.
"In 2013, we set out to create the largest Festival for Bikers and Bike fans in India's history, and we were overwhelmed by the response. We've been working all year to create the second India Bike Week, and it's looking amazing already. This is already India's biggest carnival for all hardcore bikers, fans of the two-wheeler way of living, travellers and India's many music and festival fans," said Martin da Costa, CEO, 70 EMG
"In 2014, it's going to be a great party, and we're talking to the hundreds of bike clubs in India, as well as international bikers, brands, customisers, bike and accessory manufacturers and musicians to make this an amazing week," he added.
"We are very excited for the second leg of India's leading biking festival 'India Bike Week' at the biker haven -- Goa. We proudly believe that it is this love of pure unadulterated motorcycling that brings the riders together from all over the world and bond over their common passion of riding. We hope to inspire a new generation of bikers and make India Bike Week an annual property for the biker community in India," said Keertan Adyanthaya, MD, FOX International Channels.
Priced at Rs 3,000, the ticket sales began on September 27. An Early Bird discount of 10% is on till October 31 and the first 1,500 buyers will receive a complimentary IBW t-shirt. Tickets are available on in.bookmyshow.com  and at Harley-Davidson showrooms across the country from October 1.