India Bike Week 2014: Carnival of two-wheels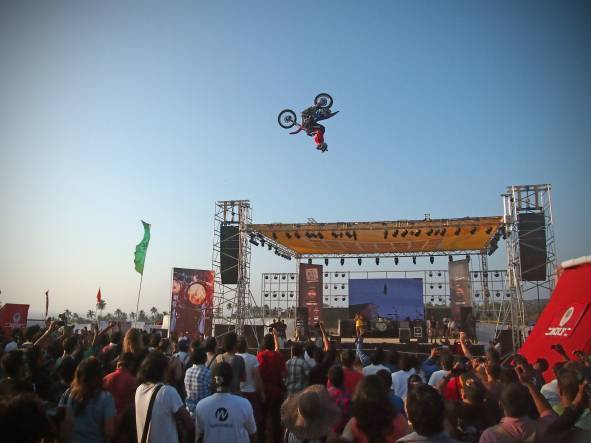 The India Bike Week (IBW) festival 2014 was bigger, with over 8,000 riders, motorcycle fans and tag alongs flocking to the venue over two days. It was, in some ways, better than the first year as well, with a larger venue that was better laid out and easily accommodated the larger numbers. And with some luck and patronage it should only get better over the years to come.
There was, of course, the rolling thunder of 1,000 Harley-Davidsons (claimed numbers) that made the ground under your feet tremble as group after group of HOG's entered the venue. In fact, like last year, the streets of Goa too were filled with that same rumble as they thundered through the small by-lanes. This year too there were a handful of aftermarket accessories and parts dealers, both big and small, displaying their wares in two different arenas at the venue.
There was also the stunt riding teams competing in Stunt Wars, vintage motorcycle concourse, a number of bands and DJ playing at two different stages, the bikini bike wash and a constant flow of beer from the 'beer ambulance'. For bike owners, there was the opportunity to show off their rides in a number of events like the loudest bike competition, Dyno Wars or the Harley-Davidson custom bike showcase. There was also a great display of vintage and classic motorcycles with their owners on hand to give you a first account of owning and maintaining one of these rolling pieces of history.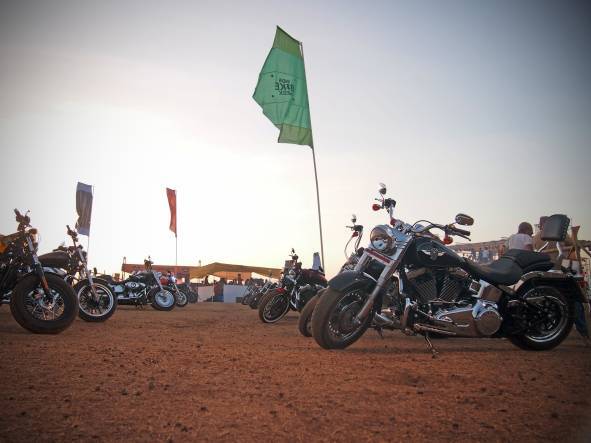 There were a number of heroes in the motorcycling world present at IBW this year, and boy did the have some amazing stories to share. I was privileged to ride to Goa alongside Ted Simon, a man who has traveled around the world not just once but twice on a motorcycle. He's the author of Jupiter's Travels and Dreaming of Jupiter, books that detail each of those epic journeys. Then there is Nick Sanders, the man who holds the record of being the fastest around the globe on two wheels. He took all of 19 days (riding days) to complete this feat in 1997. For MotoGP fans at the venue there was Scott Redding, who we managed to speak to for a few brief moments and he shared some of his plans and expectations for the 2014 season.
We also had the pleasure of spending an evening with Pankaj Trivedi, a man who has decided to spend the rest of his life on a motorcycle but with a more socially relevant twist. He plans to devote his time to make a difference in the lives of the people he meets with his Half Stories series of films. The best part of the festival is that every visitor to IBW had the opportunity to connect with each of these great motorcyclists as they gave talks to the public at the Big Trip cinema tent.
Over the two days of the event, there was a lot to do, see and take in as a motorcyclist. What I enjoyed most was the chance to rub shoulders with some true legends in the world of motorcycling. I also managed to make a host of new friends who share in my passion for anything on two wheels. And I think this is the essence of IBW and the reason that, despite having seen all there was to see this year, I'm still looking forward to making the ride to IBW 2015.