India Baja 2018: Santolino Lorenzo dominates Moto category
At the end of the two days of the India Baja 2018, Spain's Lorenzo Santolino of TVS Racing won the Moto Category at India Baja with a cumulative timing of 3: 38: 46s. In the Xtreme category, Arindam Saikia (Co-driver Jeevarathinam J) took the homours with a cumulativetiming of 5: 8:48s.
CS Santosh of Hero MotoSports Team Rally and TVS Racing's Abdul Wahid Tanveer followed Santolino in the Moto category with timings of 4: 3: 18s and 4: 18: 10s. Santosh lost the title by way of a 30-minute penalty for missing a pass.
Team Harjee Motorsport's Himanshu Arora (co-driver Kunal Kashyap) with a timing of 5: 38, and Team Desert Raiders' Narayan Balan (co-driver Chirag Thakur) with 5: 39: 8s came in second and third respectively in the Xtreme category.
Riding a TVS RTR 450 at the competition, Santolino now also gets a free entry into the 2020 Dakar rally. Debutant Arindam Salkia, in his Polaris, also made a mark as adebutant. He said that that the having to manually naviagte through road-books and fewer waypoints made this edition of the India Baja more challenging.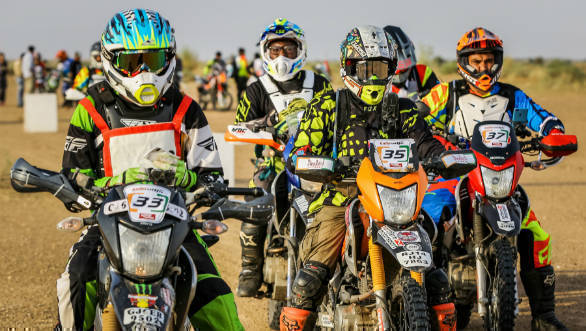 India Baja 2018 is a 'Road to Dakar' challenge, one of only five such events in the world. This means that the top finisher will get direct entry to the 2020 Dakar Rally. The India Baja 2018 winner will also be entitled to complimentary entry to the Afriquia Merzouga Rally 2019. Total monetary advantages to the winner of the competition amount to ?20,000 or Rs 16 lakh, which covers the registration fee for one motorcycle in both events. Further, the top-placed contenders in all categories at India Baja 2018 will be awarded direct entry to the Maruti Suzuki Desert Storm rally of 2019.
Speaking of his win, Lorenzo Santolino said  this victory was a very happy moment for him given that he was pretty close to winning the Desert Storm Rally earlier this year in the same terrains, but could not. He thanked his whole team and supporters for making it possible.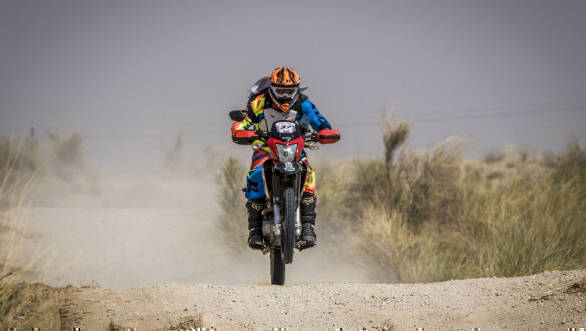 When asked about his take on motorsport in India, particularly the 2W Motorsport scenario, Santolino remarked by saying that he believed Indian motorsport was growing in the right direction. The navigational systems that India Baja mandated this year are at par with what is used in the World Rally Cross Country Championship. Introduction of the road books, no gpx tracks, and very few way points were some really exciting developments at this event. He was also very hopeful that step-by-step Indian motorsport will soon arrive at the level of international motorsport scenario.