Incredible India-Where Camel Carts Run on Aircraft Wheels and Tyres
In 2017, the Hindi word "jugaad" was added to the Oxford Dictionary, which describes it as "a flexible approach to problem-solving that uses limited resources in an innovative way". Reading a description and seeing one in real life are two different things. I say this because, on a recent trip to Rajasthan, I came across some camel carts that are truly ingenious examples of the unbelievable jugaad our countrymen are capable of.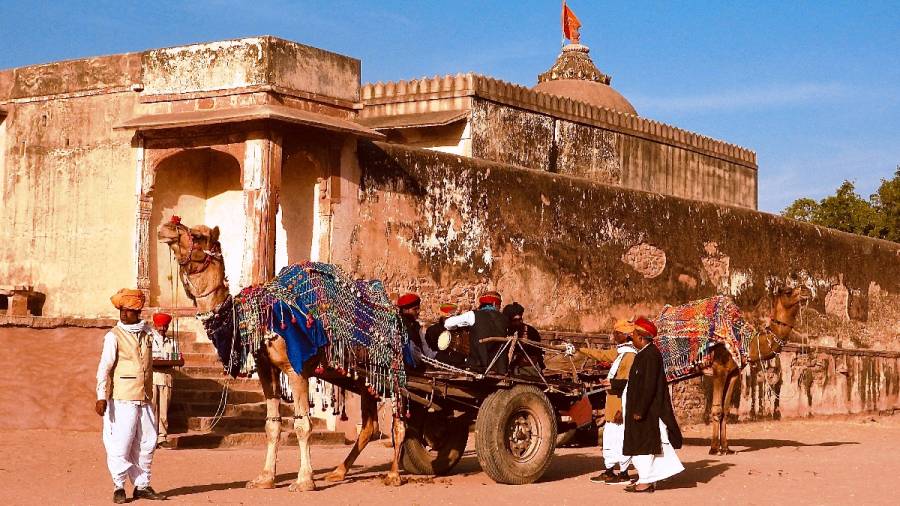 Camel carts have apparently been in use since 3500 BC.
According to the history of transport, horses and camels were domesticated and used for transport around 4000 BC. And in 3500 BC, fixed wheels on carts were invented. But what I really want to know is who first started fitting discarded airplane wheels and tyres, on some of the camel carts made and used in the desert regions of Rajasthan. Yes, we have camel carts that run on aircraft wheels and tyres!
And you still find them in some parts of India, like the desert region in Rajasthan.
The first time I noticed these aircraft wheels on camel carts, was some 25 years, back while visiting Pushkar. But honestly, I did not think much of it back then, and never realized how inventive these camel carts actually are. Then last month when I was in Nagaur, my wife decided to go on a camel cart ride with some other guests, and seeing these carts up close again, made me appreciate what a brilliant idea it is to fix discarded aircraft wheels and tyres on them.
Look closely at these camel carts. The wheels and tyres are from airplanes. This can only happen in India.
Transport aircraft wheels and tyres are usually quite big and have a high circumference. And to cope with the heavy loads while taking off or landing, airplane tyres are also inflated to very high pressures, often in excess of 200 psi, which is 4 to 5 times more than a passenger car!
Camel cart rides are popular with foreign tourists. But few of them ever realize that they employ aircraft wheels and tyres, which provide a more cushioned ride.
As aircraft tyres are large, they have a higher rolling circumference and need fewer rotations to cover the same distance than a smaller sized one. They also contain more compressed air, so their buoyancy is better and therefore they have lower rolling resistance. Rolling resistance is important in all vehicles, but even more so in one drawn by an animal, because it is a measure of the energy or effort required to keep a tyre rotating. So a lower rolling resistance reduces the load on the camel.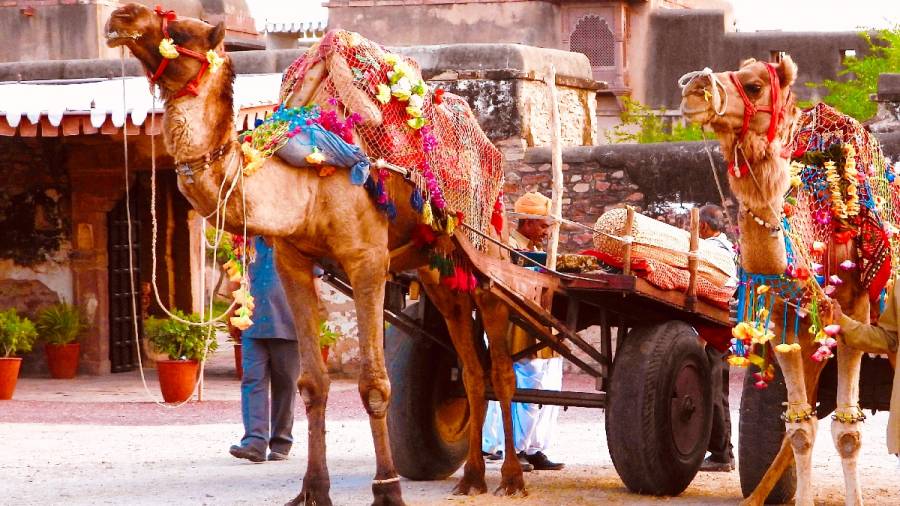 Airplane tyres are ideal for these carts as they have higher rolling circumference and need fewer rotations to cover the same distance than a smaller sized one.
It's because of all this that I would give an award for innovation, to the person who first fitted airplane wheels and tyres on camel carts. It's like a match made in heaven. Camel carts are mainly used in desert areas and the wheels have to run in soft sand. So the higher rolling circumference and lower rolling resistance of aircraft tyres, means lesser strain and effort on part of the camel.
Several camel carts, like the one in this picture, are now also fitted with truck wheels and tyres.
The cart's tall tyres also don't sink deep into the sand, and chances of the wheels getting stuck are substantially reduced too.  Another benefit is that the higher inflation pressure of the tyres, also acts as a cushion and provides a much softer ride to passengers.
The first three carts have tyres from trucks. But the last one is fitted with airplane tyres and you can see the difference in size and stance.
Interestingly, not all the colourfully decorated camel carts that I saw in Nagaur were running on aircraft wheels and tyres. Several had redundant wheels and tyres from trucks too. Inquiries revealed that earlier the Indian Air Force used transport planes like the Avro's and Dakota's and once their wheels and tyres crossed the usable life mark, they were sold as scrap at air force bases in Bikaner, Jaisalmer, etc.
Camels that draw these carts are well groomed and looked after.
Enterprising scrap merchants and camel cart makers then inventively recycled and used them. But after the IAF has modernized its aircrafts, these wheels and tyres have become harder to come by, and that is why one is now seeing more carts with wheels and tyres from trucks.
Airplane tyres also have higher air pressure and lower rolling resistance, which puts lesser strain on the camel.
So next time you are in the desert areas of Rajasthan or Kutch, do keep a lookout for these camel carts and go for a ride in them, as they are truly an exceptional part of our culture of "Indian Inventiveness". And they are so useful for traversing the soft sands, that even our Border Security Force (BSF) uses camel carts on our borders for both administrative and operational needs.
One should take a ride in these camel carts as they are a great symbol of-Indian Inventiveness.
Photos courtesy Kr. Noor-Priya Singh, IG @noorpriya