In conversation with Giovanni Castiglioni, the head of MV Agusta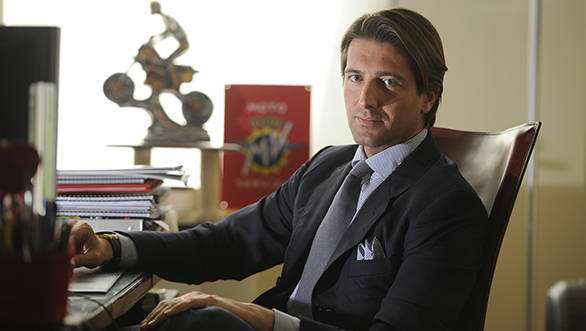 OVERDRIVE : Why is your history so turbulent?
 Giovanni   Castiglioni:
I will start from 2007 when I took over the company from Harley-Davidson. It was a moment when they were in financial stress - the world, in fact, was in a big recession. We decided that we had the opportunity to purchase the [MV Agusta] company.
We sold the company to them because it was a great project to see us and them, an Italian and an American icons together. But in 2008 we decided that the potential of MV was still to be fully exploited and decided to invest further equity into the company and purchase it.
In 2010, the company had two models, the F4 and the Brutale four-cylinder. With two models, we could not go anywhere. Especially in that period when people are not like today... Today people are once again looking for top-end. In that moment, they wanted entry-levels. So we made investments into the three-cylinder project that had already been started.
To cut a long story short, in five years we ramped up from 2,000 to over 9,000 units. In 2014, I saw that the company needed to make a further step. We invested a lot ( Euro 19 million ) into R&D in those years to make the products.
Because for MV or any other automotive brand, a bike is an expensive business. It is capital intensive. You invest today and for 36 months you see no income. Then you have homologation and then you enter into the market. It's a complex business. For a multinational [referring to the bigger motorcycle brands] what cost 1 Euro, for us, it cost 1 euro plus because we are smaller.
So we made big investments in those five years and we grew. Maybe not as much as we could have but we grew. We were just discussing that there is still a lot of space in the market.
We decided to make a partnership with Mercedes-AMG. We had the idea of entering with our bikes in their showrooms to increase our brand awareness. Not to sell out bikes but we wanted to make our bikes more popular. We are already very popular with the core bikers but we also wanted to reach the potential bikers who probably do not know MV just yet. We thought we had a partner in the high-end automotive, but unfortunately it did not work.
Today they are talking about another motorcycle brand owned by a car company being up for sale. I think that car and motorcycle brands are very different and they don't fit together. They are two different dimension.
So that did not work out but the company was still pushing for growth. But this did not happen so we decided that we should go back to our roots.
This happened last year. We grew but instead of focussing on more, more, more we focussed on what our clients want. High-end performance products. All in the top quality with no compromise. So we focussed on what we know best - to make the best high-end models. In any segment, whether touring or sports or naked bikes. This is what people told us last year.
Our company for the last five years had a 30 per cent rate of R&D over revenue which is something huge even for a medical company engaged in research!.
Now by restructuring the company, we think we have finished the major part of our investments and our cost are definitely lower. We structured the company and we made it smaller and it generated positive cash. We decided to further financially support the company by myself and my investors.
So you cannot really say we went up and down. Sometimes you follow a project and it works out and other projects don't.
OD: More affordable MVs?
GC: Sometimes people, like potential clients or critics say we have to make MVs more affordable. When we made the 657, the entry-level, I think it sold but when we came out with the Dragster RR we sold three times [the volume].
If you see our production line, we sell more RC and RR. This is what our clients want and this is what we are here for. If the client wants a different kind of quality, attention to detail then we cannot do that. You cannot do everything,.
OD:  New four-cylinder platform coming?
GC: We are working on the new four-cylinder platform and we are planning to show it in late 2018. The new four-cylinder model range will take all the developments that we are doing from racing and will be very high-performance oriented.
OD:  Does motorsport help the brand?
GC: Yes but I think it's more about technology than branding. There are a lot of examples of brands that never raced and sell a lot and other brands that raced a lot, won a lot, have superchampions but sold only a small amount.
So yes, racing is important. MotoGP is super important. It is a show and it very popular. [World] Superbikes and Supersport is more oriented to the customer that already know us. They are core bikers. So it is not so much about branding as it is about technology.
For us to compete with the multinational teams is special. Sometimes we are disappointed with the fourth place, fifth place but you go an see who is on the tracks - they are all multinationals. We produce results as a small team and that is very impressive.
OD: Electric bikes?
GC: If you ask me if I would go electric? I would say no. Because still I don't see an example of success in the [electric] car market apart from Tesla which is a completely different market.
In the bike business, a lot of people tried electric superbikes. But it is passion driven. You can come here today and ride the Brutale 800 Electric. But there is no sound. You can use your iPod for sound and performance is super but... I think we are far away.
I would not say no to hybrids. Or even to turbocharged. A turbocharger is something that can be interesting. In the cars we see four-cylinder engines producing same power as bigger engines. This is interesting but it will take time.
But no electric for us... no sound, no smell...
OD: Tell use about the RVS bike
GC: [RVS stands for Reparto Veicoli Speziali, or department for special vehicles]. The RVS [#1] Concept, I took the idea from our social, I think, and I said we should make something nobody makes. Not tailor made but top-end of the market. Everyone goes and customises bikes but still it is a customisation. I don't want to take anything away form customisers and there are some great ones - but the customers prefer the bike from the company.
OD: The Zagato MV?
GC: The Zagato is a design concept that has been criticised. But in the end the bike went all around the world 20 times and the the customer who bought it, sells it, he makes four times the price. He is one of my best customers, and also our first RVS customer.
I saw the Zagato from scratch and it was very difficult for me because it was very out of our design. But its good to follow also what the customer wants and this design was Japanese, the customer is Japanese and we are Italian, so very different.
But at the end, it was very cool!
OD:  Your bikes?
GC: I have the F4 RC and the Dragster RR today and I am looking forward for the RVS. My favourite is the Dragster because it is cool, fun to ride and good riding position and you can really play around with that bike. It's fun. It's a toy.
OD: Which RVS number will you be getting
GC: The number 12. I always have the number 12. So it will be RVS Hashtag One Number Twelve for me.
OD: Bike from the competition?
GC: I like the Indian. The cool all-black one, the Dark Horse. I would buy that.
OD:  Is that your Harley history speaking...
GC: No. We have a fantastic relation with Harley. They were our best partners we had really. It was just wrong timing. I have many close friends there and I like Harley's too but that Indian is very cool.
Price (Ex-Delhi)
Starts Rs 15,59,000