Importance of Auto Anniversaries
A few weeks back I attended a glittering party hosted by Honda Cars India to celebrate 25 successful years of the Honda City. While conversing with some executives of Honda and few senior members of the automotive media, I noticed that almost all of us were expressing how fast time has gone by and how much has changed in India in the last 25 years. Yes, anniversaries or landmarks, not only give us a reason to rejoice, but they also invariably make us look back and reflect on the years gone by.
Honda Cars India recently held an event to celebrate 25 years of the City. L to R - Takuya Tsumura, President and CEO; Kunal Behl, Vice President Sales and Marketing and Yuichi Murata, Director Marketing and Sales.
Honda Cars India Ltd was established in December 1995 and their first product, the Honda City, rolled out of their plant in 1998. I remember all this almost like it was yesterday and can clearly recall that when I first road tested the City; I was completely blown away by its performance, handling and steering feedback. It was easily one of the best cars made and sold in India at that time and it set several new impressive benchmarks.
Interestingly, this first-generation model of the Honda City that was sold in India from 1998 to 2003, has been dominating the Indian Touring Car Championship for the last several years. Driven by Arjun Balu the current Indian Touring Car Champion, and impressively modified by Joel Joesph, it is truly remarkable that a Honda City which is almost two decades old is winning races and championships even today!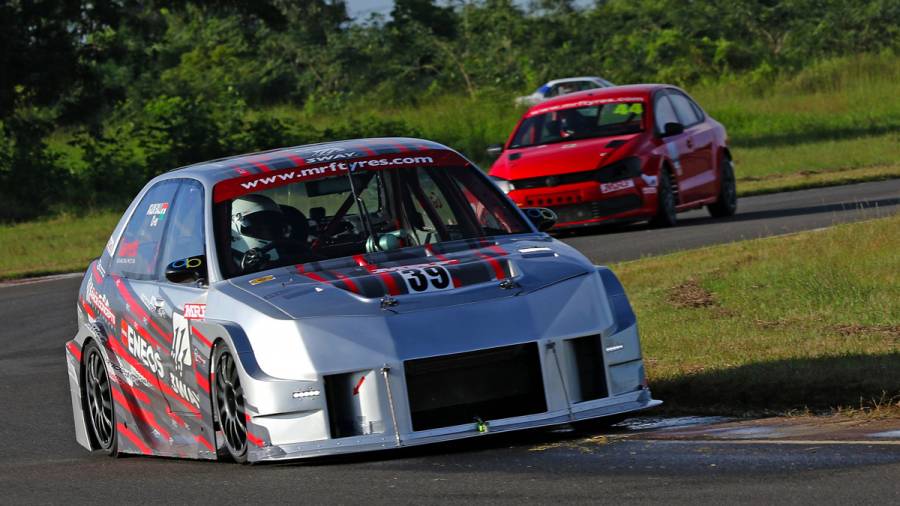 Arjun Balu has been dominating the Indian Touring Car Racing Championship in this heavily modified first generation Honda City, which is now two decades old.
But this is not just about one car, but the entire Indian auto industry. Around the time Honda entered India, we also had global giants like Ford, General Motors and Toyota start making cars in our country. Many predicted or assumed that these four major multinational manufacturers would completely takeover and dominate the Indian car market and Maruti Suzuki, then India's leading car maker, would be pushed to the sidelines.
Takuya Tsumura with all five generations of the Honda City.
However these forecasts have been proven wrong. Both Ford and General Motors have now exited India. While Maruti has only strengthened its position and continues to be India's largest car maker. In second place is Hyundai, the then hardly known Korean manufacturer that launched the Santro in 1998, the same year as the Honda City.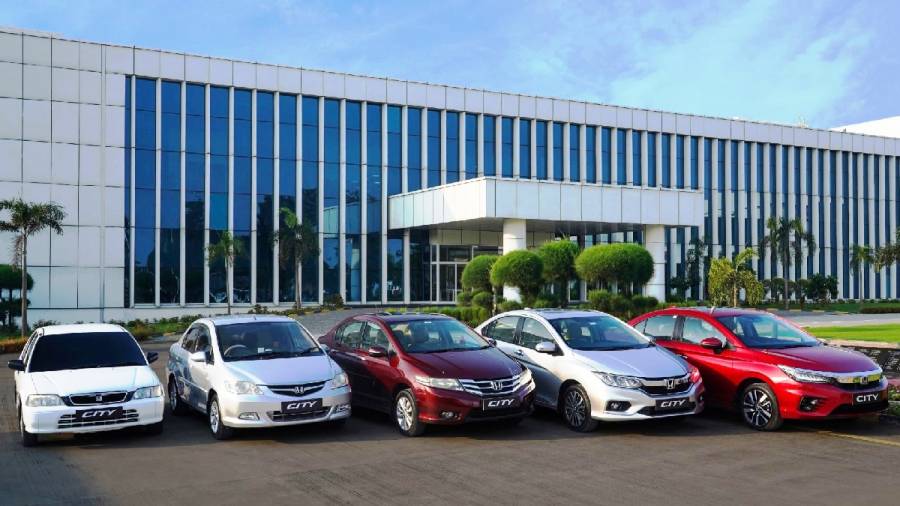 L to R - All five generations of the Honda City.
When Honda arrived in India it enjoyed an incredibly aspirational brand image that was equivalent to some of the German luxury brands. In fact before our economy was liberalized in 1991, and international car makers began coming here, the Honda Accord along with the Mitsubishi Pajero, Mercedes-Benz, BMW 5 and 7 series and the Lexus, were the most popular cars imported into India via the NRI (Non Resident Indian) import scheme. As a matter of fact, one such import, an amazing 1989 Honda Accord with pop up headlamps, was later even purchased by me.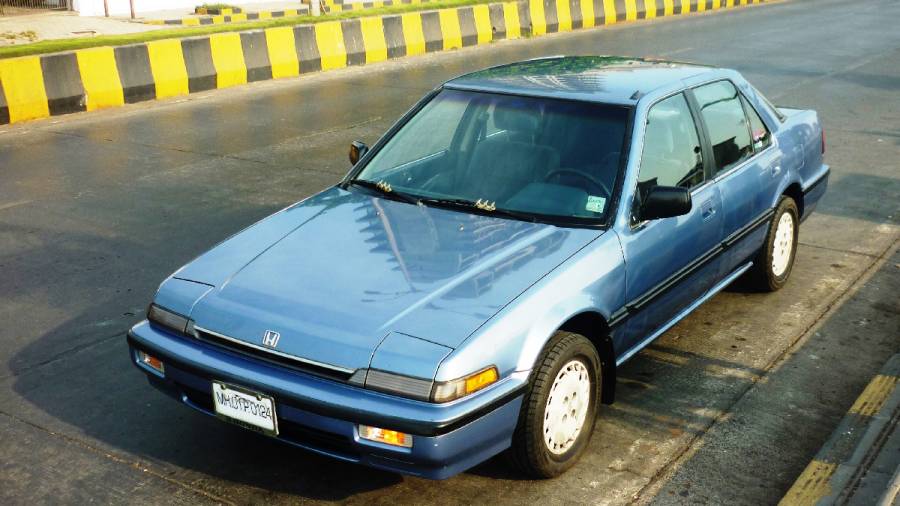 This writer's immaculate 1989 Honda Accord with pop up headlights.
Given all this, one cannot help but wonder why a manufacturer like Honda does not have a bigger share of the car market, despite entering India at the right time and with a brilliant brand image? Yes Honda did get immediate success with the City, which continues to be popular. But most of the other models introduced by this globally successful car manufacturer have not been able to replicate the triumphs of the City.
The second generation model of the City was sold in India from 2003 to 2008.
In fact some like the Civic, Accord, Brio, CR-V, BR-V and Mobilio have even been discontinued. In hindsight, which is sadly always delayed, Honda may have done better in India if it had been faster in responding to the changing tastes and requirements of our consumers, who are amongst the most demanding in the world.
The third generation City was offered from 2008 to 2013.
For instance, when diesel was subsidized and so much cheaper, Honda only offered petrol powered cars. And by the time it brought in its diesel power plants, which in any case were not as refined or efficient as some from the competition, the gap between diesel and petrol prices had started to reduce. And unfortunately for Honda, a little after it introduced diesel engines, India moved to the far more stringent BS6 emission norms, and this sounded the death bell for many diesel engines. Another important factor for Honda not being at the top of Indian sales charts is that it did not respond appropriately when the customer preference started shifting from sedans and hatchbacks, to the SUV body style.
The fourth generation from 2013 to 2020.
Nevertheless, nobody can deny that Honda makes very good cars and the popularity and success of all the five generation models of the City, is testimony to that. And while Honda is now celebrating "25 Years of the City in India", hopefully it will also introduce several more products that are attractive to the ever demanding Indian consumer. Being someone who has owned Honda cars and enjoyed driving them, I congratulate Honda on the "Silver Jubilee of the City" and wish them all the best for the future.
The current fifth generation model was introduced in 2020.
Price (Ex-Delhi)
Starts Rs 10.9 Lakhs