Image gallery: India-bound 2017 Volvo XC60
The Volvo XC60 was first revealed to the public at the 2017 Geneva Motor Show and it is a very important model for the Swedish carmaker. It accounts for almost 30 per cent of all vehicle sales for Volvo and more importantly, it's their biggest selling model. The new XC60, expected to compete with the Audi Q5, BMW X3 and the Mercedes-Benz GLC, is a mid-size luxury SUV that is based on the SPA platform just like all of Volvo's recent products. But the extra high-strength steels bring weight savings while the D5 diesel in its turbocharged 235PS avatar brings the power for the Indian market.
Volvo India is yet to decide on the petrol option but it is clear that the XC60 will not go into CKD production like the XC90. The XC60 will come to India in the all-wheel drive, automatic configuration in the high-end Inscription trim which includes almost everything you can think more. More to the fore, Volvo does have permissions to activate the radar hardware on the XC60 in India which means all of the safety systems will be active on the XC60 in India. With prices expected to fall into the Rs 55-60 lakh range, according to Volvo, the XC60 is expected to give a massive boost to the success story that has been Volvo in the past couple of years in India.
The new Volvo XC60's design is refreshing in its restraint and classy chrome touches, plus that wide chrome grille makes it stand out rather well from the German SUV crowd
The new Volvo XC60's glass area slims nicely towards the rear, and the vertical tail gate is clearly a Volvo design. Note the deeply cut twin creases at the bottom of the doors - they make the side body look tightly wrapped
The new Volvo XC60 cabin is a carefully designed, extremely well put-together space that is comfortable and classy in that restrained Scandinavian way
The new Volvo XC60 interior is a neatly executed restrained cabin with matte, light-coloured woods and metal trims
The new Volvo XC60 Sensus Connect system introduces a mild refresh that includes bigger fonts and, in a few places, a more direct interaction design
The new Volvo XC60 interior uses this high-resolution touchscreen as a centrepiece. Notice the 'driftwood' inlay below it. It looks very classy, especially edged with that metal trim
The new Volvo XC60 steering wheel includes cruise control, semi-autonomous controls, media controls and more. The screen behind the steering wheel displays information you might immediately need, including, for instance, navigation information
The new Volvo XC60 cabin is done in leather, and the Inscription trim gets massage front seats with full seat controls, including the bolsters
The new Volvo XC60 is a 5-seater and the rear row is comfortable and well-specced
The new Volvo XC60's metal trim on the knobs and all feels and looks expensive
Notice the 'driftwood' inlay below it. It looks very classy, especially edged with that metal trim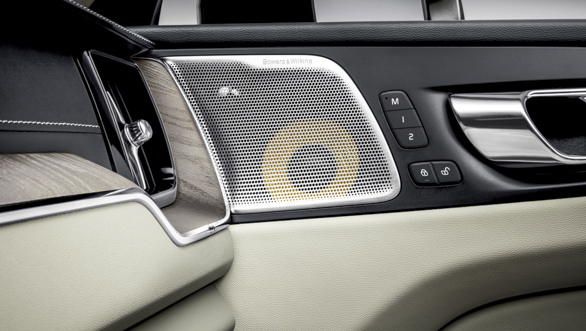 The new Volvo XC60 gets a Bowers & Wilkins audio system as standard on the Inscription trim that is coming to India
The glass area in the new Volvo XC60 is neatly trimmed with chrome, and the roof rails look classy too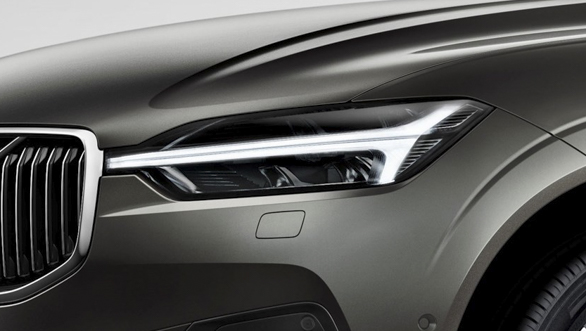 The new Volvo XC60's Thor's hammer DRLs now extend to touch the chrome grille. The effect is both stylish and distinctive
The new Volvo XC60 in India will get these 'diamond-cut' 19-inch alloy wheels with Pirelli tyres
The new Volvo XC60 rear end has the little chrome touches too. See the little bit of chrome under the reflector and on the exhaust tip
The new Volvo XC60 tail light is very Volvo in its vertical design. The look, when lit, in unmistakable
Also see:
Volvo India to launch the V90 Cross Country before the XC60
Price (Ex-Delhi)
Starts Rs 61.9 Lakhs
Price (Ex-Delhi)
Starts Rs 58.93 Lakhs
Price (Ex-Delhi)
Starts Rs 59.9 Lakhs
Price (Ex-Delhi)
Starts Rs 57.36 Lakhs