Image gallery: Stage 2 of the 2017 Dakar Rally
The second stage of the 2017 Dakar Rally was completed yesterday, with participants heading from Resistencia to San Miguel De Tucuman. They covered a total distance of 812km, of which 284km were part of the competitive section. The stage took participants through a region nicknamed Chaco, due to the fine chalk-like dust present in there. However, the route was made quite tricky because of the unmarked puddles of water and slush that had formed due to the previous days' rain.
Here's a glimpse of what happened in Day 2 in images:
Sebastien Loeb won the stage with a total time of 2hr6m55s, and took the overall lead from Nasser Al-Attiyah by a close 28s.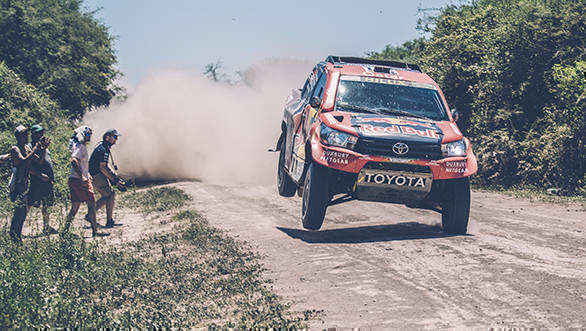 Al-Attiyah of Toyota Gazoo Racing, finished 1m23s behind Loeb in this stage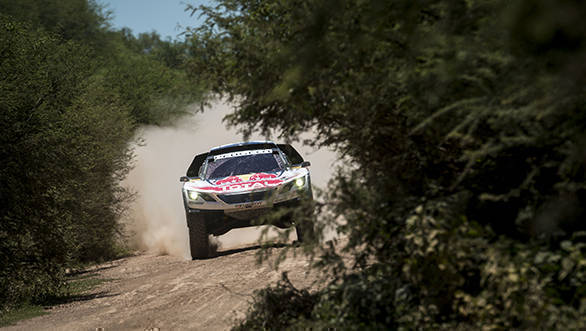 Carlos Sainz, in his Peugeot 3008 DKR, finished third in Stage 2, and currently sits in third place overall, 1m56s behind Loeb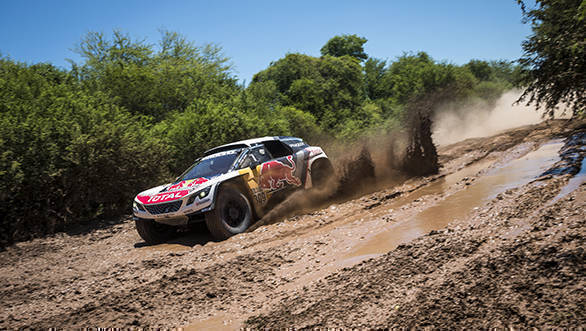 Sebastien Loeb makes his way through one of the slushier sections of the stage, caused by the recent rain
Red Bull KTM's Toby Price took the lead in the Bike category after winning the stage by 3m51s
Paulo Gonçalves of Team Honda Racing, finished second in the stage and is second in the overall standings by 2m54s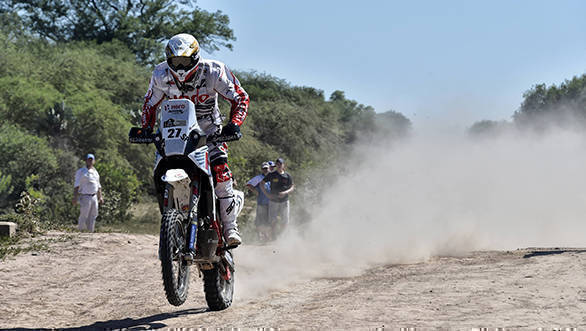 Hero MotoSports Team Rally's Joaquim Rodrigues had a mishap in Stage 2 as he slid and crashed at one of the unmarked puddles. This caused his GPS to malfunction and forced him to rely solely on his road book for guidance
Despite having to slow down to avoid crashing again, Rodrigues managed to finish the stage in 22nd place with a time of 2hr51m53s. He is now 22nd in the overall standings
His team-mate, CS Santosh, took a cautious approach in the first half of the stage, but managed to find his pace later on and finished the stage in 41st place. This moved him up 10 places in the overall standings to 37th
TVS Sherco's Aravind KP, who suffered two fractures after a fall in Stage 1, insisted on carrying on racing in Day 2. He finished the stage in 127th place and is 125th overall