Image gallery: Royal Enfield Mo' Powa'
Royal Enfield, a consistent manufacturer of cruisers and retro street bikes, displayed two completely bonkers one-offs at the famous Wheels and Waves festival held between June 8-12 in Biarritz, France. Royal Enfield named the two one-off models, Mo' Powa' and Dirty Duck.
The Mo' Powa', based on the Classic 500, gets its name from the turbocharger bolted on the bike's skeletal frame. It's styled like a low riding dragster with an almost skeletal appearance along with a hand fabricated exhaust from Harris Performance. Painted in a sky blue shade with pink-black designer decals present all over the body, you might wanna look into this if you're in the mood to see something unusual.
The turquoise paint scheme with the contrasting hot pink elements really make this custom RE stand out
The low-slung stance with the extended wheelbase hits the right notes
The standard Classic 500 has been cranked all the way up to 11 with a turbocharger (yes, you read that right)
Gotta love the way the custom exhaust system sits nestled in the frame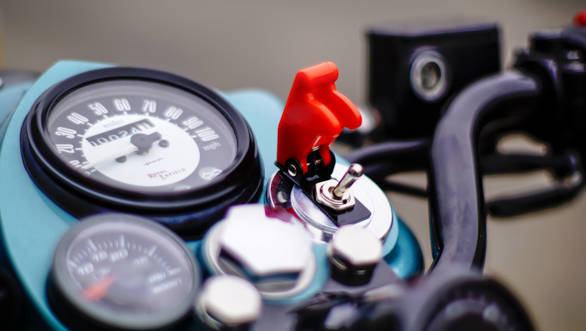 If we were to take an educated guess, we'd say this is the "Mo' Powa" switch. Sounds about right