Image gallery: OVERDRIVE Independence Quattro Drive 2018
The 2018 Independence Quattro Drive is our annual pilgrimage to the mountains in Ladakh to celebrate the Independence Day of our great nation. What really makes this trip stand out is the fact that we hoist the national flag with the soldiers who protect us. It's our way of honouring them and showing our gratitude towards them, for they are the ones ready to make the ultimate sacrifice when the time comes. As usual, we began our journey from Chandigarh to Leh via Manali and Jispa. After a day's break, we set course for Hanle, the place where we'd celebrate our Independence Day.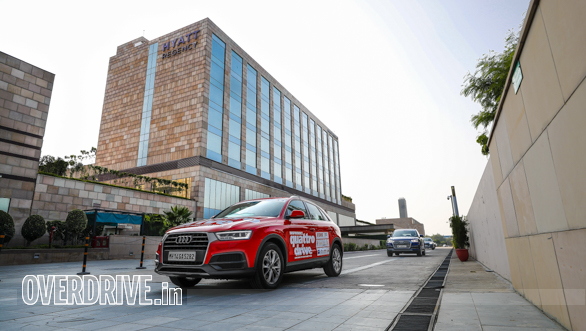 The Hyatt Regency in Chandigarh was the perfect place to begin our journey to Ladakh. Being rested before a drive of this magnitude is paramount and The Hyatt left no stone unturned in ensuring we were fresh and ready for IQD 2018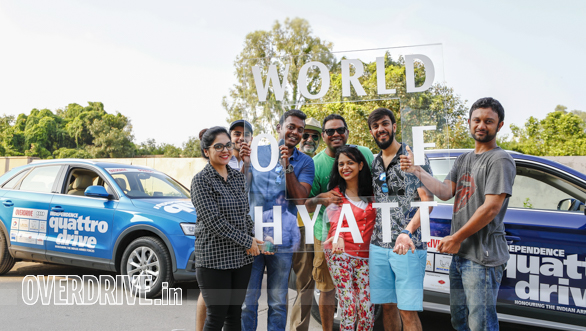 The More Plains is a delight to drive on. It's here where we got a chance to stretch the legs of our Audi, Q5 and Q7
A convoy of premium, Audi SUVs in Ladakh is quite a sight. Everywhere we went, we were greeted with appreciative smiles. There were, of course a few stunned faces, wondering what these German SUVs were doig in such challenging terrian
There are a few watercrossings that we encountered in Ladakh. This one is on the way Pangong Tso via Chushul
This vast meadow In Chushul was a lovely sight amidst rocky mountains
The Kiang or the Asiatic Wild Ass is found in and around Hanle. They are usually found in a herd and look majestic while running
Maybe its the Ki Ki challenge. Or is it the Pengiun dance? We don't know what Suhas and Pradeep, our participants are upto!
That's a glacier that's melting to form a waterfall. There are several such waterfalls between Koksar and Jispa
Leh market is bustling with tourists, searching for artifacts and souveniers to ta back home
The Shanti Stupa in Leh is aptly named. The sense of peace and calm one feels here is better experienced than spoke or written about
n an area where oxygen is rare and the weather is harsh, all one needs is a cozy room, a great view, a comfortable bed and an ambience that lets you unwind and relax. The Grand Dragon offers all of this and much more while offering a splendid stay experience - traditional Ladakhi hospitality and delectable cuisine, served at the restaurant overlooking ice-capped mountains
These rock formations between Jispa and Leh are simply surreal
Nothing beats eating local food and piping hot Maggi at a roadside dhabha. This one is located in Sarchu
The climb up to Baralacha La pass is absolutely fantastic. If you are a keen driver, the road leading up will put a wide smile on your face
Pangong Tso should figure on the bucket list of everyone who has even an iota of love for nature. The azure waters are an arresting sight
Little kids from the village in Hanle gathered at the local grounds to celebrate Independence Day. Their enthusiasm was contagious and it made the day even more special
Our participants laid a wreath at the Rezangla War Memorial to pay respect to the martyrs of the 13th Kumaon regiment who paid the ultimate price during the 1962 war against the Chinese. This battle has gone down in the history books as one of the toughest of all times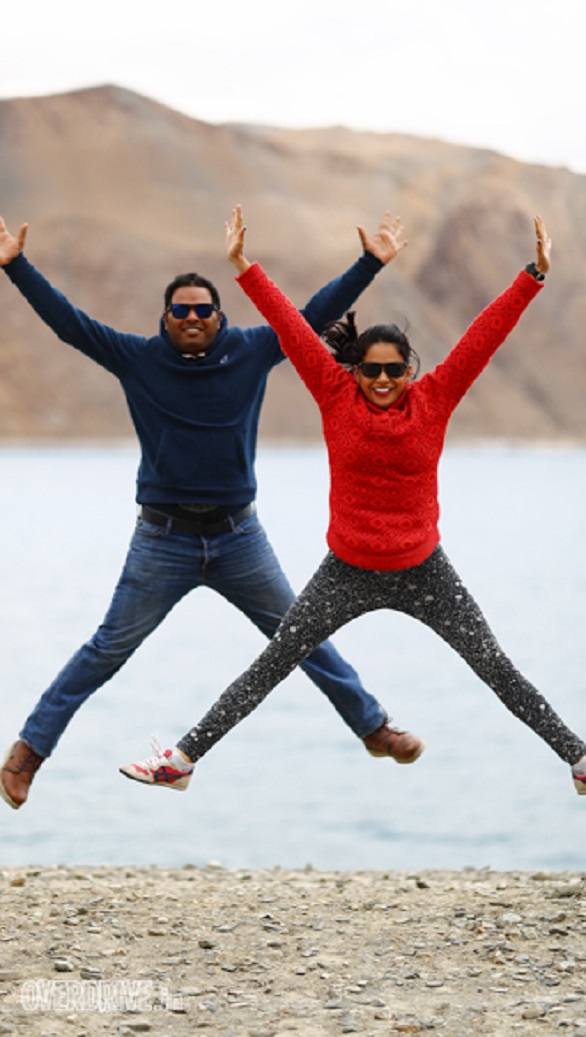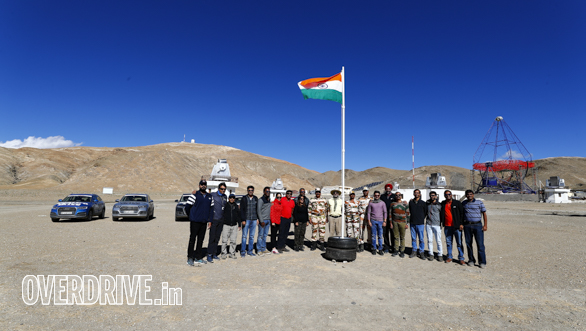 Standing proud next to senior officials of the ITBP, we hoisted our national flag and sung the national anthem with raised voices and chests bursting with national pride, with the very people who protect us.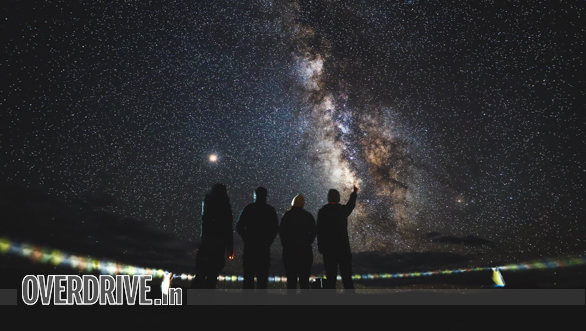 Hanle is a stargazers paradise. It has a clear night sky for over 250 days in a year, making it an ideal spot to witness the Milky Way, stars and other celestial objects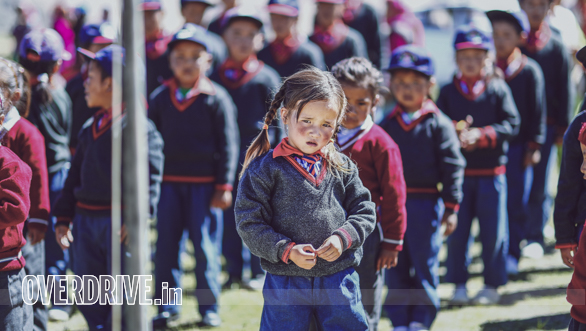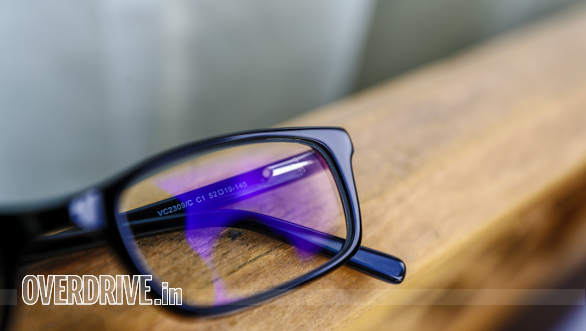 Zeiss Drivesafe lenses
Driving in challenging conditions,
such as the dense fog we encountered on Rohtang La with oncoming
traffic with lights turned to high beam, is quite stressful. Often these driving conditions make it difficult to see clearly which can also increase fatigue. Zeiss's new DriveSafe lenses feature a new Luminance design technology that takes into account the pupil size in low light, while the ZEISS Duravision DriveSafe coating on the lens reduces glare to quite an extent. Overall, we were impressed with the way these Zeiss lenses improved our drive experience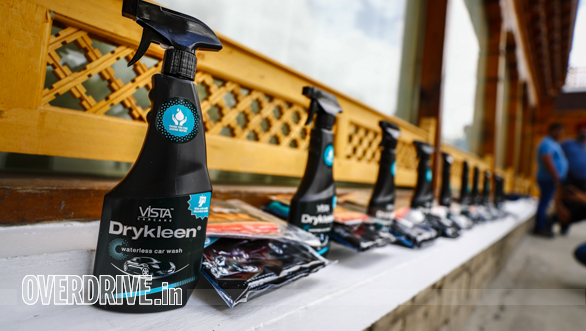 Vista Car Care
Ladakh is a region that faces water scarcity and that makes using the precious water supply to wash cars, almost criminal. But we at OVERDRIVE love to give our cars some TLC, especially after a long, hard day in the dust and grime. Vista Car Care's new Drykleen is a car washing solution that does not require any water at all. All we had to do was spray the contents of the bottle on the car and use a microfibre cloth, supplied along with it to wipe dirt off the surface. We even held a contest for the cleanest car, which Swathi and Pradeep won. And let's not forget the sparkly, shiny cars!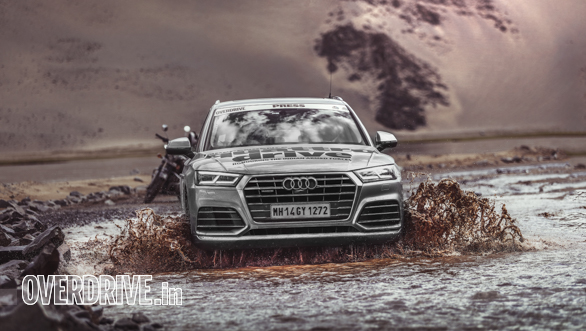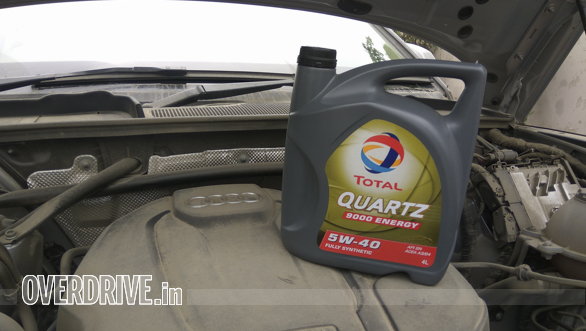 The sight of the engine bay of the Audi tells you the tale of what we put the SUVs though. Total supplied the Quartz car engine oil to ensure the engines performed flawlessly throughout the near 3,000km trip
Price (Ex-Delhi)
Starts Rs 32.48 Lakhs
Price (Ex-Delhi)
Starts Rs 58.93 Lakhs