Image gallery: Mercedes-Maybach G 650 Landaulet
The brand Maybach means the ultimate in terms of luxury. And when your vehicle carries that brand name, you ought to be careful on where all you can take it. Is that right? Not really! Presenting the Mercedes-Maybach G 650 Landaulet that combines the world of luxury with the go-anywhere attitude of an SUV. Landaulet stands for a car with a folding roof over its seats.
The Mercedes-Maybach G 650 Landaulet is the third offering based on the G-wagon after the AMG G 63 6x6 and G 500 4x42. Powering this luxury beast of a vehicle is the Mercedes-AMG V12 biturbo motor that puts out 630PS and 1,000Nm. But this one is not only about performance as the G 650 Landaulet comes equipped with thermal cupholders, table tops with leather inserts for rear occupants and a 10?inch infotainment system.
The first Landaulet car was the Benz 25/45PS in 1910 followed by the 1960 Mercedes-Benz 300d Landaulet, 1964 the Mercedes-Benz 600 Pullman Landaulet and the 2008 Maybach Landaulet. The G 650 Landaulet will be manufactured at the Magna Steyr plant in Graz, Austria. Only 99 units of this special luxury-meets-performance SUV will be manufactured and will be on sale later this year. The Mercedes-Maybach G 650 Landaulet will be shown at the 2017 Geneva Motor Show in the first week of March 2017.
2017 Mercedes-Maybach G 650 Landaulet: The front looks identical to the other G-based offerings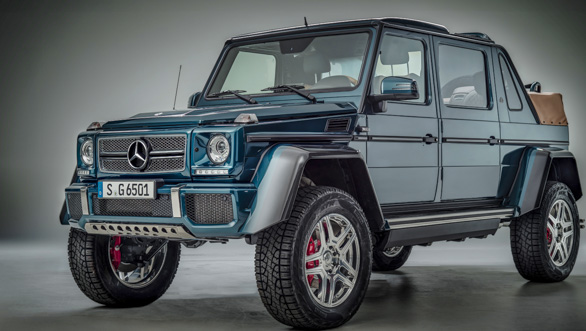 2017 Mercedes-Maybach G 650 Landaulet: The overall design has been kept subtle instead of the AMG-ish aggressiveness
2017 Mercedes-Maybach G 650 Landaulet: The fabric cover over the rear seats can be electrically lowered
2017 Mercedes-Maybach G 650 Landaulet: We like the tan leather colour of the roof which gives a nice contrast to the turquoise shade
2017 Mercedes-Maybach G 650 Landaulet: The Maybach badge just adds to the overall appeal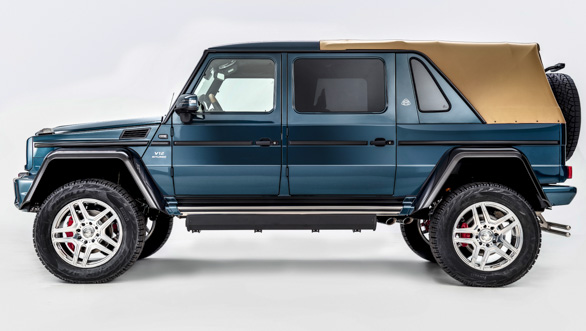 It measures 5,345mm in length and 2,235mm in height with a wheelbase of 3,428mm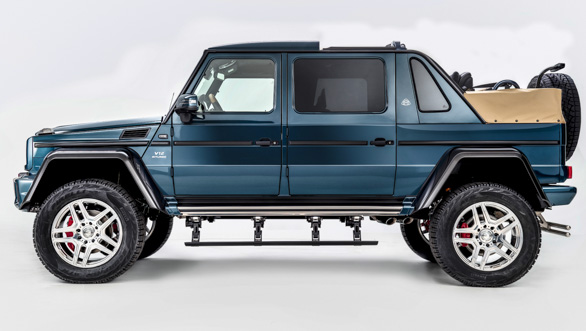 The rear seats from the S-Class offer the best in comfort, claims Mercedes-Maybach
The detailing in the Mercedes-Maybach G 650 Landaulet looks top-notch
Yes, that's actual carbon fibre around the rear AC console
Related Stories