Image gallery: Mazda MX-5 Miata RF
The Mazda MX-5 RF (Retractable Fastback) is the latest iteration of the MX-5, which is targeted towards someone who wants a hard-top (ish) MX-5. The MX-5 RF features a targa-esque sliding roof which fits into the same space as the soft-top mechanism does. A matter of concern for MX-5 enthusiasts was the weight gain with the new roof mechanism, and Mazda claims that the RF is around 60kg dearer than its soft-top sibling, which is a bit of a bummer since weight is an MX-5's biggest enemy. The available powerplants remain unchanged, with either a 131PS 1.5-litre engine or a 160PS 2.0-litre Skyactiv engine.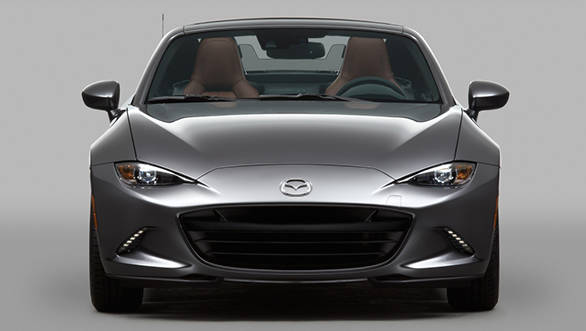 Hey, it's the Mazda MX-5. The sculpted front-end with sharp headlights are perfect
Waitaminute, something seems different... a fastback-styled rear?
It is a fastback! The MX-5 RF in its new avatar certainly looks the part. The fastback rear lends a low-slung stance to the MX-5
The roof mechanism takes 12 seconds to complete its operation and is functional up to speeds of 10kmph
Boot space is unaffected by the hard-top mechanism, as it fits in the same space as that of the soft-top 
The new MX-5's LED taillights are a complete win in our books
Related Stories