Image gallery: Maruti Suzuki Vitara Brezza vs Mahindra TUV300 vs Ford EcoSport comparo
The compact SUV segment has been booming with multiple entrants. And now, India's largest carmaker has made a debut in this segment with the most anticipated Maruti Suzuki Vitara Brezza. From the time Maruti Suzuki decided to make it till the time it was launched, the Vitara Brezza has been a trending topic. Does it have it to set a benchmark in the compact SUV segment or will it be one more offering in the range. Read our detailed comparo of the Maruti Suzuki Vitara Brezza vs Mahindra TUV300 vs Ford EcoSport here.
Scroll down to see detailed images of our comparison story
The Maruti Suzuki Vitara Brezza is the production form of the Maruti Suzuki XA Alpha concept from 2012, but through its four-year journey to the production line it has gone through plenty of changes
The Maruti Suzuki Vitara Brezza certainly looks handsome and like most other cars from this stable, it has a design that will age well.
The Ford EcoSport is a car that looks imposing despite its diminutive size
The straight lines and slab sides of the Mahindra TUV300 look out of place in today's design preferences and can polarize buyers
Detailing by way of the off-set turn blinkers in the front bumpers, the faux scuff plates and the black cladding all-around, prevent the bodywork of Maruti Suzuki Vitara Brezza from looking drab
The Vitara inspired styling on the Vitara Brezza gives it the appearance of an urban SUV, while the floating roof effect and the hunched shoulder line give it a sense of expanse that one associates with an SUV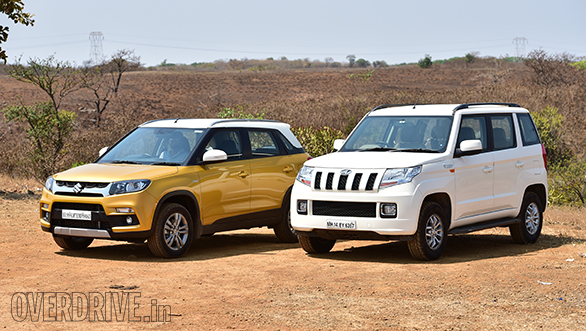 Given its price point, the Maruti Suzuki Vitara Brezza will also take on the likes of the Swift and the Baleno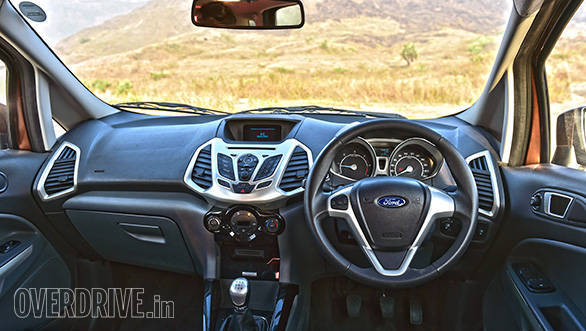 The EcoSport still has one of the smartest looking cabins at this price point, though not necessarily the most functional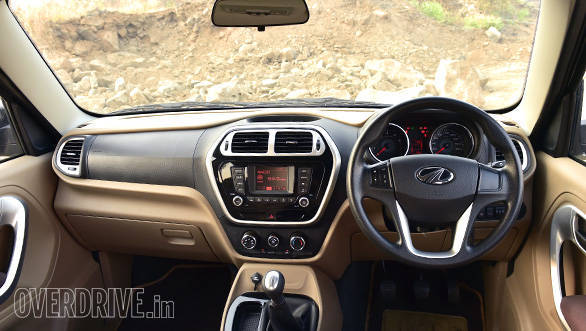 The Mahindra TUV300 needs you to climb into the cabin, thanks to its high floor.
The Vitara Breeza's cabin, despite being smart, doesn't replicate the flamboyance of its exteriors
The TUV300 also has plenty of cubby holes and spaces for knick knacks and most of them are easily accessible too, unlike the Ford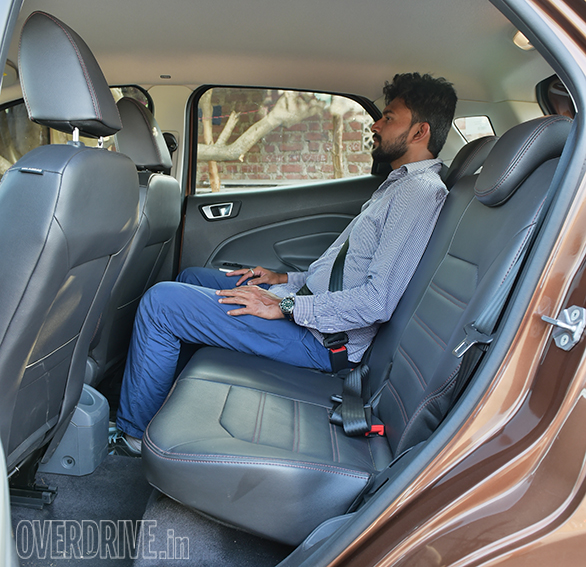 The rear seats are nicely contoured for two adults, but fitting three adults abreast is a problem
The soft suspension of the Mahindra TUV300 absorbs almost everything that the Indian roads have to throw at it, without any of it reaching your backside
The Ford EcoSport is still the safest car of this lot and it drives pretty well too. It employs McPherson struts upfront and a semi-independent twist beam setup at the back
Different sizes, different architectures and a stark difference in kit means that the Maruti Suzuki Vitara Brezza, Ford EcoSport and Mahindra TUV300 target different audiences.
Price (Ex-Delhi)
Starts Rs 8.4 Lakhs
Price (Ex-Delhi)
Starts Rs 7.99 Lakhs
Price (Ex-Delhi)
Starts Rs 7.99 Lakhs