Image gallery: Marc Marquez's championship winning 2016 MotoGP season
Marc Marquez has certainly made quite a name for himself ever since his entry into the MotoGP class. He's just won himself the 2016 MotoGP World Championship title with three races to spare, after winning the Japanese GP last weekend. This makes him the youngest rider ever to have five world championship titles across all classes under his helmet. This was his fifth win this season after fifteen rounds, and the third MotoGP title he's earned so far.
Here are Marquez's highlights from the 2016 MotoGP season.
Round 1 - Qatar: Qualifying second, Marquez had a bad start sending him to fifth by Lap 1. However, he managed to overtake Valentino Rossi and comfortably took third place by the end of the race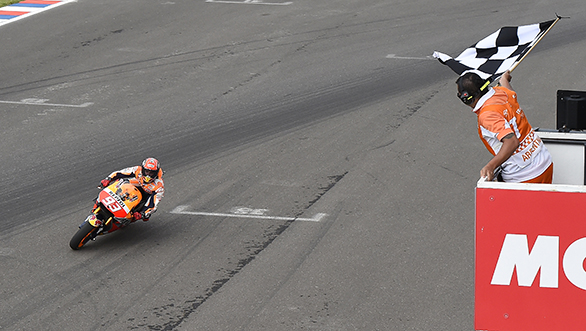 Round 2 - Argentina: Marquez couldn't have asked for a better race weekend at Argentina. He took pole position and went ahead to take the chequered flag in the race after a close battle with Rossi and Andrea Dovizioso
Round 3 - Americas: After his win in the previous round, Marquez managed to keep up his pace at Circuit of the Americas where he took pole yet again and went on to win the race. By this time, he had also managed to establish his lead in the championship standings
Round 4 - Spain: With a very close qualifying session, Marquez managed to start from the first row at Jerez after qualifying third. He managed to hold this position through the race, finishing ahead of his teammate, Dani Pedrosa
Round 5 - France: The French GP proved to be a challenging one for Marquez. After recovering from a crash in Lap 7 he managed to finish 13th, pushing him down to second in the overall standings. Notice the broken fairing on the left side of the bike
Round 6 - Italy: However, he managed a good recovery at the next round in Mugello where he lost first place to Jorge Lorenzo by a mere .019 seconds
Round 7 - Catalunya: The second place finish at Catalunya gave Marquez the points he needed to regain the championship lead. However, this was also the weekend in which Luis Salom died. After the race, Marquez changed the number on his bike to 39 as a sign of respect for his fallen comrade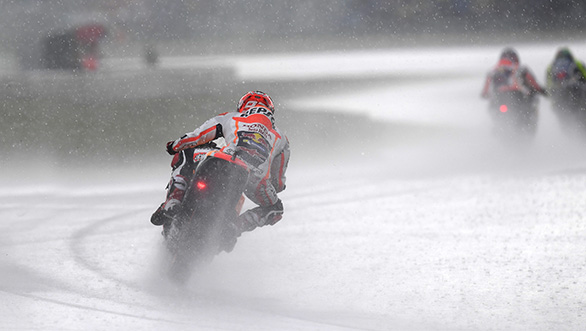 Round 8 - Netherlands: The TT Assen proved to be one of the trickiest races this season with a heavy 15-minute downpour before the race. It had gotten so bad that Race Direction decided to Red Flag the race on Lap 15. After starting fifth in Race 2, Marquez eventually settled for second place, and extended his championship lead by 24 points
Round 9 - Germany: Marquez took his fourth consecutive win at the Sachsenring circuit despite mixed track conditions. After falling to ninth place on a wet track in the first part of the race, he managed to make his way up the ladder as soon as track conditions improved. This win increased his lead by 48 points over championship contender, Lorenzo
Round 10 - Austria: After suffering a bruised shoulder in FP3,
Marquez managed to start fifth on the grid at Austria. Although he got to third with a good start, he was back in fifth by the end of Lap 1, which he maintained for the rest of the race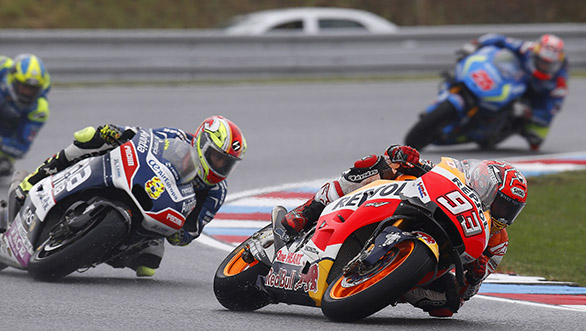 Round 11 - Czech Republic: Another rainy race weekend saw Marquez take a third place finish behind Cal Crutchlow and Rossi. With Lorenzo not scoring any points this round, Marquez extended his lead by 53 points over Rossi, who was now second
Round 12 - Great Britain: Lap 1 of the British GP was a disaster after Loris Baz and Pol Espargaro crashed, bringing out the Red Flag. After the restart, Marquez took second place until he eventually fell behind Crutchlow and Rossi to take fourth
Round 13 - San Marino: Marquez had a rather tough day at Misano as he struggled with his hard front tyre. Although he did manage to keep up with Rossi and Lorenzo, it proved too difficult to catch up with Pedrosa, who eventually took first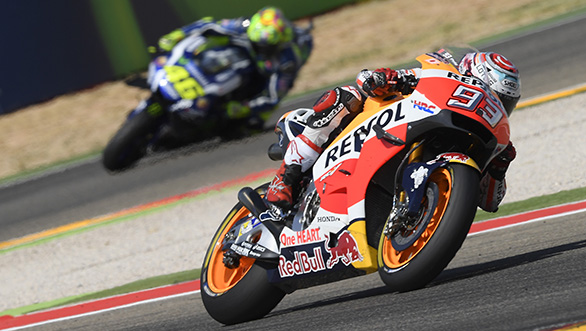 Round 14 - Aragon: With the gap in championship points between Marquez and Rossi closing in, the pressure was starting to build. After starting from pole, Marquez had to fight hard against Maverick Viñales and Lorenzo to hold the lead. A small error on Lap 3, which almost ended his race, pushed him down to seventh. However, by Lap 12, Marquez managed to take back the lead which he held till the chequered flag
Round 15 - Japan: Marquez took a stunning win at Motegi, claiming the World Championship title. At 23, this makes him the youngest rider ever to win three premier-class World Championship titles