Image gallery: Husqvarna 401 Aero concept at EICMA 2016
We were already expecting the production version of the Husqvarna Svartpilen and Vitpilen 401 to debut at the EICMA 2016. However, the Swedish motorcycle manufacturer also showcased a third offering based on the same platform. The 401 Aero concept is a collaborative effort of Husqvarna and design firm Kiska. While Husqvarna is calling it a concept, we believe this one will also enter production next year considering the fact that the 701 and the two 401s too are entering production. The Husqvarna 401 concept is based on the Vitpilen and gets an aerodynamic fairing along with a compact windscreen and a retro-styled round headlamp. Husqvarna states that the fairing allows a more committed riding position. Get all the details on this retro-classic offering here.
That's the initial rendering of the Husqvarna 401 Aero concept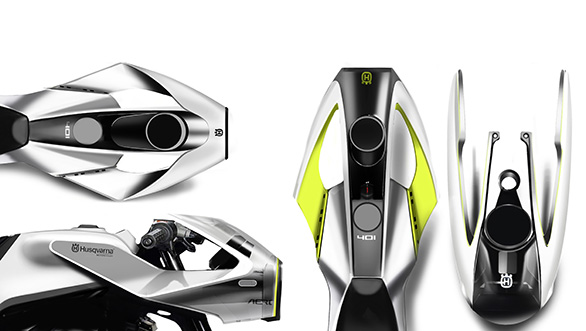 The headlight and the round instrument cluster taking final shape
The 401 Aero concept is based on the Vitpilen 401
The retro-classic fairing with the short windscreen flow neatly into the overall design
All three motorcycles get spoke wheels. 401 Aero concept also features Akrapovic exhaust kit
The compact tail section of the Husqvarna 401 Aero concept looks as impressive as the Svartpilen and Vitpilen 401s
The engine cowl on the 401 Aero comes with Husqvarna logo and houses the radiator
For more stories on EICMA 2016, click here.