Image gallery: Honda Navi first ride review
The Honda looks tiny and feels just as compact to sit on. But actual dimensions reveal that it sits on a longer wheelbase and is actually longer than its engine and frame donor, the Honda Activa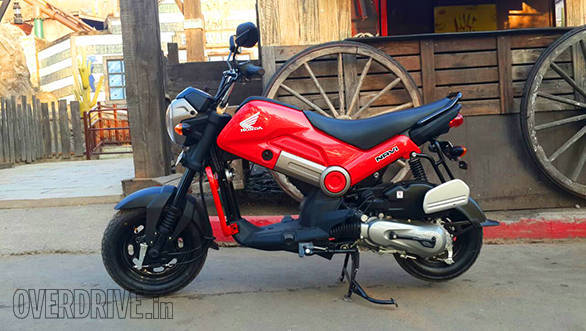 Note the upside down forks on the front of the Honda Navi. It is one of the few differences from the Honda Activa frame that underpins Honda latest creation
There is parts bin equipment on the Honda Navi, most obviously the Stunner tail lamp. But we don't mind - the cheekiness of the design and the price point are possible because of this kind of cost-engineering
The Honda Navi is really a small-looking package. In traffic, people are drawn to it and they get really confused by the motorcycle-style tank and the scooter-size wheels. They're always smiling though...
Our Honda Navi wore MRF tyres, but the test fleet Honda handed out at the media ride also had Ceat and TVS tyres in the mix
The wee Honda Navi headlamp is dwarfed by huge indicators giving it a lopsided appeal. And yes, the numberplate fonts could've been better - we spotted that too!
The Honda Navi meters aren't. They're just one meter. With a speedo and an odo in it. A high-beam and an winker indication is all you get. A low fuel light would have been useful, to be perfectly honest
A fairly flimsy faux carbon finish plastic panel hides the scooter style gas tank cap. It's one of those details that tells you about the low price of the Honda Navi
The seat isn't as short or cramped as you imagine. Suresh and I rode around Imagica for most of the morning on the Honda Navi without undue intimacy
The little knob has a valuable function on the Honda Navi - it (and only it) tells you when it is time to get more gas. The tank panels sit on a member between the headstock and back of the underbone frame. This member isn't part of the structure, just a place to mount the tank and plastics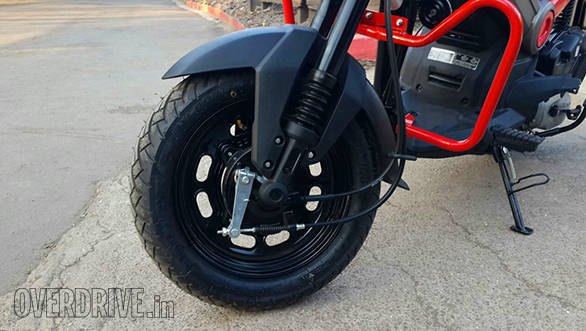 Tubeless 90/90-12 tyres man the front. Note gaitered USD forks as well as the 130mm drum. It's a fairly adept front-end. Lighter weight than Activa on the front also means the Navi is easier to provoke into a small wheelies
The unit swingarm and monoshock from the Activa hold up the rear end on the Honda Navi. Comprehensive plastics cover the rear wheel - that's coming off on our long term scooter post haste
See the pillion footpegs of the Honda Navi? That's where my feet natural gravitated to, offering a more sporty riding position
Simple Honda Navi switchgear lacks a pass switch, but is otherwise functional
The Honda Navi seat comes off and reveals a fairly spacious cubby for stuff. Not scooter-like but still quite useful
While there's nothing wrong with it, you do with the Honda Navi had been given a slightly fancier gas tank cap, no?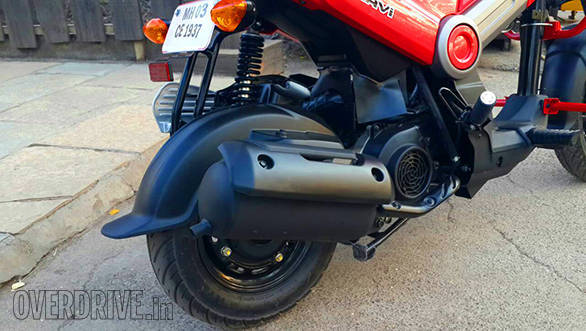 See that rectangular flap ahead and above the exhaust of the Honda Navi? These flaps hang from the bodywork and hide the carburettor. I find them ugly and they're coming off the long term Navi too
The Honda Navi's compact size and light weight makes for electric responses
It was perhaps appropriate that we got a taste of the Honda Navi at an amusement part. Road test, next!
More from OVERDRIVE on the Honda Navi,
2016 Auto Expo: Honda Navi launched in India at Rs 39,500
Honda Navi dispatches start in India
Spec comparo: Honda Navi vs Honda Dream Neo vs Honda Activa
Price (Ex-Delhi)
Starts Rs 45,075
Price (Ex-Delhi)
Starts Rs 42,391