Image gallery: Glimpses of Saturday at Le Mans 2017
The racing has finally begun at the 2017 24 Hours of Le Mans! It's been eventful so far, with the Toyota Gazoo TSO50s looking very competitive, and bad luck striking the Porsche LMP1 team. Approximately seven hours of racing are already done at the Circuit de la Sarthe, and the No.2 Porsche 919 Hybrid is back out on track after approximately 65 minutes inside the garage. The reason for very long pitstop was the fact that the car had an electrical problem - apparently loss of drive from the front axle - that was discovered when Earl Bamber was out on track. At the head of the order is the No.7 Toyota with Stephane Sarrazin at the wheel, followed by the No.8 Toyota of Kazuki Nakajima, and the No.1 Porsche 919 Hybrid with Andre Lotterer driving.
But before the racing started, there was plenty of opportunity for fans to go out on track for the pitwalk and grid walk. It was crowded and chaotic, with a lot of people jostling each other to get selfies. Which is why we ask you to excuse us for the rather poor photography, but it will give you some idea of just what the Saturday at Le Mans is like.
The signboard over the start-finish straight at Le Mans. You know exactly where you are when you spot this. And there's one of the helicopters, responsible for the lovely overhead shots of the track
Ahead of the start of the race, the grandstands are packed as people head onto track for the grid walk. Gets rather crowded!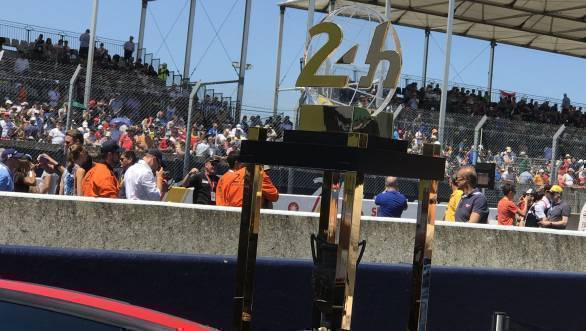 The Le Mans trophy on display in the pitlane ahead of the race start
What it's really like on the grid ahead of the big race. But it's so terrific that Le Mans attracts as many fans as it does!
This was about as close as we managed to get to the No.2 Porsche 919 Hybrid on the grid. The crowd around the car shows the massive support that the manufacturer has at Le Mans
Aside from the fact that the crowd was impossible to get through, note the reflective cover to help keep the heat at bay. Never seen this used at Le Mans before, but of course, this is the hottest Le Mans since 2005
Got a slightly better glimpse of the Gulf-liveried Tockwith Motorsport LMP2 Ligier that Karun Chandhok is racing at Le Mans this year
French air crew stopped by to pose with the Toyota crew. Men in uniform of different kinds at Le Mans
What goes on behind that door? Plenty of excitement and some amount of tension in the Porsche LMP1 garage when the No.2 car was in for repairs
This could be the year that Toyota finally wins Le Mans. But it isn't over till it's over. Words of encouragement, perhaps, on the Japanese flag in the garage
The other Gulf-liveried machine at Le Mans - the Gulf Racing UK 911 RSR that is being piloted by Ben Barker, Mike Wainwright & Nick Foster
The garage that houses the No.1 Porsche of Neel Jani, Andre Lotterer & Nick Tandy. Home for the next while for the mechanics who need to be as efficient as the drivers and the hybrid LMP1 machines
Huge amounts of support for the men in this particular garage. Partly down to the fact that Kamui Kobayashi shattered the lap record at the Circuit de la Sarthe with a timing of 3:14.791 during qualifying
That Porsche 919 Hybrid is half Lego! On display at the Le Mans village
How the fans watch Le Mans. Beer, a big screen, and the freedom to move from corner to corner when they choose to