Image gallery: Glimpses of Friday at Le Mans 2017
It's time...time for one of the greatest motorsport races in world -- the 24 hours of Le Mans! The qualifying session concluded yesterday, with Kamui Kobayashi breaking the Circuit de la Sarthe lap record to secure pole for Toyota in the LMP1 class. The race will begin tomorrow, but today is the Drivers' Parade where all the competitors are driven around the streets of Le Mans which are packed with hundreds of fans! And guess what, we're there! Here's an image gallery of the all that's happened on the day before the D-Day.
Neel Jani says the Toyota pole is so impressive there's "nothing to do but tip your hat to them". And then hope that the hot weather conditions work in Porsche's favour, because Toyota is struggling a bit in the heat and doing better in the cooler temperatures at night.
Always terrific to listen to Derek Bell talk about his motorsport memories. Here he is with Mark Webber who is grand marshal of Le Mans this year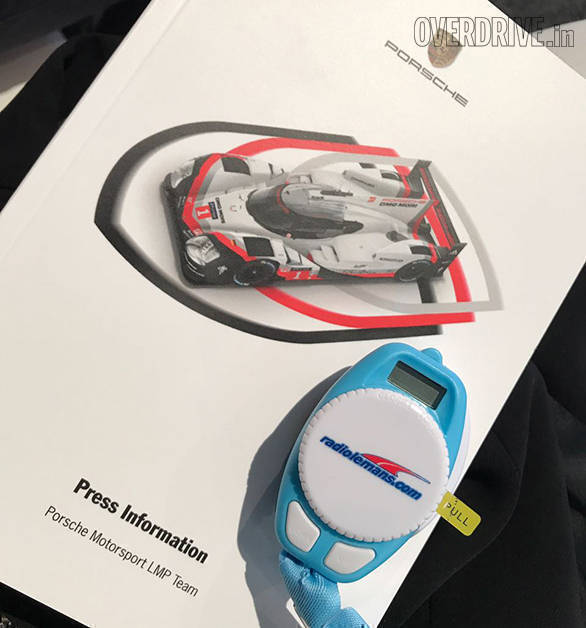 Le Mans must haves - press guide so that you still get your facts right in the middle of the night when your brain is addled from lack of sleep. And Radio Le Mans for continuous English Commentary when you're wandering around the circuit
I love Sarthe, the sticker says! Well, who doesn't, given the sort of racing they've managed to give us
The pressure on the No.1 Porsche to defend their title is immense. Especially since Fritz Enzinger, VP, LMP1 has already declared that they want a hat-trick!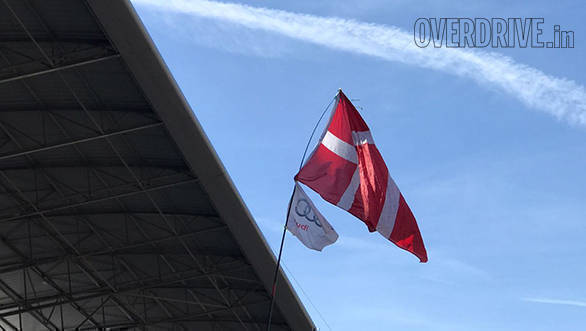 Someone didn't get the memo! Spotted an odd Audi fan or two in the pitlane!
Always nice to spot the Indian flag at Le Mans! Once again courtesy Karun Chandhok, who this time pilots the Gulf-liveried Tockwith Motorsport LMP2 Ligier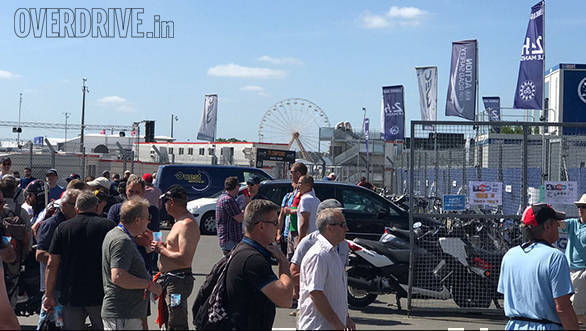 It's a warm Le Mans this year. Apparently warmest since 2005! Also likely to be the first dry Le Mans since 2000. Beyond the people sunning themselves, you can see the ferris wheel that overlooks Ford Chicane
Plenty of Porsche fans here, all hoping for a 19th overall win at Le Mans
Quite a crowd outside the Toyota garage earlier today, thanks to Kamui Kobayashi's blistering lap that shattered the record at Le Mans en route pole!
Massive crowd at the driver's parade at the centre of the city. Soon the drivers are going to come by and sign autographs, throw goodies into the crowd and make some fans quite happy!
Derek Bell gets a rousing cheer from the fans during the Driver's Parade
They start 'em young at Le Mans!
Timo Bernhard, Earl Bamber and Brendon Hartley certainly are hoping to take the challenge to the Toyotas. Bernhard will want to win for Porsche, and Hartley, who is the only factory Porsche driver without a Le Mans win, will want a victory too!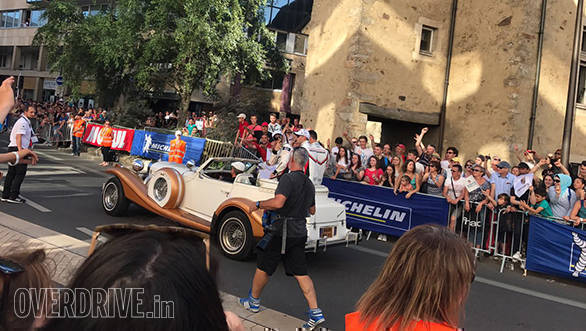 The drivers of the No.1 Porsche going by with Neel Jani, Andre Lotterer and Nick Tandy waving to the crowds
Huge cheer for the Toyota on pole, with Mike Conway, Stefan Sarazzin and Kamui Kobayashi, especially since Kobayashi really is the man of the moment, having shattered the lap record at Le Mans
Images by Vaishali Dinakaran