Image gallery: Fiat 124 Spider
Debuted at the 2015 Los Angeles Motor Show, Fiat brought back the 124 moniker with the 2016 Fiat 124 Spider. The two-seater convertible sports car is a joint venture between Fiat and Mazda and based on the already launched latest generation of Mazda's MX-5.
The convertible will be powered by Fiat's very own 1.4-litre turbocharged 4-cylinder engine from the 500 Abarth, producing 140PS and 240Nm of torque. The transmission could either be a 6-speed manual or an automatic gearbox.
As expected, even the 124 Spider gets the Abarth treatment. This variant features minimal changes on the mechanical front and a lot more in the cosmetic department. Here's what you can expect from the Fiat 124 Spider. The car is expected to hit European market by mid-2016 or early-2017.
The front end features a prominent grille with styling cues from the previous 124 Spider, including the bulges on the hood
Looks are quite subjective. Some may find it handsome while others may not appreciate much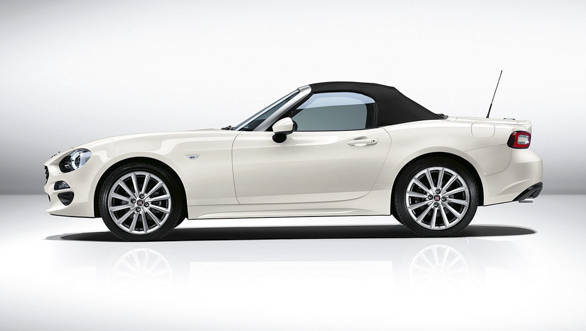 The roof has a lightweight, sound-insulating fabric, which opens manually
Long hood, two doors and a short boot. The perfect recipe for a coupe sports car
The bulge right above the rear tyres has been taken straight from the Mazda MX-5
Twin exhausts and a no-nonsense clean bumper sums up for a nice-looking rear end
The straight, long hood theme has been carried from the older model
Rectangular LED tail lights inclined inwards. Good job, Fiat!
The caved-in LED DRLs frame gets a big thumbs up from us!
Great mix of analogue dials and button-free entertainment console. It's great to have the short gear lever and the conventional handbrake back!