Image Gallery: All the action from Dakar 2020 so far in pictures
The Dakar Rally might have moved from Africa, to South America, and then on to Asia, finding its home in Saudi Arabia for the 2020 season, but one thing remains constant - the challenge thrown up by the terrain. From desert sands, to rocky trails, to mountains, to an endless expanse of arid land, the rally has it all. Add to this hard-to-find waypoints (WPMs) that make the navigation tricky, and the going gets very hard indeed. Here's a look at some of the action from the Dakar 2020 so far.
Carlos Sainz is something of a Dakar legend. The Spaniard has won the event twice - in 2010 and 2018, and he's showing no signs of slowing down - he's just won SS3, and moved into the lead of the overall standings too.
In 2020, Carlos Sainz and navigator Lucas Cruz are piloting a Mini Buggy for the Bahrain JCW X-Raid Team. If Sainz wins the Dakar this year, he will have won the event in three different makes. In 2010, he drove a Volkswagen Race Touareg 2, and in 2018 he won in a Peugeot 3008 DKR
Of course, Sainz was popular long before he won the Dakar Rally. The Spanish rally driver has two World Rally Championship titles to his name, having won the WRC in 1990 and 1992, ably co-driven by the legendary Luis Moya.
Nasser Al-Attiyah has won the Dakar Rally three times - 2011, 2016 and 2019. The Qatari driver will be hoping to make it back-to-back wins at the rally this year. 
Al-Attiyah and Matthieu Baumel currently compete for Toyota Gazoo Racing Team, piloting one of the Dakar Hiluxes. 
This year, there's a slightly more prominent name in Toyota's Dakar team, by way of double F1 champion Fernando Alonso. Although, the rally hasn't been easy for the Spaniard, with a disastrous SS2. He's recovered in SS3, however, ending the stage fourth. Alonso is navigated by Dakar legend Marc Coma. 
Here's Matthias Walkner of the Red Bull KTM Factory Team leaping through the air during Stage 1 from Jeddah to Al Wajh. In the last three editions of the Dakar, Walkner has finished no lower than second, winning the rally in 2018.
Toby Price is the defending Dakar champion on two wheels. The Australian rider has one other Dakar crown to his name, having won the event back in 2016 too.
Price is probably one of the grittiest riders around. Just three years after breaking his back in 2013, and narrowly missing paralysis, he won the Dakar for the first time. And his win last year came despite an injured scaphoid bone that made his rally really difficult all through.
Sam Sunderland seen here throwing up the sand en route victory in SS2 of Dakar 2020. The British rider won the Dakar Rally in 2017, and might just put up enough of a fight to claim another Dakar win this year. 
Stefan Svitko is one of the most determined Dakar privateers, and one of the most accomplished Slovak riders at the event. The 37-year old competes astride a KTM Slovakia 450 Rally Replica. His best performance at the Dakar has been a second-place finish in 2016. But taking the challenge to the factory riders is becoming increasingly more challenging.
CS Santosh became the first ever Indian to start and finish the Dakar Rally back in 2015. Back then, he was a scrappy privateer, who went on to finish 36th. Now, he embarks on his sixth Dakar Rally, a factory rider for Hero MotoSports Team Rally.
In 2020, Santosh will be hoping to better his best Dakar finish, which was 34th in 2018. So far, the going has been tough, and with nine more days of rallying left, things might get even tougher. 
Stephane Peterhansel has won the Dakar a whopping 13 times, earning him the nickname Mr Dakar. Of these wins, six were astride a motorcycle and seven in a car. Can he win a 14th Dakar this year?
Well, that's certainly what him and navigator Paulo Fiuza are hoping for in their Bahrain JCW X-Raid Mini. The only tricky bit is that this is the first time that Peterhansel has been navigated by an English-speaking navigator, after the last-minute withdrawal of his wife, Andrea, from the event due to medical reasons.
Pictured here - Giniel de Villiers and Alex Haro in the Toyota of the Toyota Gazoo Racing navigating through the rocks during stage 2 of the Dakar Rally, between Al Wajh and Neom, Saudi Arabia. de Villiers took stage victory, making him the first driver in history to have won Dakar stages on three separate continents.
Five-time Dakar winner Cyril Despres no longer competes in the Dakar on a motorcycle. But in 2020, he isn't competing in a car either. Instead, Despres is driving a UTV - Overdrive OT3 - for the Red Bull Off Road Team. 
All does not look well for Cyril Despres and co-driver Mike Horn though, with their buggy's engine having given up the ghost on SS3 of the 2020 Dakar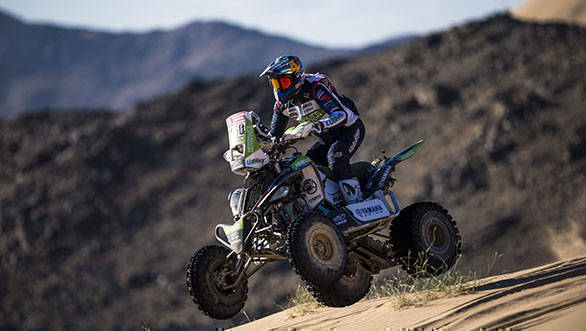 Ignacio Casale is already something of a Dakar legend. He's competed as part of a truck crew, ridden a motorcycle, driven a UTV, and finally returned to the quad, where he appears most comfortable. Casale has two overall wins on a quad to his name, in 2014 and 2018. 
There's the Mini buggy, and there's this crazy hopped up version of a Mini. Here's Jakub Przygonski of Orlen Team X-Raid races during stage 01 of Rally Dakar 2020 from Jeddah to Al Wajh, Saudi Arabia
The Dakar wouldn't be the Dakar without those massive and frightening blue and white Kamaz rally trucks, would it? Here's Dmitry Sotnikov of KAMAZ – Master racing through Stage 1 of Dakar 2020. The Russian's had two second-place finishes at the event, and is hoping that 2020 will be his year!
Laia Sanz might only have debuted in the Dakar in 2011, but she's since made quite a name for herself, having managed to break into the top 20 every single time since 2014. Her best finish came in 2015, with a ninth place. Sanz has also finished as the best female rider at the event a whopping nine times. 
More Kamaz glory! Here's Anton Shibalov tackling Stage 2 of the 2020 Dakar. 
2014 Dakar winner Andrey Karginov, seen here with crew, Andrey Mokeev and Igor Leonov in the Kamaz of the KAMAZ Master Team. Not quite as famous as his more decorated team-mate Eduard Nikolaev, this year Andrey will be hoping to get even!
Price (Ex-Delhi)
Starts Rs 33.99 Lakhs