Image gallery: All-new 2018 Audi A8 and Audi A8 L
Audi has unveiled its flagship luxury sedan, the A8, at the first Audi Summit in Barcelona. Audi has made the sedan one of a kind with the new camera-linked adaptive suspension system. The new A8 sedan will use cameras to predict the road ahead and adjust the suspension for a better ride. The fourth-generation Audi A8 will go on sale globally this October. India will get the car in 2018.
The new Audi A8 subscribes to the design language seen on the Prologue concept which was showcased at the expo
The car is longer than before; however, the designers have worked their magic on the car to ensure that it doesn't outlandishly long
The car looks smart from every angle and is quite distinct from the vehicle it replaces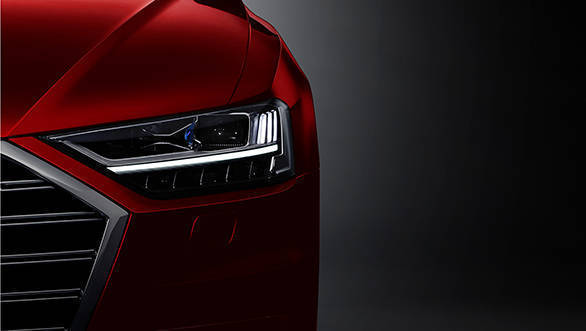 Audi's widely acclaimed Matrix LED headlamps as well as laser lights are expected to be standard across the A8 range
Audi has resorted to the minimalist button approach with the new Audi A8. Everything is now touch controlled
This separate panel at the bottom controls the airflow, a la Volvo Sensus. Notice the yacht-like gear lever is carried over from the older car
The backseat is said to have been significantly improved and now has a foot sole massage function as optional
All the engines in the Audi A8 have been thoroughly revised to eke out more efficiency without sacrificing the power aspect
The Audi A8 L is over 123mm longer than the standard long-wheelbase car. The most likely candidate to come to India, then
Visually there is no much of a difference separating the long-wheelbase and standard versions
The tail lamps have OLED technology that emits a different pattern of light depending on whether the driver is approaching or leaving the car
Read all about the new Audi A8 here.