Image gallery: 2016 Volvo S60 Cross Country road test review
The Volvo S60 Cross Country is almost here, and in many ways it was made for our rather demanding Indian conditions (read our road test review here). The first things you'll notice are the increase in ride height, the new scuff plates and new wheels, all of which give it a rather SUV-like stance. Step inside however, and it feels like a sedan as it retains the standard Volvo S60's layout. Powering the Volvo S60 Cross Country is the same 2.4-litre 5-cylinder turbo-charged diesel engine from the sedan. This motor has been detuned to produce 190PS of power and 420Nm of torque instead of the 215PS and 440Nm that it makes in the sedan. India will get just the Inscription variant which, along with all the safety features and equipment seen in the sedan, gets all-wheel drive as standard. This system mostly drives the front wheels and sends power to the rear only when it detects a loss of traction. The 201mm of ground clearance meanwhile, works very well for India. However, Volvo has stiffened the suspension to keep body roll in check, which gives the Volvo S60 Cross Country a bumpy ride.
Here's the image gallery from our road test that will give a thorough look at the Volvo S60 Cross Country.
The 65mm increase in ride height is quite evident, and it makes the car a lot more usable in India
The headlamps get no changes, and neither do the LED DRLs
The honey-comb grille is new, while the rest of the bumper is quite similar to the S60 sedan save for the extra protective cladding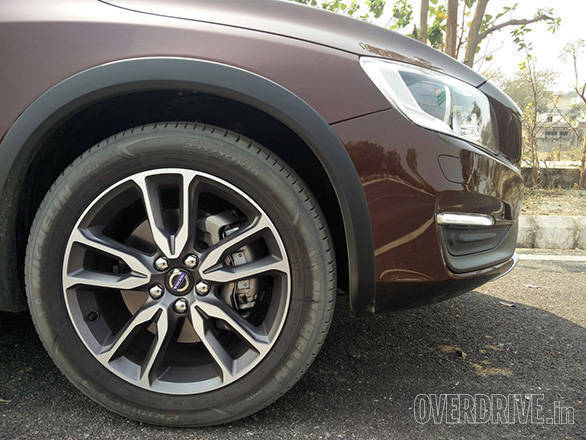 The black fender extensions give the Volvo S60 Cross Country a rugged look. Those large 235/50 R18 tyres meanwhile, contribute to the increase in ride height
The other addition to the sides are the rocker panels
The rear bumper too has been revised with additional cladding
The new larger quadrilateral tail pipes give it a rather sporty look. The engine note meanwhile, is a nice deep rumble once it gets past 3,000rpm
The Volvo S60 Cross Country will go from 0-100kmpn in 8.4 seconds. However, those 8.4 seconds aren't as exciting as you'd think
The handling and dynamics of the Volvo S60 Cross Country hasn't deteriorated too much thanks to the stiffer suspension. But that also means it's not too comfortable over bad roads
The interior is similar to the Volvo S60 sedan. It's quite neat, however the plethora of buttons on the centre console can take a while to get used to
Also from OVERDRIVE:
Volvo S60 Cross Country road test review
2016 Volvo S60 Cross Country to be launched in India on March 11, 2016