Image gallery: 2016 KTM RC 390 from EICMA 2015, Milan
The KTM RC 390 stood quietly. almost unnoticed at the KTM stall at the EICMA show in Milan. Most people did not notice the 2016 updates - perhaps because, as usual, KTM displayed a fully kitted out, powerpart-ed RC 390 instead of a bone-stock model. In fact, it wasn't until the 2016 model year releases were in our hands that we realised that the new RC 390 was, in fact, a fairly significant update even though the engine, bodywork and the frame were largely the same as the previous year's model.
The first of the big changes is the arrival of ride by wire. The means the 2016 KTM RC 390's throttle cable will be connected to the ECU rather than the throttle body. The ECU, in turn, will decide how much fuel should be sprayed into the intakes by the throttle bodies, depending on the throttle position and various other sensor inputs. This does not  automatically mean that the RC 390 will have traction control, mind you. For 2016, it definitely does not. What it does imply is that should KTM see sense in deploying traction control or other advanced electronics, it will be very easy to implement.
The second of the big changes is the new exhaust which sticks out on the side of the back next to the swingarm. The new exhaust design also allows KTM to use a new, narrower V-section lower fairing that should stop the complaints of the previous years' flat bottom-ed fairing grinding down and causing clearance problems. Since the engine is the same, it makes sense that this new fairing element should be retrofittable to older RC 390s as long as an aftermarket exhaust is used to move the older boxy exhaust that sits under the engine.
Both of these changes were made for the simplest of reasons. KTM say the forthcoming Euro4 norms are super tight and ride by wire and the new exhaust are both required to meet and pass those norms. The 2016 model might be slightly ahead of schedule but KTM say that almost all of their models will have to switch to ride by wire and new exhaust designs to meet the emissions norms.
The final important change is the brakes. For long we've complained that the brakes were the weakest link in the KTM 390 Duke and RC 390 stories. The units lacked bite and they felt less taut and responsive than the rest of the motorcycles. KTM hopes to fix that with a new braking system that gets ABS as standard and uses larger rotors.
Enjoy the gallery and watch out for our story on when you can expect the 2016 KTM RC 390 to go on sale in India.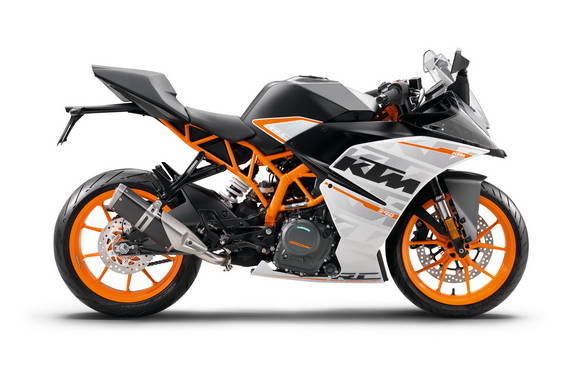 Visually not much has changed but it's easy to spot the new exhaust on the 2016 model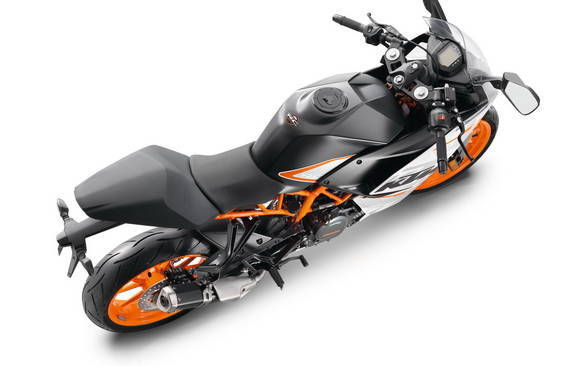 Look, bigger mirrors! The 2016 KTM RC 390 will offer better rear visibility
New Brembo-developed 320mm front disc should end the complaints of the RC 390 brakes not biting hard enough
The new exhaust, say KTM, was required to meet the new Euro4 norms that are coming up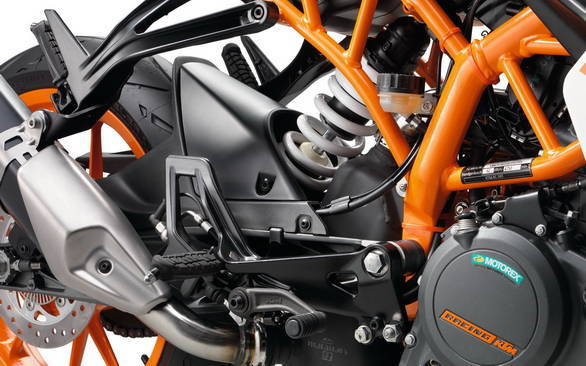 KTM have not mentioned any change in suspension tune but the slipper clutch is on the 2016 model
Note the V-shaped bottom of the fairing. The new design should end the RC 390's clearance problems with heavy lean angles
Apart from the brakes, no changes have been made to the 2016 KTM RC 390's running gear. Power output remains the same but KTM add ride by wire. Officials told us it makes the RC feel a little more linear to ride
Price (Ex-Delhi)
Starts Rs 3,14,000
Price (Ex-Delhi)
Starts Rs 2,52,928