IAA 2019: Mercedes-Benz Vision EQS shows the future of electrified luxury
After a crossover, hatch and a van, Mercedes-Benz has now shown its vision of an electric sedan under its EQ banner, and what better way to do it than an interpretation of the next-generation S-Class? Say hello to the Vision EQS!
It is an amalgamation of the sharp design cues seen on modern Mercedes-Benz cars, the stretched-bow silhouette of its new saloons, and the smooth surfaces of the EQ range. There are the other EQ bits like the lit digital grille and blue lighting accents inside-out. There is also a two-tone paint scheme that mimics the Maybach trim and the two colours are separated using a light belt that lassos the car. Using 188 LEDs, the EQS features a detailed light-matrix of little three-pointed stars, and it creates a three-dimensional pattern at the front and rear.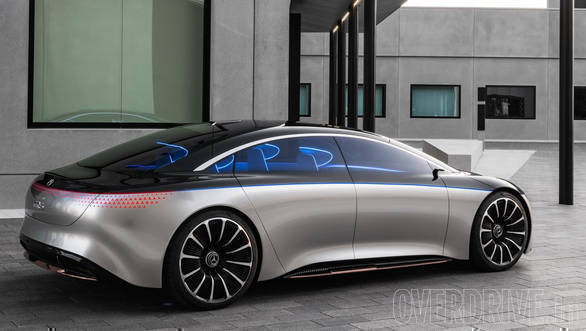 The cabin seems inspired by the deck of a luxury yacht, and features a floating tunnel console. Display panels rise up from the armrests in the doors and the tunnel console, for HVAC and infotainment controls respectively. The infotainment ditches the current layout comprising two-horizontal screens and has a vertical infotainment centre instead. We reckon that Mercedes-Benz will adopt a similar layout for the next-generation S-Class, which debuts next year.
The Vision EQS still features a steering wheel, hinting that this isn't a concept from the distant future of self-driving cars. That said, the EQS concept has Level 3 autonomous driving capability and it has the necessary sensors and intelligence to scale up to Level 5 fully-autonomous driving abilities.
Between its 24-inch wheels, sits a battery pack that feeds juice to electric motors placed on either axle. The motors put out 350kW of power and 760Nm of torque and can propel this saloon from 0-100kmph in a fairly quick 4.5s. Mercedes-Benz claims a 700km range for the EQS and the fast charging can recharge 80 per cent of the batteries in 20 minutes. The electric powertrain is also scalable and modular, confirming that the EQS underpinnings will spawn other body styles and sizes.
On the topic of sustainability, the EQS makes generous use of recycled plastics, while the vehicle structure has a multi-material mix of steel, aluminium and carbon fibre.
Given how the EQ range is shaping up, the EQS is expected to see the light of day in a few years from now. More importantly, it previews the design direction that the next-generation S-Class will adopt.
Related Stories