Hyundai Ioniq is a stylish hybrid sedan slated for 2016
Hyundai is readying an all-new executive sedan christened the Ioniq, that aims at achieving a blend of alternative-fuel propulsion, a stylish design and class leading aerodynamics. Targeted at the likes of the Toyota Prius and the Chevrolet Volt, the Ioniq will have a footprint closer to the Elantra. But the big news is that it will offer three alternative-fuel powertrain options - full electric, plug-in electric / petrol motor hybrid, or electric / petrol engine hybrid. The wide choice of these low-emission powertrains is what will differentiate the Ionic from its rivals.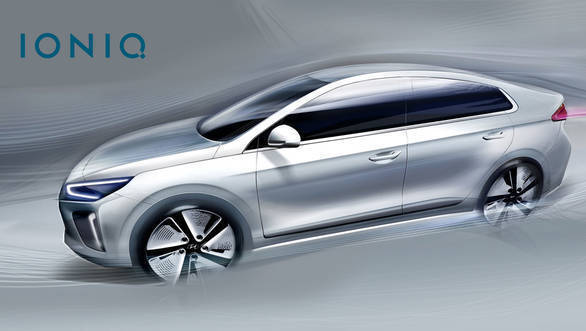 Furthermore, the Ioniq's exteriors blend Hyundai's stylish design cues with a highly aerodynamic body shell. The coupé-ish roofline adds a sporty appeal, while the lines and creases on the bodywork are carved to reduce wind resistance. The wheels too seem to be designed with a similar focus. The car will also feature the signature hexagonal grille to establish the familial connection.
The interiors have a sober design too and are an evolution of the current design theme implemented in Hyundai cabins. The hexagonal theme stays, but the fascia and its elements get rounded edges. The bezels impart blue accents and are complemented by a blue instrumentation and matching backlighting for the switchgear.
The Ioniq will be unveiled in Korea in January 2016 and will head further to the Geneva and New York motors shows.