Hyundai hits six million sales mark in Europe
Hyundai has achieved the six-million sales figure in Europe. Hyundai Motors has been gaining a strong foothold in the European market and has been progressively increasing its model range to suit the taste of European customers. It has setup a technical centre at Russelsheim, Germany which designs and develops 95 per cent of the cars that Hyundai sells in Europe. The Korean car maker has pumped in more than three billion euros in this region since 2008, this funding has been utilized to setup infrastructure, R&D and manufacturing facilities. An idea of the company's popularity can be understood if we compare that the first one million sales were achieved in nine years and the latest one million was passed in a mere two years.
Hyundai Veloster
The Korean giant has two manufacturing plants in Czech Republic and Turkey which together have an output of 5,00,000 units per annum. The European economy and people have benefited with the presence of Hyundai as it has lead to employment of 1,52,000 people. The company has marketed itself well by tying up with organizations such as Tate and FIFA which allows it to reach out to a large number of potential customers.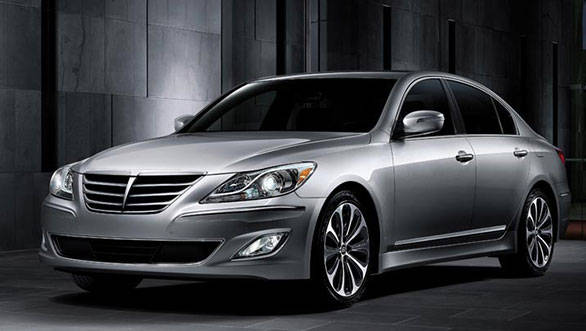 The Hyundai Genesis
Allan Rushforth, Sr. V.P and COO, Hyundai Motor Europe, said, "Europe is one of the most demanding car markets in the world: it's a strategic focus for Hyundai and an essential component of our global success, which is why we will continue to invest in the region. In 2014, we are making qualitative enhancements in a number of areas, helping the company grow organically rather than pursuing market share gains at any cost. This will lay the foundations for a new growth period from the middle of the decade".
HYUNDAI MOTOR ACHIEVES SIX MILLION SALES IN EUROPE
Quantitative growth underpinned by significant qualitative enhancements More than €3 billion invested in European infrastructure since 2008 'Product Momentum 2017' to fuel future growth in the region Hyundai Motor has sold six million cars to European customers since the company began sales in the region in 1977. Hyundai has progressively increased sales momentum in the region in line with growing demand for its expanding European line-up of vehicles. It took the company 19 years to sell its first million cars in the region. Since then it has taken less time to reach each subsequent milestone, with the latest one million cars sold in just over two years. Demand for Hyundai vehicles in the region has been fuelled by investment in its local infrastructure, as part of the company's strategy to build cars specifically to meet European customer needs. Hyundai has invested more than €3 billion in this infrastructure, including manufacturing, R&D and motor sport facilities. Underlining the success of its regional investment, 95% of all cars Hyundai sells in Europe are designed and developed at the company's European Technical Centre in Rüsselsheim, Germany and 90% are built in the region at the company's two production plants - in the Czech Republic and Turkey. Both factories have significantly increased production capacity to meet European demands for Hyundai products. The Czech manufacturing plant builds 300,000 units per year. The Turkish facility now has an annual capacity of 200,000 units per annum, following the introduction of New Generation i10 production at the beginning of 2014. The company's sustained investment in the region benefits European citizens, with 152,000 people owing their jobs to the presence of Hyundai in Europe in 2012. This figure is an 18% increase versus 2011, demonstrating the growing importance of the brand to the region. Hyundai made a European tax contribution of €1.3 billion in 2012 and purchased parts supplies worth €2 billion from within Europe during the same period. Hyundai has also looked at enhancements to build a better known brand. Long-term partnerships with iconic organisations such as Tate and FIFA are helping Hyundai to connect with a wider range of potential customers. Allan Rushforth, Senior Vice President and COO at Hyundai Motor Europe, commented: "Europe is one of the most demanding car markets in the world: it's a strategic focus for Hyundai and an essential component of our global success, which is why we will continue to invest in the region." "In 2014, we are making qualitative enhancements in a number of areas, helping the company grow organically rather than pursuing market share gains at any cost. This will lay the foundations for a new growth period from the middle of the decade," Rushforth added. Under the title 'Product Momentum 2017', Hyundai will launch 22 new models and derivatives in Europe during the next four years, driving the company's aim to achieve 5% market share by 2020. Key business milestones 1977: First Hyundai imported into Europe 1997: First Hyundai production plant outside of Korea is built in Ízmit, Turkey 2000: Hyundai Motor Europe GmbH established 2003: Opening of R&D and Design Centre in Rüsselsheim, Germany 2006: Hyundai Motor Europe headquarters opens in Offenbach, Germany 2008: First i30 is produced in Nošovice, Czech Republic 2013: Opening of Hyundai testing centre at Nürburgring, Germany Hyundai Motorsport GmbH and headquarters opened in Alzenau €508 million investment brings New Generation i10 production to Europe