Hyundai Creta, i20 score 3-star Global NCAP safety rating
The Hyundai Creta and the Hyundai i20 have scored three stars in the latest round of safety tests conducted by Global NCAP. The Toyota Urban Cruiser was also tested and garnered a four-star rating.
Hyundai Creta Global NCAP safety score
The current, second-generation Hyundai Creta was tested in its most basic spec that features two airbags and ABS as notable safety features. The popular SUV scored three stars in both adult and child occupant protection. The upper half of the driver and front passenger's body was well protected during the impact, the passenger more so but the test revealed that the bodyshell and footwell were unstable and not capable of withstanding further loadings.
The occupant's knees are impacted by dangerous structures behind the dashboard. In the child safety test, the three-year child dummy suffered whiplash, while the chest showed weak protection. Protection for the 18-month dummy was good. However, the recommended child restraint system couldn't be fitted to the Creta while ISOFIX points aren't standard.
Hyundai i20 Global NCAP safety score
The third-generation Hyundai i20 received a similar score with a three-star rating for both adult and child safety. The i20 performed similarly to the Creta in the  adult safety test although the driver's chest was worse protected than the Creta. However, protection to the knees was slightly better. The co-passenger was similarly protected as the Creta. As with the SUV, the i20's structure and footwell was deemed unstable after the crash and not capable of withstanding further loadings. The occupants' knees could be impacted by dangerous structures behind the dashboard here too. Despite offering ISOFIX points as standard, child protection in the i20 was no better because of poor neck protection.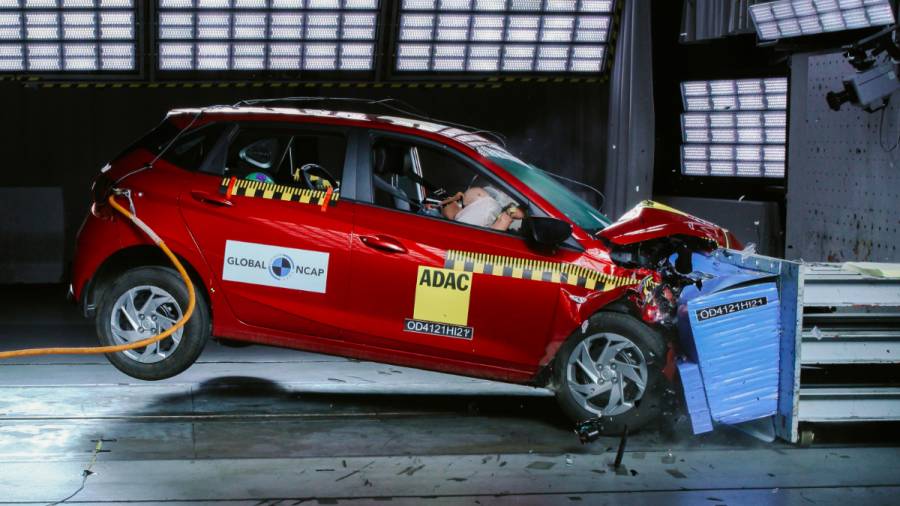 Global NCAP recommendations
Global NCAP has recommended that the Hyundai Creta and i20 should be offered ESC, a full-spec seatbelt for the rear-middle seat and better side impact protection. It must be noted though that the top-spec Hyundai Creta comes equipped with the pre-tensioner rear-middle belt, six airbags, stability control, rear disc brakes, ISOFIX mounts and TPMS. Similarly, the top-spec Hyundai i20 also gets most of these features.
As for the Hyundai Creta's rivals, the MG Astor's international version has a five-star NCAP rating, the Kia Seltos carries a similar three-start rating while the Skoda Kushaq and VW Tiguan still haven't been tested. In the case of the Hyundai i20, the Tata Altroz carries a five-star rating while the new-gen Baleno is yet to be tested.
Also read,
Global NCAP surpasses 50 models milestone in India, Nissan Magnite and Renault Kiger receive four-star safety ratings
2021 Mahindra XUV700 scores 5-star Global NCAP safety rating, garners highest-ever points for Indian car
Top 10 safest cars in India as rated by Global NCAP, Tata Punch secures an almost perfect score
Price (Ex-Delhi)
Starts Rs 9.99 Lakhs
Price (Ex-Delhi)
Starts Rs 6.8 Lakhs
Price (Ex-Delhi)
Starts Rs 9.95 Lakhs
Price (Ex-Delhi)
Starts Rs 11.99 Lakhs
Price (Ex-Delhi)
Starts Rs 9.78 Lakhs
Price (Ex-Delhi)
Starts Rs 5.59 Lakhs
Price (Ex-Delhi)
Starts Rs 5.45 Lakhs
Price (Ex-Delhi)
Starts Rs 10.5 Lakhs
Price (Ex-Delhi)
Starts Rs 6 Lakhs
Price (Ex-Delhi)
Starts Rs 5.49 Lakhs
Price (Ex-Delhi)
Starts Rs 8.4 Lakhs