Hyundai announces Ioniq EV-only sub-brand
The Hyundai Motor Company has announced that it will set up a new electric car sub-brand called Ioniq. This new brand is aimed at combining the firm's knowledge of EVs with its other strengths like connected-car tech in more lifestyle-focused products. The eventual goal is to sell 1 million units of BEVs and take 10 per cent market share to become a leader in the global EV market by 2025.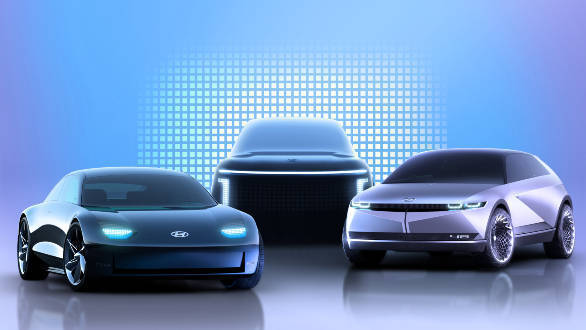 To this end, Hyundai will launch three new products under the Ioniq brand over the next four years, with more to follow after that. The first of these will be the Ioniq 5 coming in 2021. This will be an EV compact SUV derived from the Hyundai 45 concept from the 2019 Frankfurt Motor Show.  Following in 2022 will be the Ioniq 6, a development of the Prophecy sports-sedan concept from early 2020. The next car is a large SUV, the Ioniq 7, planned for 2024. All even-numbered Ioniq models will signify sedans, with odd-numbers reserved for SUVs.
As previewed by the 45 and Prophecy concepts, all Ioniq models will feature retro-inspired styling and will be based on the group's Electric Global Modular Platform. The use of this architecture will help create highly adjustable seats, wireless connectivity and unique features such as a glove box designed as drawers. The idea is to reimagine the car's interior as an intuitive time to spend time in. This will also extend into user interfaces that will be simple, intuitive and ergonomically designed to help occupants feel at ease.
The Ioniq(ion+unique) term was first used by Hyundai for when it announced Project Ioniq, a long-term research and development project focused on eco-friendly mobility. The Ioniq model was a result of this in 2016, and remains the only nameplate to be available with three electrified powertrain options – hybrid electric, plug-in hybrid and battery electric - in a single body-type. The scope of the brand has now been widened to show Hyundai's commitment to sustainability and innovation and will be instrumental in achieving the company's clean mobility goals.
While there is no word yet on whether the Ioniq brand will come to India, we suspect that there is a strong chance that it eventually makes its way here. The Hyundai brand has been a pioneer in the EV space in India with the Kona Electric and the carmaker is also conducting feasibility studies for FCEVs with the Nexo. Further, given the strong focus that the Hyundai Motor Group has on our market, the possibility of these cars coming in, positioned as a premium brand, cannot be overlooked.