Hybrids are the future, says JLR
Jaguar Land Rover has been experimenting with hybrid powertrains for some time. We drove the Jaguar Limo Green, an electric XJ with a small petrol engine as a range-extender, back in 2010 and at the same time the company was testing a Range Rover with a flywheel energy storage device. The company has an advanced research programme on hybrid drive based at Warwick University, not far from JLR headquarters in Whitley, Coventry.
The research concluded that the best way to bring a hybrid car to the market was to instal an electric motor in a conventional drive-line. A 35 kW electric motor is integrated with the eight-speed ZF automatic transmission used in all of JLR's recent models. Advanced electronics – a JLR speciality – could control clutches to determine whether the motor alone drove the vehicle or worked in concert with the combustion engine and also the degree of energy recuperation under braking.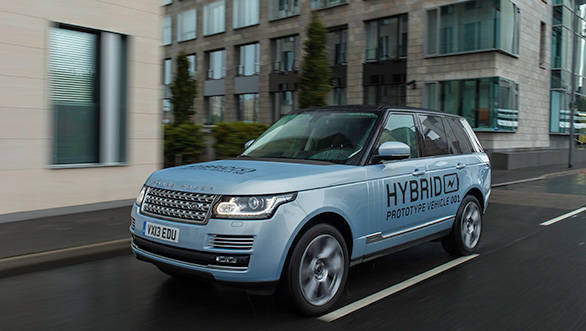 2014 Range Rover hybrid
It was decided to introduce the system on the latest aluminium Range Rover and Range Rover Sport primarily because the liquid-cooled lithium-ion battery pack could be accommodated under the floor but it is designed for use in other JLR vehicles in the future.
The Range Rover applications see the electric motor coupled to a 3 litre V6 diesel engine, giving a combined power output of 340PS and 700Nm torque which equals the performance of the 4.4 litre V8 diesel but with 26 per cent lower CO2 emissions (169 g/km) and an official fuel consumption figure of 6.4 l/100 km.
The legendary off-road performance of these vehicles is not compromised by the hybrid system; JLR claims that the electric motor's instant torque is an advantage when running at low speed in difficult conditions. The hybrid system, including the battery pack, weighs 120 kg.
The Hybrid Range Rover will priced at the top of the range but JLR confesses that it doesn't know how many it will sell. Using a diesel rather than petrol engine makes a larger contribution to CO2 reduction across the range (as required by EU regulations) but puts it out of contention for the American market, where petrol-electric hybrids are seen as an alternative to diesel engines which are still not very popular for passenger cars.
The first UK deliveries will be early in 2014. To prove the concept – and generate publicity for the first premium diesel hybrid, three Range Rover Hybrids set out from Solihull on 22 August for a 16,000 km expedition to Mumbai where they expect to arrive at Tata headquarters on 15 October.