Honda creates 209kmph lawn mower
Here's a garden implement that can out-do a few cars in a short sprint. Honda has built what it calls the Mean Mower. The Mean Mower is the fastest mower there is. Makes us wish we had a very long lawn.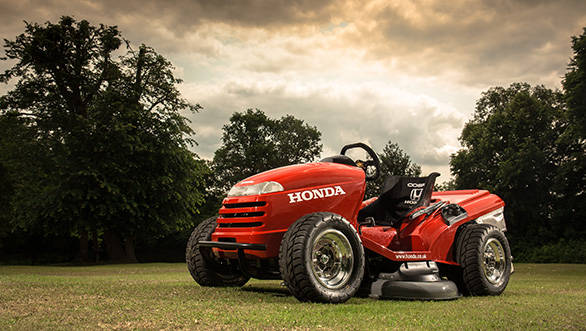 Technically, it's called the Honda HF2620. The engine is a 1.0-litre V-twin, the same as the VTR 1000F Firestorm motorcycle. It churns out 110PS and 96Nm of torque. Things are kept moving by a custom six-speed, paddle-shifted sequential gearbox that sends power to the rear wheels. The powertrain is seated in a modified tube-frame chassis, which also houses the suspension setup from an All Terrain Vehicle (ATV). The grass bag at the back has been replaced by the fuel tank, high-performance oil cooler and a secondary radiator.
The steering rack is from a Morris Minor. A customized Cobra racing seat keeps the driver in place although ironically, it has no seatbelt.
It can go from 0 to 100 in a mere 4 seconds. It touched 161kmph in a recent test ride on the circuit at Top Gear UK's annual Speed Week event. Honda claims that the monstrous machine is capable of reaching 209kmph.
"Our brief was very straightforward  - we wanted a super-fast lawn mower which retained the look of a mower, but above all else, it needed to still cut grass. It is a response to an as yet untapped requirement for extreme lawn-care equipment," said Ellie Ostinelli, Honda U.K.
Related Stories