Honda Civic powered WR-V can make 211PS!
The Honda WR-V is a crossover based on the Jazz that is sold in India along with the other markets in the world. At one of the recent events, Honda showcased a performance-spec version of the WR-V that was the pace car for the track sessions of the Civic Si media drive. This special one-off WR-V had racy stickers along with an sporty body kit. However, what was really important and gained maximum attention was the motor under the hood.
This performance-spec version Honda WR-V was powered by a turbocharged 1.5-litre VTEC petrol engine that makes close to 165PS of power. In its standard form, the Honda WR-V sold in the Brazillian market makes 115PS which has been beefed up with the addition of a turbo resulting in a power gain of 50PS. All of that power is sent to the front wheels with the help of a five-speed manual gearbox. Honda officials also stated that the souped up WR-V has the potential to make 211PS as well that can be achieved by increasing the turbo pressure. The WR-V that is sold in India is powered by a 90PS 1.2-litre petrol motor along with a 1.5-litre diesel. Read our first drive Honda WR-V review.
Honda Cars India has achieved a milestone of crossing 50,000 cumulative sales of the WR-V in one year since its launch. The Honda WR-V, launched in India in March 2017, is based on the same platform as the Jazz and accounts to 28 per cent of total HCIL sales during the past 12 months. Honda states that the WR-V has gained popularity across all the regions in the country. While the Tier 1 cities have been attracted to the feature list, it is the tall ground clearance and the aspirational value that has made the WR-V a success in the Tier 3 markets as well, mentioned the company. The Honda WR-V was launched in India and is exported to Brazil. Sales of petrol models account to 42 per cent while that of diesel is 58 per cent.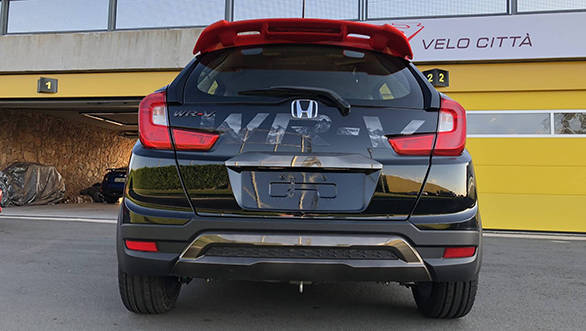 Source: Motor1
Price (Ex-Delhi)
Starts Rs 17.94 Lakhs
Price (Ex-Delhi)
Starts Rs 8.5 Lakhs