Honda 2Wheelers India launches digital customer loyalty program ahead of festive season
Honda 2Wheelers India has just launched the Honda Joy Club, a digital customer loyalty program to mark the company entering its 18th year in the country. The program covers benefits for existing as well as potential Honda customers. The company is currently offering membership for the Honda Joy Club worth Rs 299 for free until November 30, 2018. The program will entail cashback and benefits from various allied brands and services for member customers. The free enrollment announcement comes right as the festive season kicks off this weekend.
YS Guleria, senior VP, sales & marketing, HMSI, in conversation with Minoru Kato, president & CEO, HMSI, at launch of the company's loyalty program
Honda enjoys a dominant position in the two-wheeler market, particularly in the scooter segment where it has a 59 per cent market share, as per senior VP of sales and marketing for Honda Motorcycle and Scooter India (HMSI) YS Guleria. As for motorcycles, it has a 14 per cent share. Over its 18 years in the country, HMSI has attracted 39 million customers and currently accounts for 32 per cent of the global two-wheeler sales for Honda, said HMSI president and CEO Minoru Kato.
While there are other two-wheeler players offering discounts during the festive season, Honda 2Wheelers says that it refuses to be part of the discounts war. "Discounts will deteriorate the value of our product and more importantly it will also upset the customer who has purchased the product before the discount was announced. So it is not a good idea," Kato said.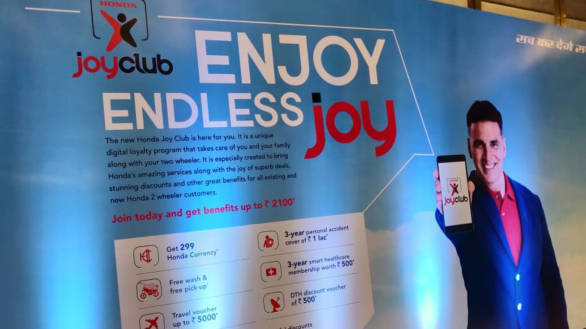 Instead, the company is offering benefits through its loyalty program. Honda has tied up with services in the hospitality, travel, healthcare, apparel, F&B, entertainment, personal care, insurance, utility, and offering cashbacks through e-wallets. Partners include BookMyShow, Tata Sky, Swiggy, H3U and others.
As for redemption, using the Honda program, Honda customers can earn Rs 1 in Honda currency for every Rs 4 spent through Joy Club on vehicle service.