Honda 2Wheelers inaugurates second assembly line at Gujarat plant
Honda Motorcycles and Scooters India (HMSI) have inaugurated a second assembly line at its plant in Gujarat. This new assembly line will exclusively make scooters. It will increase the plant's annual production capacity by six lakh units to 1.2 million units. Additionally, this new assembly line has increased HMSI's annual production capacity to 5.8 million units.
The Gujarat facility is located at Vithalapur in Ahmedabad district and is HMSI's fourth manufacturing unit in the country. HMSI also has a plant in Manesar, Haryana which manufactures 1.6 million units annually, one in Tapukara, Rajasthan which manufactures 1.2 million units annually and a facility in Vithalapur, Karnataka which manufactures 1.8 million annually.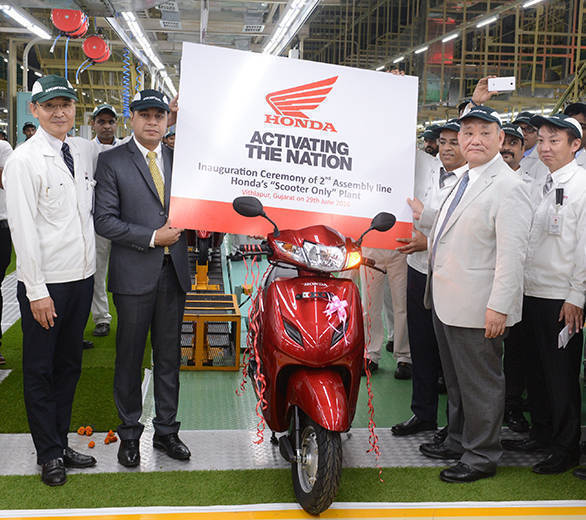 Speaking on the occasion, Keita Muramatsu, president and CEO, HMSI said, "India is not only the world's number one two-wheeler market but is also going to be the number one contributor to Honda global 2Wheeler sales for the first time in this fiscal year 2016-17. Scooterization, a trend seen earlier in developed markets of the world, is firmly driving the Indian 2Wheeler momentum today. The scooter segment is growing at 30 per cent compared to 15 per cent growth of two-wheeler industry."
Yadvinder Singh Guleria, senior vice president, sales and marketing, HMSI said "Today, Honda is leading the scooterization of India with a 58 per cent market share. The new second assembly line further supports Honda in cementing its undisputed leadership in scooter segment. Ending the 17 year old monopoly of motorcycle, Honda's iconic automatic scooter Activa is now the new India's largest selling 2Wheeler in 2016."
HMSI's Gujarat plant was set up with a total investment of Rs 1,100 crore and employs around 3,000 people. Additionally, the company says that along with its 23 vendors, it has invested around Rs 2,200 crore and created around 9,000 jobs.